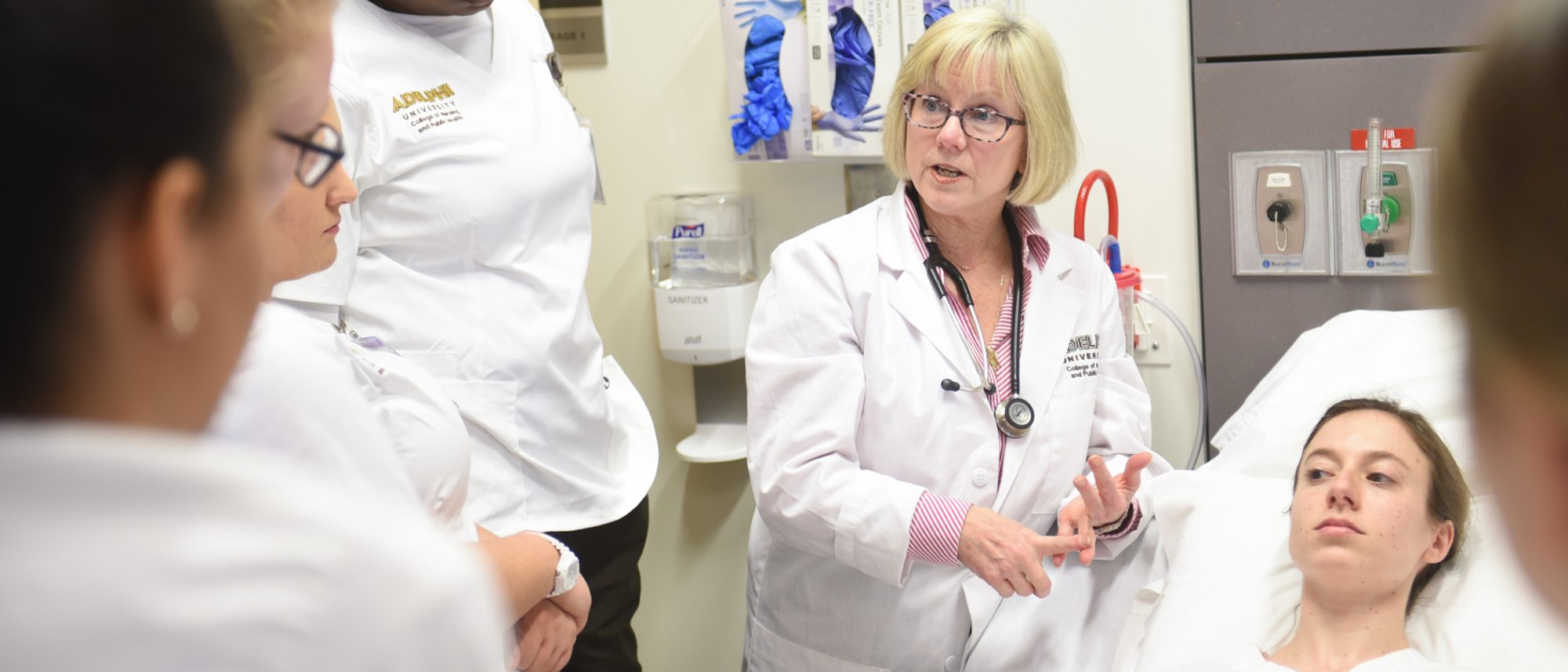 A U.S. News & World Report Best Grad School for Nursing, we prepare caregivers and leaders who are ready to make an impact in their communities.
A Best College
U.S. News & World Report named Adelphi a Best Grad School for Nursing.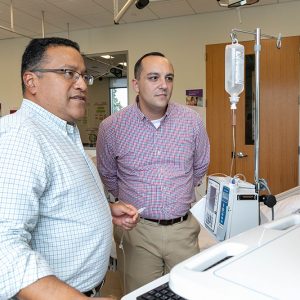 Pandemic Healthcare Heroes
Adelphi nursing and nurse practitioner students, like Joseph Brennan, became a critical part of New York's response to the global COVID-19 pandemic.
We produce leaders who define tomorrow's healthcare.
With a strong foundation built on more than 75 years of nursing education, we've developed a new vision. The College of Nursing and Public Health, renamed in June 2013, focuses on issues within population health, and has combined our hallmark nursing programs with relevant healthcare programs to tackle today's health issues and those in the future. Our students benefit from a holistic approach that focuses on community intervention, health maintenance and management, and environmental health.
More than 8,000 Adelphi alumni have embraced our small class sizes and strong collaboration with faculty, and our graduates are working as nurses in private and hospital settings; as administrators and educators; and in organizations as managers, researchers, educators, advocates and directors.
Inside the Clinical Education and Simulation Lab
Hands-On Learning
Experiential learning is at the heart of the College of Nursing and Public Health.
Healthcare Careers & Jobs
Liquid Compass collects job postings from nearly every healthcare employer each day to make their site a one-stop-shop.
Diversity Statement
The College of Nursing and Public Health (CNPH) supports an inclusive learning environment where all students feel understood, respected, and appreciated. CNPH ensures that an environment of civility and respect is established to promote an inclusive, comfortable learning environment that facilitates the sharing of experiences and nurtures the critical examination of assumptions. Recognizing that cultural diversity is a strength, we engage in cultural humility and compassion in learning from others' perspectives. With equitable support, we believe all students have the potential to succeed in their chosen academic program. We courageously recognize that diversity, equity, and inclusion are essential to achieving success. At CNPH we show respect to all students, faculty, and staff and have zero tolerance for hate or discrimination.
Significant Nursing Tuition Discounts
Graduate nursing students enrolled in the Adelphi University College of Nursing and Public Health who also are employees of Northwell Health, NYU Langone Health and Westchester Medical Center are eligible for a 15 percent tuition discount on those graduate programs.
Students should check with their employer to see if they are a current participant.
Visit employer reimbursement to learn more.
first-time pass rate for graduates who took the ANCC Psychiatric–Mental Health Nurse Practitioner board certification exam in 2020