We value the richness in human differences. Our welcoming atmosphere has earned us honors from the Campus Pride Index, Military FriendlyⓇ Schools, and the National Association of Diversity Officers in Higher Education.
We're here to help.
The staff of the Office of Diversity, Equity and Inclusion is available to answer your questions, listen to your concerns and direct you to resources and services.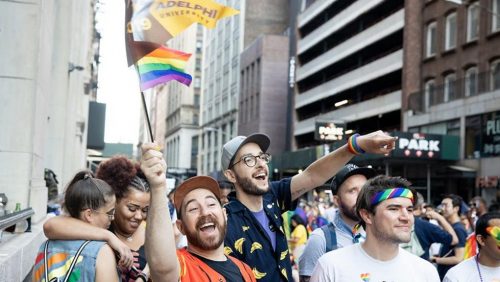 On Campus Pride Index, five stars out of five
For the first time, Adelphi earned perfect ratings for LGBTQ Counseling and Health, LGBTQ Campus Safety, and LGBTQ Recruitment and Retention.
Our team is here to help students of all backgrounds succeed in college and in their futures by offering opportunities, access and support—from before they arrive on campus until long after graduation.
About Our Office
Diversity is an affirmation of the richness of human differences, ideas and beliefs. Our office is dedicated to fostering and promoting these values on campus and beyond.
Our Core Values
We're driven by the three Cs – Curriculum, Composition and Climate, i.e., we promote intercultural awareness and respect; offer academic programs that appreciate a depth and breadth of perspectives; and recruit diverse students, staff and faculty.
Efforts & Initiatives
Adelphi University has a strong support system for diversity, equity and social justice. Our office helps sustain these efforts through the Diversity Committee and mentoring and recognition programs.
Inclusion Across Adelphi
The Office of Diversity, Equity and Inclusion is one of many places on campus contributing to Adelphi's welcoming atmosphere.
Student Groups & Resources
Looking for your community? You'll find the social, academic and professional support you need at Adelphi through multiple offices and programs and dozens of diversity-related clubs and organizations.
Academic Programs & Support
Adelphi offers rich cross-cultural and diversity-focused educational experiences in many areas of study, from African, Black and Caribbean Studies to Gender Studies. We help students of diverse backgrounds succeed academically through mentoring and other special programs.

Diversity Training: Campus & Community
Adelphi faculty and staff members, through our partnership with the Office of Human Resources, can earn a Diversity Certificate. This program is also available to the community at large through our College of Professional and Continuing Studies.
Open Office Hours
Jacqueline Jones LaMon, Vice President of Diversity, Equity and Inclusion will be holding Open Office Hours through Zoom. Please contact Charlene Mayers, executive assistant to the vice president and office manager for the Office of Diversity, Equity and Inclusion, at cmayers@adelphi.edu or 516.877.3457 to arrange a meeting.
Open Office Hours are Monday and Thursday from 2:00 p.m.-3:00 p.m.
Even More to Explore
Here are some other diversity, equity and inclusion-related offices, programs, initiatives and resources.
Related Campus Offices and Support
Diversity, Equity and Inclusion Resources