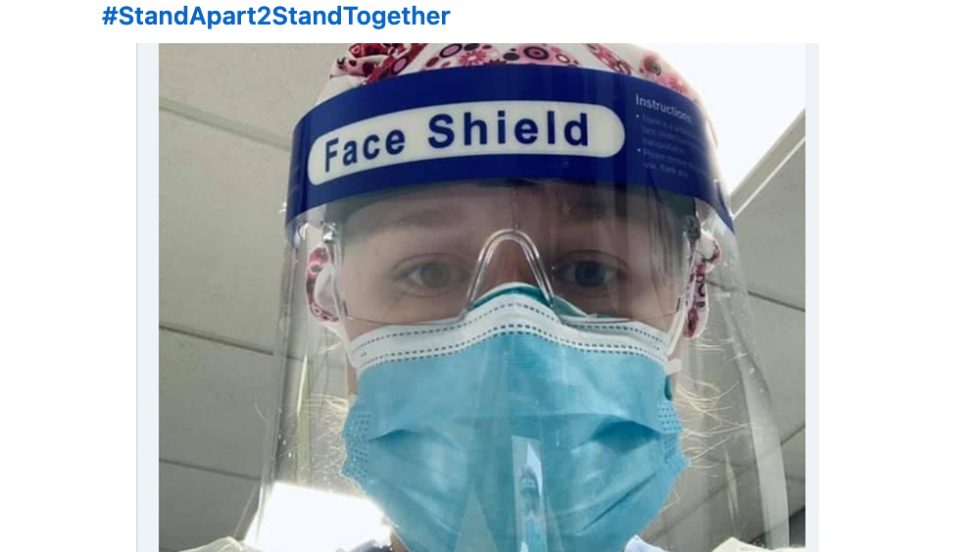 Senior nursing major Kassie Vetrano volunteered at a hospital at the start of the pandemic to work with COVID-19-positive patients. After contracting the virus herself, she returned to her job once she recovered, determined to inspire patients as they battled the disease.
Kassandra Vetrano was in her junior year in the College of Nursing and Public Health at Adelphi when the COVID-19 pandemic slammed into New York and swept her onto the front lines of the historic event.
The New York City area was the epicenter of the nation's outbreak, with thousands of new cases popping up each day. A crush of patients overwhelmed the state's healthcare system, so Gov. Andrew Cuomo put out a call for help in March to medical and nursing students and faculty at all colleges and universities. "This is a war," he said. Doctors and nurses at area hospitals needed help, he said, and they needed it immediately.
Vetrano, then 20 and a junior, answered the call.
"I was scared, but I knew this is what I want to do in my life—take care of people when they're sick—so I signed up," she said.
"It was extremely stressful"
Vetrano took a job as a certified nursing assistant at Mercy Medical Center in Rockville Centre, New York. Her job was to draw blood, check glucose levels and take vitals for patients in the COVID-19 unit. She worked shifts on the hospital floor when she wasn't in online nursing classes.
By her third day on the job, Vetrano, who had never been in a hospital outside of a nursing class, was at the side of COVID-19 patients as they died of the illness medical personnel still knew little about. "It was extremely stressful," she said. "You saw patients you worked with day in and day out die, and you couldn't do anything but try to help them be comfortable. As they passed away, I would just think, 'How is this happening? This is a human being.' "
The hardest part of the work was when she got home at night. "At work I could focus on getting my job done," Vetrano said. "But once I'm home and I take a shower and I lay in bed, all I could think about was the hospital, and whether this patient or that one would be alive when I got back the next day. I could not sleep at all."
After two weeks working the floor in the COVID-19 ward, Vetrano came down with the virus. "It was inevitable," she says. "Lots of the staff in my hospital got COVID."
She was sick for two weeks with a fever, shortness of breath and chest pain. She recuperated at her parents' house in Old Westbury, New York, with her dad standing outside her closed door making sure he could hear his daughter breathe. Vetrano spent the summer recovering from the coronavirus and a ligament tear in her foot caused by all the time on her feet in the hospital ward.
Running toward danger, not away from it
When Vetrano was well again, she had second thoughts about going back to work at the hospital. "I didn't want to look at COVID, I didn't want to talk about COVID, see it, smell it, nothing. I wanted to just move on with my life," she said. "And then I realized that this is going to be my life if I'm going to be a nurse. So I went back."
That's because real heroes run toward danger, not away from it.
"Kassie's definitely an inspiring and committed nursing student and future healthcare leader," said Caitlin McElroy, special assistant to the dean of Adelphi's College of Nursing and Public Health. McElroy said that many other Adelphi nursing students have served in New York hospitals during the pandemic crisis as well, which is vital preparation, too, helping overworked doctors and nurses tend to the sick
while helping New York fill a nursing shortage that may only get worse in the coming years. The legacy will be nurses who start their careers with much more experience than they usually have coming out of school. "I will be ready for anything after this," Vetrano said.
She's back at Mercy this winter, working in the winter wave of COVID-19. She's a senior now, set to graduate in May 2021 with a BS in Nursing. Her real-world experiences on the pandemic front lines have made her better able to handle the stress of her work.
"I'm definitely less afraid now, and so is everybody else around me. We know more about coronavirus now and we're getting better outcomes," she said. "It's still very scary. A lot of people are dying every day. But with the vaccine, there's a light at the end of the tunnel."
Once the pandemic is over and she graduates, Vetrano wants to work with psychiatric patients. "I've had to learn a lot about my own mental health during this process, and I think it's really inspired me to work with patients who have mental health issues," she said. "I know how alone and scared I felt when I had COVID, so I feel like I can relate to them and I can say, 'Hey, I'm with you.' "