We want everyone to feel safe, secure and welcome here at Adelphi.
Be Smart. Stay Safe.
Read our resources to help you avoid danger, with tips on how to handle risky situations.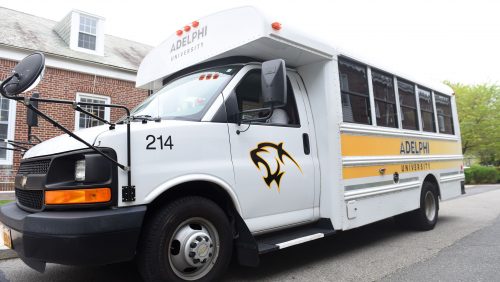 Free Shuttles
The Panther Express provides shuttle bus transportation to nearby train stations, supermarkets, shopping and more.
We're here for you 24 hours a day, 7 days a week, 365 days a year.
Our service to the Adelphi community goes much farther than patrolling and responding to emergencies. We can escort you back to your residence hall late at night, offer help if you have car troubles on campus, and help you get around the local area safely on our shuttles.
The mission of the Adelphi University Department of Public Safety and Transportation is to enhance the quality of life for the entire Adelphi community by maintaining a secure and open environment where the safety of all is balanced with the rights of the individual. This Department strives to accomplish its mission while adhering to its core values of Pride, Professionalism and Service to the University Community.
The success of this mission depends upon an effective working relationship between Public Safety and Transportation personnel and the diverse community at Adelphi. This includes students, staff, faculty, and visitors. Critical to this relationship is mutual respect. Therefore, we pledge to respect the diverse needs and interests of the community we serve. We pledge to be diligent and relentless in the protection of both life and property.
In return, we ask that our partners in this community assume their individual and collective responsibilities to make Adelphi University a place that is safe from crime, fear, disorder, and to provide a civil and open environment that fosters learning.
Hours
Regular Semester Hours

Mon: 8:30 am - 4:30 pm

Tues: 8:30 am - 6:00 pm

Wed-Fri: 8:30 am - 4:30 pm

Sat-Sun: Closed

Command Center Hours

Daily: 24-hour coverage