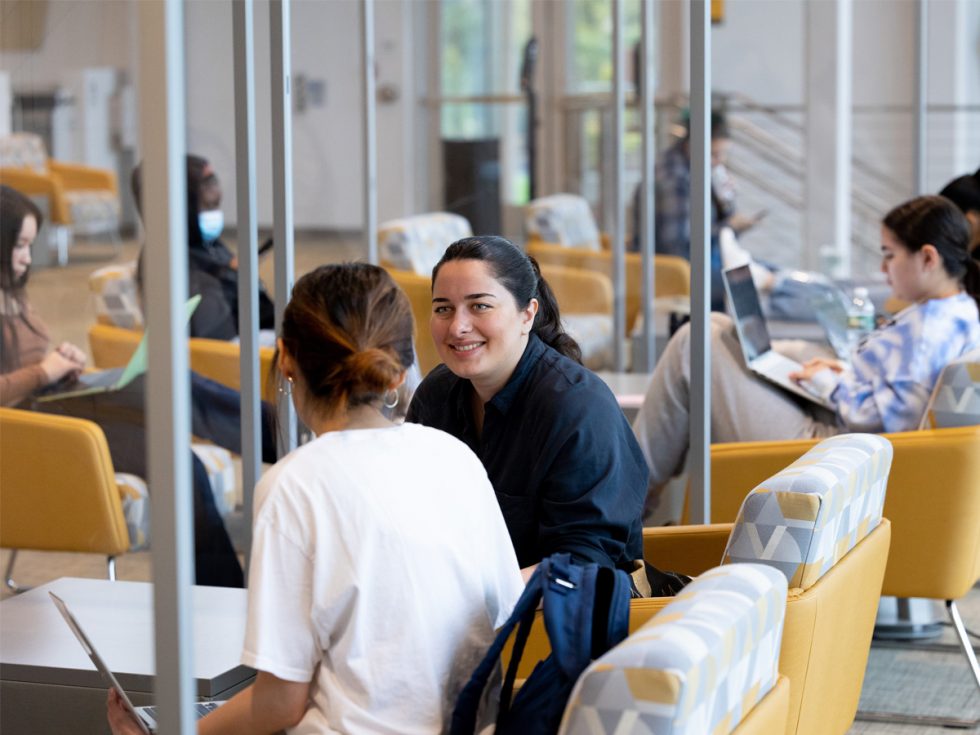 Adelphi University has received the prestigious Innovative Academic Support Initiative award from the American College Personnel Association's Commission for Academic Support in Higher Education (CASHE).
Adelphi University has received the prestigious Innovative Academic Support Initiative award from the American College Personnel Association's Commission for Academic Support in Higher Education (CASHE).

Recent Adelphi field hockey graduate Jackie Brown '21, MBA '22, was recognized as an NCAA Woman of the Year Top 30 Nominee at the 2023 national NCAA Convention in San Antonio, Texas, on January 12, 2023. She is the third Adelphi student-athlete to make the Top 30, following Alison Johnson '20, MA '21, and Chelsea Abreu '19, MBA '21.

A multidisciplinary team's research could inform the way zoos and other groups design new homes for wildlife.

The Adelphi University School of Social Work was selected to participate in a premier program with the New York State Office of Mental Health. Graduate social work students like Stephanie Paterno work directly with adults diagnosed with severe mental illnesses—a unique bridge between two fields.

Honors College alumna Camille Pajor '09, MBA '16, shares her inspiring life story and explains how her career brought her to the war-torn Ukrainian border to assist refugees. It's a story of determination, compassion and strength.

Melanie Bush, PhD, professor of sociology and an expert in teaching methods around the globe, has been awarded a Fulbright Specialist Award. During her three-year tenure, she will develop new insights into the ways we can make education more just and equitable for all.

Chuck D '84, '13 (Hon.), who earned his Bachelor of Fine Arts at Adelphi, is rediscovering his college roots as an illustrator. The hip-hop pioneer is releasing his first fine art book this month, Livin' Loud. An homage to legendary musicians in hip-hop, rap and rock, it features more than 250 of his works.

Adelphi recently changed the name of its Office of Diversity, Equity and Inclusion (DEI) to the Office of Diversity, Equity, Inclusion and Belonging (DEIB). Find out why this change is so important on college campuses and learn about new ways the office is working to increase the sense of belonging among students and staff.

Malika Burieva, a first-generation Uzbek American, is passionate about the cultural heritage that she said has "made me into the person that I am today." The junior majoring in communications and minoring in graphic design will spend her summer in Uzbekistan studying Uzbek at the Critical Language Institute, sponsored by The Melikian Center at Arizona…

Warren Graham grew up in Hempstead, New York, in a family of civil servants. His stepfather worked in corrections and his mother worked administratively in police stations—and Graham had a lot of questions.

Adelphi University Executive Leadership is pleased to announce that Chief Human Resources Officer John Siderakis is now overseeing the newly formed division of University Human Resources, Safety and Administration. Vice President of University Wellness, Safety and Administration Gene Palma will retire on February 1.  The new division comprises the Office of Human Resources, the Department of…

The next event in the Great Minds, Great Conversations series—"Sprinting Toward Success With Two Legendary Adelphi Olympians"—will feature Olympians and Adelphi track alumni June Griffith Collison '81, MBA '84, and Dennis Collison '80.

Kirsten L. Ziomek, PhD, Adelphi University associate professor of East Asian history and director of Asian studies, has been awarded a $60,000 Fellowship for Advanced Social Science Research on Japan by the Japan-United States Friendship Commission and the National Endowment for the Humanities (JUSFC-NEH).

For David Machlis, PhD, an associate professor of finance and economics at the Robert B. Willumstad School of Business and inaugural recipient of Adelphi President's Humanitarian Award, "fighting hatred is a team game and can't be done alone." As a national leader in this fight, he is piloting an exciting new program that will bring Adelphi's Black and Jewish students together to make a difference in the world.

Adelphi University's ongoing commitment to sustainability has been recognized by The Princeton Review.

Benjamin Franklin espoused the idea that one can be financially successful while making the world a better place, an idea now known as the oft-quoted "doing well by doing good." Embracing ethical practices has been intrinsic to the Robert B. Willumstad School of Business since its founding as the School of Business Administration in 1964, both for business and personal actions. In recent decades, that ethos has evolved toward a more structured approach to teaching corporate social responsibility.

Willumstad School of Business (WSB) students might be surprised to learn that among those giving them a winning edge both academically and in the job market is an impressive team of highly accomplished professionals working behind the scenes as advocates, allies and partners.

Adelphi University's College of Nursing and Public Health has been selected by the American Association of Colleges of Nursing (AACN) to participate in a national initiative designed to prepare nursing students to become strong, resilient leaders. The pilot program will kick off in the Spring 2023 semester.

The Adelphi University School of Social Work is home to a community that is dedicated to life-changing student success. Its new partnership with Brooklyn-based The New Seminary makes its Master of Social Work (MSW) program available to members of the Orthodox Jewish community wishing to serve their community by pursuing careers in social work.

Adelphi alumna Karen Ford '95 has been named Mayor Eric Adams' executive director of the Office of Nonprofit Services.

Anastasia Pagonis is a rock star. The 18-year-old swimmer, who is blind, brought home a gold medal and a bronze medal from the Tokyo 2020 Paralympic Games, and she holds a world record for the sport's 400-meter freestyle event.

Isuri Wijesundara '18, is a perfect example of how an arts education at Adelphi can lead graduates to careers as working artists. The combination of strong professors, talented classmates, the proximity of New York City, and a legacy of accomplished, supportive alumni guides a student's journey from their first day to beyond graduation.

"A Nation of Others," the latest work by Pulitzer Prize-winning University Professor Paul Moravec, DMA (left), explores the lives of refugees arriving at Ellis Island on a single day in 1921. It recently premiered at Carnegie Hall.

Adelphi has just posted its highest one-year retention numbers in 10 years, with more than 85 percent of first-year students who enrolled in Fall 2021 returning to school this fall for their sophomore year. It is the third year in a row in which retention numbers have grown.

Language is an essential tool for connecting with others. As the American Speech-Language-Hearing Association (ASHA) states, effective communication is a human right that should be accessible to all. It is a right that speech-language pathologists and audiologists help people with language disorders exercise.

President Christine M. Riordan shares her outlook for higher education for the new year.

Adelphi's social work doctoral program is ranked number one in New York

It's been another outstanding year for Adelphi University in the news–locally, nationally and around the world.

Dena Gassner, PhD candidate in the Adelphi School of Social Work, weighs in on the distinction between ADHD and autism.

Ganesh Pandit, DBA, associate professor of accounting and law, recommends paying down debt in this advice piece.