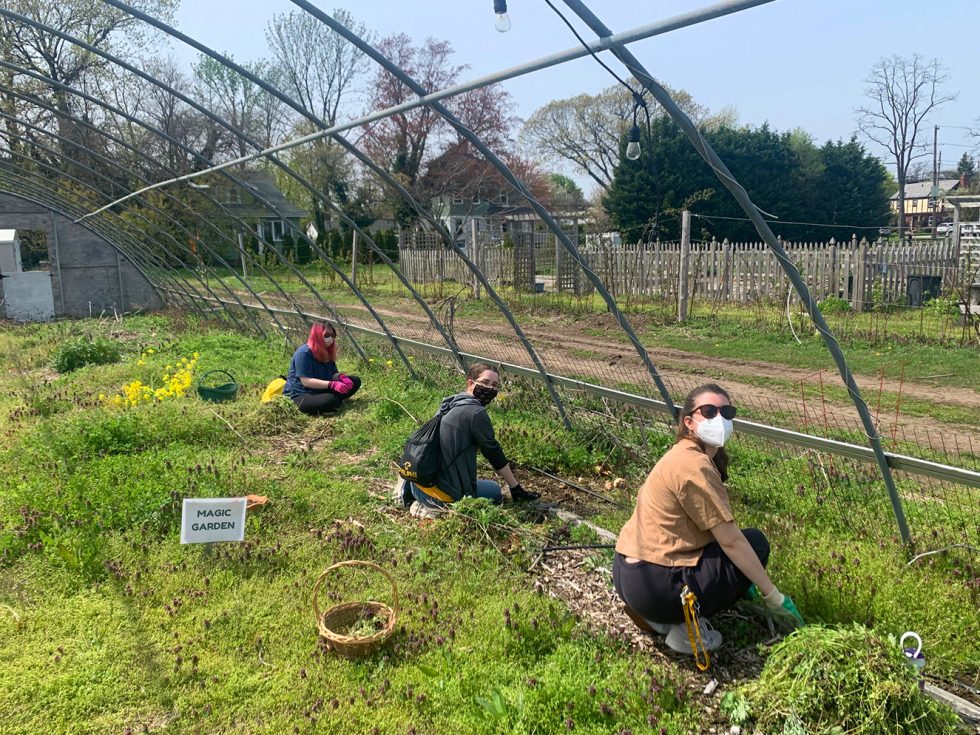 Students and alumni didn't let the pandemic dampen their altruistic spirits and continued to make a difference by helping local and global organizations throughout the 2020–2021 academic year.
We're excited to show you a sneak peek of what to expect in the new Adelphi App, launching August 2021 on iOS and Android devices.

Dear Adelphi Community, We are pleased to provide the following important updates to our COVID-19 prevention measures: Adelphi has once again been allotted a limited number of Pfizer vaccine doses from New York state. On-campus COVID-19 vaccinations for eligible Adelphi community members will resume on Monday, May 17, 2021. Should additional doses remain, they will be made available…

The Commission on Independent Colleges and Universities in New York (CICU) released a report on the statewide impact of its member institutions, including Adelphi University, based on the 2018–2019 academic year. With direct and spillover effects, Adelphi's economic contribution to New York state was $549.9 million, much of it on Long Island, home of its…

Students and alumni didn't let the pandemic dampen their altruistic spirits and continued to make a difference by helping local and global organizations throughout the 2020–2021 academic year.

As a thought leader in the mentoring movement, Adelphi University is a two-time winner of the Eduventures Innovation Award for student-centered programming. At the core of the University's Office of Diversity, Equity and Inclusion's work is the belief in the role mentoring can play in increasing equity through human connection.

Adelphi University Libraries has acquired 46 prints by the renowned photojournalist Peter Turnley, whose work has been featured in some of the world's most prestigious publications, including Newsweek, National Geographic, LIFE and Harper's Magazine. The collection, donated to the University art collection by three anonymous donors, will be available for individual viewing and instructional purposes.…

Dear Adelphi Community, In preparation for a safe return to campus this fall, we urge students, faculty and staff to get vaccinated and to voluntarily notify the University of your vaccination status. This will enable our Health and Wellness team to add anonymized metrics to the Adelphi COVID-19 Dashboard, complementing our COVID-19 case tracking and testing reports. …

Marsha J. Tyson Darling, PhD / They My identity as a Black woman, an intellectual, an engaged scholar-activist and a two-spirit being has influenced my many and varied choices and decisions during my life and my 40 years in the academy. Ranging from research and scholarship on critical social justice issues to teaching pedagogy that embraces…

Jacqueline Jones LaMon, JD, current vice president of diversity, equity and inclusion, initiated the interdisciplinary 360 courses in the Fall 2019 semester when she was associate dean of the College of Arts and Sciences. The 360 courses have become popular with both faculty members and students—and a mainstay of the College of Arts and Sciences.

Olivia Maybee, Junior, Art Major and Business Minor Olivia Maybee is a member of the Seneca Nation, an indigenous tribe in western New York state. She is an artist, businesswoman and activist, and an undergraduate at Adelphi University studying business management and fine arts. She is also an active member of the prestigious and oldest…

A version of this piece appeared a recent special issue of The Chronicle of Higher Education, Reopening Campus: How to Do It Safely and Successfully and is reprinted here with permission. Last year, before the pandemic hit, I was a vocal critic of teletherapy. As a classically trained therapist, I was skeptical that any treatment method that didn't rely on shared…

The College of Arts and Sciences is a diverse intellectual community—"from A (Anthropology) to T (Theatre)," as I sometimes quip. Our intellectual richness is a major strength, as our faculty's teaching and research guide our students' learning, expand the boundaries of knowledge and creativity of our human experience and support Adelphi University's educational missions. To…

Salvatore J. Petrilli '05, EdD, is the associate dean for academic operations and general education in the College of Arts and Sciences. This is a leadership position with primary responsibilities for curriculum design (including serving as the co-chair of the University General Education Committee), academic administration, budgeting and assessment. Previously the chair and associate professor…

Five recent College of Arts and Sciences graduates were named in 2020 to Adelphi's 10 Under 10, a prestigious honor celebrating grads who have achieved exceptional career and professional accomplishments—before even celebrating their 10-year Adelphi reunion. We celebrate their success.

Lauren Gonzales, PhD, assistant professor of psychology, shares a response in Mediumto a New York Times story on violence against the Asian American and Pacific Islander(AAPI) community—a statement that's joined by several professional colleagues.

An award given to the team behind data-driven COVID-19 vaccine development for Janssen, sponsored by Adelphi, is featured in Analytics Society News.

An op-ed by Stephen J. Tomasetti, adjunct professor of environmental studies and sciences, about climate change and water quality is featured in Newsday.

K.C. Rondello, MD, University epidemiologist and clinical associate professor of public health, shares his expertise in a Parents story about COVID-19 in children.

Deborah Serani, PsyD, adjunct professor of psychology, is quoted extensively in a Washington Post story on traveling amid COVID-19.

Adelphi University has been ranked No. 24 on the list of best addiction counseling programs in the United States for its MA in Mental Health Counseling and MA in General Psychology, both with a substance abuse counseling concentrations.

On May 6, Long Island Business News will honor Graziela Fusaro, the director of Adelphi's Innovation Center, with a 2021 Executive Circle Award. The award recognizes senior-level executives who have demonstrated remarkable vision and leadership.

Understanding data—and how to use it—is a critical part of any career today. Beginning Monday, May 31, in collaboration with the IBM digital badging program, Adelphi's Innovation Center will offer a six-week synchronous online class in data science and design thinking. Led by Adelphi experts accredited in IBM Skills Academy, this new collaborative program will…

Opening the doors of college education to nontraditional students is an important initiative at Adelphi. More than 60 continuing education workshops will help them advance their professional skills, and we offer them affordability and easy online access.

Adelphi continues to set the pace for student success. Our new policy decision removes the minimum GPA requirement for retaining academic scholarships—a step in support of equity and the mental health of students who rely on this important financial support.

Adelphi is known for helping each student find their own unique path. Alumna and Adelphi University Trustee Emily Ladau '13 became a disability advocate, speaker, author of the forthcoming book Demystifying Disability, and a warrior for inclusion and justice. We're proud to be involved in her important work.

An increasing number of school districts and organizations on Long Island have signed up to participate in Adelphi University's Diversity Certificate program.

Dear Adelphi Community, On April 12, New York state Gov. Andrew Cuomo announced long-awaited guidance on how colleges and universities can host safe in-person commencement ceremonies. Once this new guidance was released, Adelphi's Commencement Committee immediately began re-examining our plans with the goal of providing a more traditional Commencement experience for our graduates within health…

Social justice and student leadership are strong ideals at Adelphi, producing four Newman Civic Fellows in as many years. Our 2021 advocate for a better world is Newman Fellow Miguel Velasquez.

Dear Adelphi Community, We are pleased to announce that we anticipate a safe return to predominantly in-person teaching, creative activity and research this fall, in accordance with all state and local health department guidelines. We also look forward to welcoming our residents back for a total living and learning experience on campus throughout our seven residence…

Every year, Adelphi honors four exceptional employees with a President's Award for Excellence and one employee with the President's Award for Diversity, Equity and Inclusion. According to President Christine M. Riordan, the honorees "have won the admiration of their peers and colleagues by providing an extraordinary level of service to the University, and working to advance our shared values and goals."