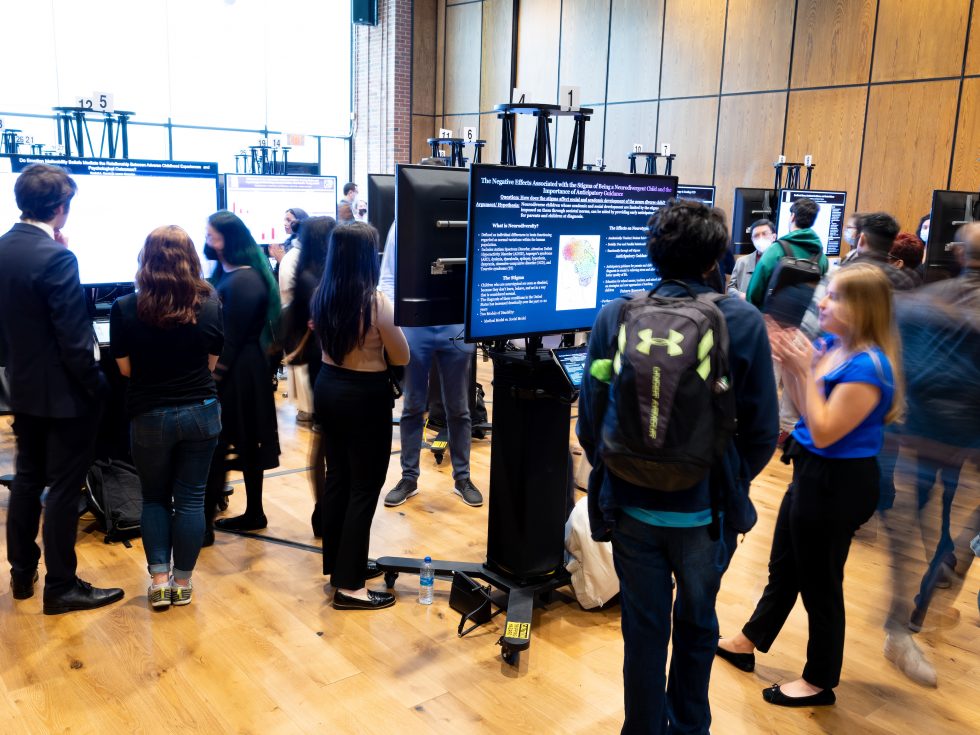 Adelphi is committed to transforming the lives of our students, and conducting research or working in depth on a creative project can be one of the most transformative experiences undergraduates can have at college.
Little America, an acclaimed anthology series on Apple TV+, is inspired by the true stories of U.S. immigrants. All eight episodes will become available on December 9 on Apple TV+. And the third episode, "Sachini," is about a young Sri Lankan woman who is played by Isuri Wijesundara '18. Like the title character, Wijesundara is Sri…

Michele Doubrava, a full-time working mother of two who is soon to be a psychiatric-mental health nurse practitioner, knows exactly what she wants to do with the master's degree she will receive from Adelphi in December 2022. She wants to dedicate her career to helping people suffering from severe mental illness.

Adelphi is committed to transforming the lives of our students, and conducting research or working in depth on a creative project can be one of the most transformative experiences undergraduates can have at college.

Christy Mulligan, PsyD, assistant professor of school psychology, researches how to help young people with selective mutism and those who have sexually harmed others, specifically targeting the inequalities within our juvenile justice system.

When Jonathan Jackson, PhD, started his role as director of the Gordon F. Derner School of Psychology Center for Psychological Services, he thought it was one of those positions he might grow into—and 36 years later, he thinks he might have done just that.

Karolina Lempert, PhD, joined the faculty of the Gordon F. Derner School of Psychology as an assistant professor of psychology this fall, after completing a postdoctoral fellowship at the University of Pennsylvania's Department of Psychology and Penn Memory Center.

In August, Monica Pal, PhD '13, became director of Adelphi's Center for Psychological Services and director of Practicum Training—stepping into the shoes of her former professor, Jonathan Jackson, PhD, who retired after 36 years in the Gordon F. Derner School of Psychology.

"No matter how much information there is in Google, one needs the ability to ask questions, because education is an interactive experience. I believe in hands-on learning and mentorship programs."

Catherine Eubanks, PhD, who joins the Gordon F. Derner School of Psychology faculty as a professor, is enthusiastically including her students in her research, which is focused on repairing ruptures in therapist/patient relationships.

Emily Ladau '13 has been speaking up for people with disabilities for most of her adult life.

The Commission on Collegiate Nursing Education (CCNE), the accrediting branch of the American Association of Colleges of Nursing (AACN), has recognized Adelphi University's Doctor of Nursing Practice (DNP) program in adult gerontology primary care.

The Adelphi community lost a longtime professor, campus leader and student advocate with the death of Regina Axelrod, PhD, on November 3. Colleagues and alumni share their recollections.

GivingTuesday is a global generosity movement that unleashes the power of people and organizations to transform their communities and the world. Each year Adelphi participates to support current Panthers.

The Adelphi University community mourns with those impacted by the senseless and tragic shootings that occurred at Club Q, an LGBTQIA+ club in Colorado Springs, over the weekend.

Adelphi is highlighted for the beautiful fall foliage on its campus.

Anna Zinko, assistant vice president for student affairs, and Jessica Monaco, coordinator of integrated care and case management, share the helpful services and programs Adelphi offers to students.

When Deborah Hunt, PhD '12, learned that patient errors are on the rise despite years of new protocols, the dean of the Adelphi University College of Nursing and Public Health decided to provide best practices for all healthcare workers.

This fall, Adelphi proudly welcomed a renowned alum back to campus. Eduardo Vilaro '85 is the CEO and artistic director of Ballet Hispánico, the largest Hispanic arts organization in the United States.

School of Social Work faculty members are dedicated scholars who remain at the forefront of their profession with innovative and comprehensive research. Here are some examples of recent scholarship.

Adelphi's new director of the Bachelor of Social Work program and associate professor has a clear vision: "To bring distinction to the University as the premier institution for preparing social work practitioners for success in a global society."

The Adelphi University School of Social Work is a premier partner in the New York State Office of Mental Health Schools of Social Work Project for Evidence-Based Practice in Mental Health, which provides training and education in recovery-oriented, evidence-based practices for adults diagnosed with serious mental illnesses such as schizophrenia or bipolar disorder.

In the Fall 2021 semester, across all of higher education, faculty members sought ways to keep students safe and engaged amid the continuing COVID-19 pandemic.

As a critical scholar, Eric Knee, PhD, assistant professor of health and sport sciences, often studies how systems of oppression create inequities in society.

According to the American Heart Association, about 55 percent of Black adults have high blood pressure, also known as hypertension.

There are, according to the National Institute on Deafness and Other Communication Disorders (NIDCD), as many as 3 million Americans who suffer from chronic stuttering.

A new interdisciplinary, open access scholarly journal will soon be published—with leadership from Adelphi Professor Reem Khamis, PhD, and support from Adelphi University Libraries—to bridge the knowledge gap surrounding speech and communications disorders as they relate to marginalized people and groups.

Grants are a vital source of funding for research and creative work, and an important validation of the significance of faculty scholarship. Adelphi University faculty members continue to successfully earn grants for important projects, from archaeological exploration and social work education to research on sports sciences and healthcare policy.