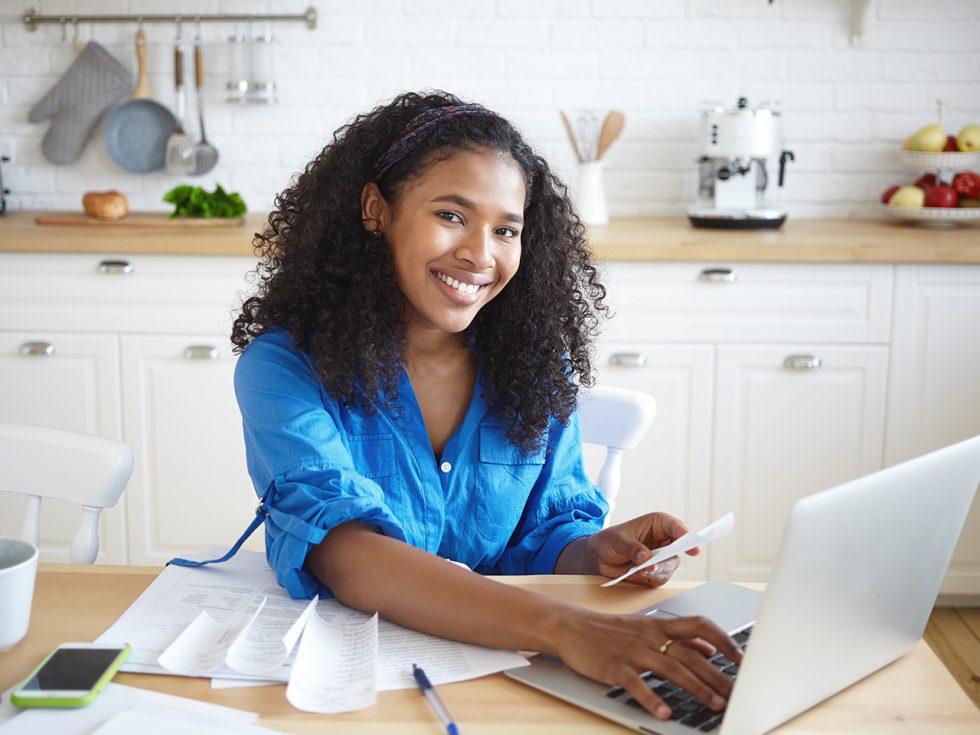 For nearly a decade, accounting students from Adelphi University have helped low-income individuals and families on Long Island prepare their tax returns. The students, working together with Bethpage Federal Credit Union, are part of a nationwide Volunteer Income Tax Assistance (VITA) program.
Adelphi senior Nolin Geraldo shares a socially distanced activity to do in Queens in College Magazine.

An op-ed for MedPage Today by Deborah Serani, PysD, adjunct professor of psychology, examines the anxiety and trauma associated with the pandemic aftermath.

Adelphi's new Bachelor of Arts in Languages and Cultures is highlighted by Inside Higher Ed.

Mariano Torras, PhD, professor and chair of finance and economics, is featured in a News 12 Long Island story about the local job market.

When classrooms were forced to adapt to virtual learning due to COVID-19, Adelphi's School of Social Work came up with a plan to ensure that students would still be able to gain experience in the field of social work.

Adelphi Gives Back Month is an Adelphi University tradition. Spearheaded by the Center for Student Involvement (CSI), it offers students multiple ways to make an impact on our community throughout the month of March.

The pandemic has gone on for more than a year. We're all tired of wearing masks, washing our hands and staying six feet away from anyone not in our households. With vaccines rolling out and everyone over 16 now being eligible, it's tempting to think we've beaten COVID-19 and it's okay to toss those masks…

Dear Adelphi Community,  I am so appreciative of every person at Adelphi who makes our community special and works to support our University, our students and one another. We have many exceptional employees, and once a year, we acknowledge those who have won the admiration of their peers and colleagues by providing a truly extraordinary…

Dear Students and Families, This morning, the Centers for Disease Control and Prevention (CDC) recommended a temporary suspension of the Johnson & Johnson (Janssen) COVID-19 vaccine. This news follows reports of a very rare blood-clotting side effect discovered in six women in the United States, among more than 6.8 million administered doses. Adelphi University continues…

From the Ruth S. Ammon School of Education Adeniji-Neill, D. (2020). Empowered Women: Nigerian Society, Education, and Empowerment. NY: Peter Lang. Antony, P. J., and Vaughn-Shavuo, F. (2020). Tracking Attitudinal Changes Among Teacher Candidates in Support of Ensuring Inclusive and Equitable Quality Education. Current Studies in Comparative Education, Science and Technology. 7(1-2), pp. 10-26. Bauler, C., Wang, X.-L., and…

Long a recognized go-to authority on disaster epidemiology and the public health aspects of infectious diseases such as seasonal influenza, K.C. Rondello, MD, has shared his words of wisdom in the media since the start of the COVID-19 pandemic.

Dear Students and Families, On March 29, New York State Gov. Andrew Cuomo announced that, beginning April 6, all individuals 16 years of age or older are eligible to receive the vaccine. We are pleased to share that Adelphi has been allotted a limited number of vaccine doses from the state in order to offer…

Winners of Adelphi's 2021 Quill Awards are featured in Newsday.

Doctoral candidates Taylor Groth '15 and Sara Schapiro are co-authors of a Psychology Today article on pediatric care during the pandemic.

Stephen Shore, EdD, clinical assistant professor, is quoted in a KAKE ABC story about World Autism Awareness Day.

Deborah Serani, PsyD, senior adjunct professor of psychology, shares expertise in a PsychCentral story about boundary setting post-isolation.

Adelphi's virtual and in-person plans for Commencement are featured in the Patch.

Andy Atzert, dean of the College of Professional and Continuing Studies, shares expertise in an Abound: Finish College/Colleges of Distinction story about returning to college.

Paul Thaler, PhD, professor of communications, is quoted in a Newsweek story about televised trials. He is also quoted in a similar story on BBC.

Like many first-year students, Alberto Cruz didn't come to Adelphi with a career planned out. He was from nearby Hicksville, New York, and wanted to stay local. He also knew he wanted to help people. "Coming out of high school, I wanted either to be a nurse or a social worker," he said, adding that Adelphi offered him a scholarship and had strong programs in both fields.

For nearly a decade, accounting students from Adelphi University have helped low-income individuals and families on Long Island prepare their tax returns. The students, working together with Bethpage Federal Credit Union, are part of a nationwide Volunteer Income Tax Assistance (VITA) program.

Adelphi University has introduced a Bachelor of Arts program designed to give students the foreign language and intercultural skills necessary to thrive in today's global economy. The new BA in Languages and Cultures is a versatile degree that empowers students to become global citizens.

Dear Adelphi Community, The safety, health and wellness of every Adelphi community member continues to be the top priority of our University and essential to meeting our commitment to academic excellence. I am pleased to announce that, upon approval by the board of trustees in March 2021, Gene Palma has been promoted to Vice President of…

Adelphi University is taking a major step forward in serving nontraditional students and adult learners looking to acquire new skills and advance their careers. The University's College of Professional and Continuing Studies has introduced more than 50 certificate programs and workshops in a number of high-demand areas.

Adelphi is a safe, welcoming and inclusive home for all, and the Campus Pride Index recognizes our unwavering commitment to our LGBTQ+ community. Our stars continue to climb ever closer to 100 percent. We are very proud.

We are deeply committed to supporting our students' individual paths to success. Sometimes that can mean personalizing their course of study from across our 200-plus academic areas. Meet an extraordinary example: Taro Jones '20, a gifted dancer and star chemist.

COVID-19 has sparked a greater need for mental health care—and mental health practitioners and scholars. Adelphi is at the forefront with three prestigious mental health-focused programs, including two at our renowned Gordon F. Derner School of Psychology and one at the College of Nursing and Public Health that prepares nurses for advanced practice in caring for body and mind.

Dear Students, I hope you are doing well during this semester. With a full year of the COVID-19 pandemic behind us, I want you to know that Adelphi University is working hard to make certain you have the resources you need to be successful. The Adelphi University Faculty Senate recently made two decisions that are…

CNPH Diversity Council Faculty Panelists Reveal How Their Heritage and Experiences Influenced Their Research Pursuits

Adelphi student Saira Amar is featured in a Muslim Network TV special.