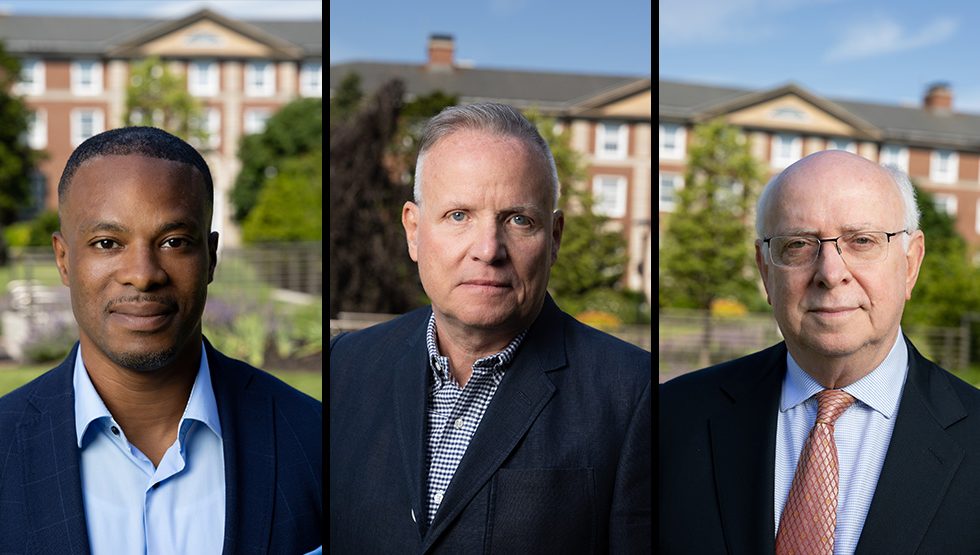 Dear Adelphi Community, A wealth of expertise, experience and perspective is brought to our University by the members of our board of trustees. Many of them are alumni, and they all share an important commitment to our mission, our students and our University. Today, I am pleased to share with you the names of three…
Dear Adelphi Community, Exactly one week ago, the United States Supreme Court overturned Roe v. Wade, removing the federal protection of abortion and returning authority on its legality to each individual state. While access to abortion is legal in New York State, this ruling comes during an already tense time as we face ongoing stressors—the…

The Delphian staff took home eight awards, including three first-place trophies and two scholarship wins at the annual ceremony of the Press Club of Long Island (PCLI), a local chapter of the Society of Professional Journalists. At the June 2 event, Katherine Farkas won first place as the Best College Newspaper Reporter and Maxmillian Robinson '22 took…

In 2019, Miriam Velsor, clinical supervisor of speech-language pathology, and Ryan Lee-James, PhD, assistant professor of communication sciences and disorders, developed an exciting speech-language pathology course—over the summer, graduate students would travel together to Mustard Seed Communities, a home for children with disabilities in Kingston, Jamaica. They would learn best practices for serving diverse populations with…

Adelphi University has forged an innovative partnership with Suffolk County Community College (SCCC) to expand access to its nationally recognized social work program to eastern Long Island starting this fall.

Adelphi University's School of Social Work has announced a new master's degree partnership with The New Seminary. The two-year cohort will be offered fully online for 15 to 20 students and include clinicals.

Adelphi University has achieved a five-star rating on the Campus Pride Index for 2022—a perfect score.

More than 50 all-gender restrooms across campus. Initiatives for wider pronoun usage within the Adelphi community. An increase on the Campus Pride Index from 4.5 to a perfect 5.0 in June 2022.

Peter Yacobellis '05 is a change agent for the LGBTQIA+ community, working to create a safer, more inclusive and accepting environment for lesbian, gay, bisexual, transgender, queer, nonbinary and gender-fluid youths and adults.

After graduating with a bachelor's degree in English, trans poet Benny Sisson, MFA '20, wanted to get her master's degree in creative writing. She was accepted by many MFA programs, but after visiting Adelphi's campus, Sisson knew Adelphi "felt right and like a really good community," she said.

Deborah Serani, PsyD, senior adjunct professor of psychology, explains why people are hesitant about returning to pre-pandemic life.

Senior Mylo Fisherman chose Adelphi for its inclusive community. Now he seeks to help other students find a home by being active in the Gender and Sexuality Alliance and launching a new club, Students Beyond the Binary.

Dear Adelphi Community, A wealth of expertise, experience and perspective is brought to our University by the members of our board of trustees. Many of them are alumni, and they all share an important commitment to our mission, our students and our University. Today, I am pleased to share with you the names of three…

Elizabeth Palley, JD, PhD, Adelphi professor of social work, argues that whatever the Supreme Court and states decide on reproductive rights, mothers and children need more support from society.

Christopher Storm, PhD, Adelphi provost and executive vice president, talks about balancing work and family.

Early on the morning of April 10, seven Adelphi students gathered in the Woodruff Hall conference room to finalize their vision for a reimagined community center that was environmentally sustainable, profitable and accessible to typically underserved communities.

Challenges to mental health—such as depression, trauma, anxiety or substance abuse—are among the many issues that might affect us all, but for Black men there are the added burdens: racial discrimination, being unfairly profiled, fear of mistreatment by law enforcement or being treated as tokens in their careers of choice while trying to be strong for their communities.

Joe Sawma is the 2022 recipient of Adelphi's Outstanding First-Year Student Award—and given his academic and extracurricular achievements so far, it's not hard to see why.

A $200,000 grant awarded to the Adelphi University School of Social Work for students of color is mentioned.

Adelphi University's 22nd annual President's Gala on Saturday, June 11, raised more than $345,000 for the President's Student Success Scholarship, an endowment that has now surpassed $1 million. This year's event at The Garden City Hotel concluded Adelphi's 125th-anniversary celebrations, honoring the University's legacy and those who support its longevity and mission.

In this podcast, Paul Thaler, PhD, Adelphi communications professor and a noted expert on cameras and trials, discusses the issue in light of the blockbuster trial followed by millions worldwide, particularly via social media. The podcast is also referenced on USA News Hub.

Juneteenth, also known as Freedom Day, is a holiday commemorating when, on June 19, 1865, Union soldiers arrived in Galveston, Texas, with the news that President Abraham Lincoln had signed the Emancipation Proclamation, thus abolishing enslavement in the United States. Adelphi first recognized Juneteenth in 2020 by providing all employees with a paid day off. The University…

Growing up, adjunct faculty member Ellen Hagan's first love was poetry. She began her journey as a poet, which led to her becoming a teacher. She's been an educator for more than 20 years and co-leads Adelphi's Alice Hoffman Young Writers Retreat for high school students every summer. Hagan has been drawn to poetry since…

After a national search, Adelphi University has named Deborah Hunt, PhD, as the next dean of its College of Nursing and Public Health (CNPH), effective July 25. Dr. Hunt is currently a professor and associate dean of nursing at Mercy College.

College of Nursing and Public Health Holds Discussion on Nurse Suicide Awareness and Prevention.

Dear Adelphi Community, I'm pleased to share that after a national search for the next dean of our College of Nursing and Public Health, I have appointed Deborah Hunt, PhD '12, a highly qualified administrator, experienced nursing professor and esteemed graduate of Adelphi's PhD in Nursing program to this pivotal role. Dr. Hunt's appointment will…

This article highlights Sarafina Bush '12 and her nomination for best costume design for for colored girls who have considered suicide / when the rainbow is enuf.

Coverage includes an interview with Angela Papalia, assistant director of the Adelphi NY Statewide Breast Cancer Hotline & Support Program.

Elaine Boylan, MA '07, assistant director of assessment and graduate outcomes, shares tips for drafting a resignation letter in an article.

Robert Goldberg, James F. Bender Clinical Professor of Finance, comments on the impact of inflation on the profits of local companies.

This is an article by Mary Hickey, MS '93, EdD, associate dean of the College of Nursing and Public Health.