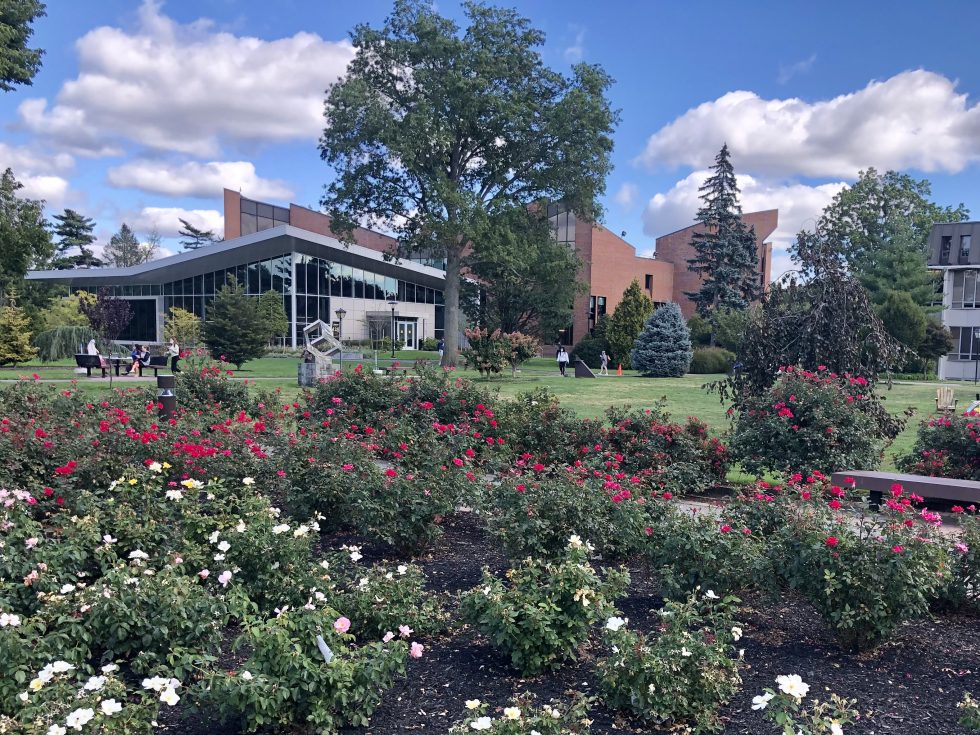 Thomas Kline, EdD, will join Adelphi University's Executive Leadership team as vice president of University advancement and external relations beginning November 1. Dr. Kline is currently vice president for institutional advancement at Carthage College in Kenosha, Wisconsin, where he has served in several roles since 2013.
For the second year, the Pink Patch Project is back at Adelphi University, raising awareness and funds for those affected by breast cancer.

In 2012, Adelphi University launched the 10 Under 10 Young Alumni Recognition Program to honor alumni who have achieved exceptional career and professional accomplishments, even before celebrating their 10-year Adelphi reunion.

Elizabeth Palley, JD, PhD, a professor in the School of Social Work, was awarded an $80,000 grant from the Washington Center for Equitable Growth to research informal, home-based child care providers—often those who care for children from low-income families—and identify challenges providers face in delivering high-quality, affordable care.

Growing up, Sarafina Bush '12 always loved dance and theater. It seems preordained, as the daughter of Adelphi sociology professor Melanie Bush, PhD, she was named after the title character in the musical Sarafina!, which depicts the story of a group of South African students brave enough to participate in the Soweto riots against apartheid.

Nola Jackson, 59, of Brentwood, New York, was 30 credits away from earning her 120-credit BA in Social Science in Adelphi's College of Professional and Continuing Studies (CPCS) in 2014 when she became ill and was unable to work or attend classes.

The U.S. Department of Labor indicates that the demand for translators and interpreters will grow at least 18 percent through 2026.

Adelphi has been nominated in nine categories in the annual Bethpage Best of Long Island competition organized by Schneps Media. Online voting continues through December 15 and winners will be announced early in 2022. Individuals may vote once a day.

Thomas Kline, EdD, will join Adelphi University's Executive Leadership team as vice president of University advancement and external relations beginning November 1. Dr. Kline is currently vice president for institutional advancement at Carthage College in Kenosha, Wisconsin, where he has served in several roles since 2013.

The Equitable Adelphi Action Team was formed in the summer of 2020 to help create and sustain an inclusive campus community. Formed by the Division of Student Affairs, the team consists of faculty members, administrators and students. Now is a great time for students to join and use their voices to bring forth change on campus.

Spirit Weekend is one of Adelphi's newest and already most beloved traditions. From Casino Night to Prestigious Panthers, it's a weekend where students, alumni, faculty, staff and community members can come together to show Panther pride and connect with one another.

My relationship with Adelphi is a two way street - as much as I have provided for the University, it has done the same for me.

This fall, we are joined by 22 new faculty members spanning all our schools and colleges and our University Libraries. Our mission to transform lives is enriched by their unique expertise and contributions.

This fall, Adelphi welcomes a landmark first-year class. A record 1,330 new students joined our Panther family, from 34 states and 23 countries. More than 300 transfers and 820 graduate students are continuing their academic journey with us this fall in our eight world-class colleges and schools. And we are joined on campus this year by 30 of our first community college students through our innovative Nassau-Adelphi Gateway program.

As Adelphi moved to remote learning in the spring of 2020, one of our top priorities was to ensure that all students had the reliable broadband access and computer hardware they needed.

Leading our "Many Voices. One Adelphi." message is the renowned poet and our Vice President of Diversity, Equity and Inclusion Jacqueline Jones LaMon, JD. Her welcome-back-to-campus campaign features banners across our main campus highlighting the diversity of our student-led organizations. They promote our vibrant and engaged community and the voices and experiences of all our students.

Jonathan Cristol, PhD, is an expert on Middle East policy, with deep understanding of the Taliban's history. Author of The United States and the Taliban before and after 9/11, Dr. Cristol shares his predictions for life under the Taliban in Afghanistan and what we might expect from the new regime.

Adelphi University Health Services strongly encourages our Adelphi community to take measures that safeguard their family, friends, and colleagues during flu season.

Deborah Serani, PsyD, a senior adjunct faculty member at Adelphi University, psychologist and award-winning author, will release her next children's picture book, Sometimes When I'm Mad, in mid-October.

Responses to the political tensions of the past year and the ongoing coronavirus pandemic will take center stage at Adelphi University's Fall Arts Festival.

For more than 50 years, the Center for African, Black and Caribbean Studies (CABCS) has been a safe space for students and faculty of color.

Dear Adelphi Community Members, The Clery Act is a federal law which mandates the reporting of timely, accurate, and complete information about crime and safety both on and off campus to members of the university community. This enables students, faculty, staff, alumni, and visitors to make informed decisions to keep themselves safe and to educate…

Earlier this year, Adelphi co-debuted an interdisciplinary series that combined art and social action to engage people in transforming society. This fall, the series, Artivism: The Power of Art for Social Transformation, restarts with several virtual and in-person events that showcase how the arts can redress inequities, reflect all voices and push society forward. The…

Illuminating COVID's toll on African American mothers and children.

In recognition of Adelphi's dedication to diversity, equity and inclusion, the University has earned the 2021 INSIGHT Into Diversity Higher Education Excellence in Diversity (HEED) Award for the fourth year in a row.

Recent national rankings show that Adelphi University continues to hold top spots in several categories, with U.S. News & World Report, Princeton Review, The Wall Street Journal, and College Factual including Adelphi in their annual guides, with special emphasis on nursing, business, social mobility and best value.

World's deception expert is ranked 15th among the most influential psychologists of this century

The path to earning a bachelor's degree doesn't always run smoothly. Sometimes students are sidelined by personal responsibilities, or they have a change of heart or a career opportunity.

October is Breast Cancer Awareness Month, but for the Adelphi NY Statewide Breast Cancer Hotline & Support Program, there's no rest in the battle against breast cancer, and supporting patients, survivors and families is a year-round effort.

Now in her senior year, Mercedes Spanoudakis, a business management major, tells us how she feels about returning to campus, how student leaders can help, some favorite memories and a very special plant.

How traditional psychotherapy misses the impact of structural racism on Black boys' psyches—and what to do about it.