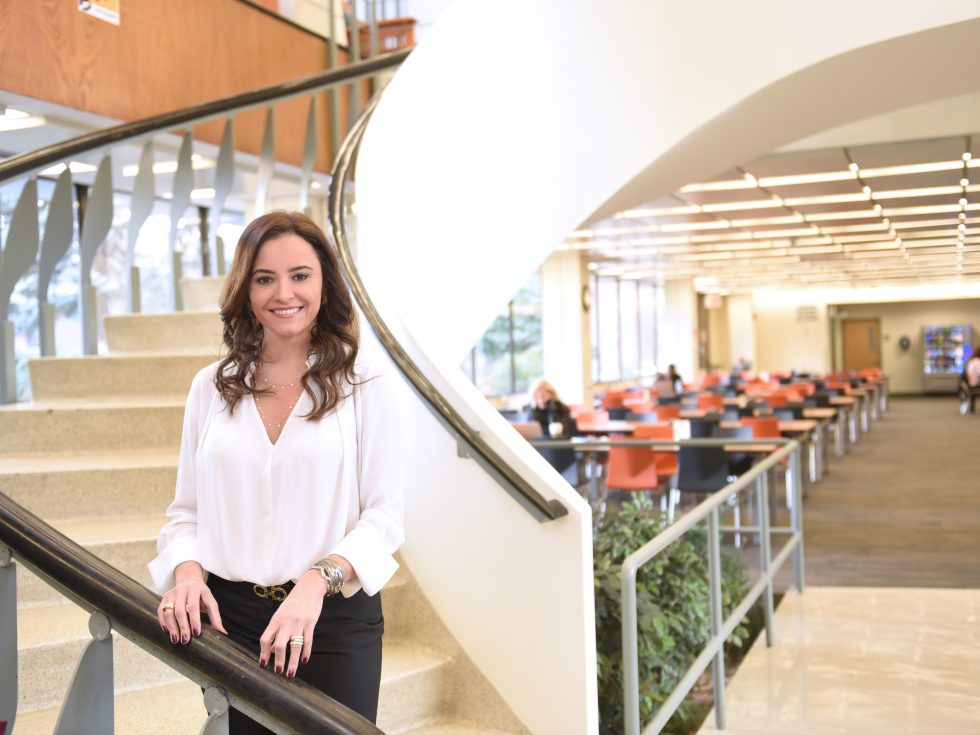 Adelphi University created a new, state-of-the-art Innovation Center designed to enable students of all disciplines to collaboratively solve problems with real-world projects.
Dear Panthers, We are in a pivotal time in our country's history. Facing pressing social, racial, global, and political issues, we are engaging in conversations that are powerful, passionate, and challenging in nature to discuss. We are committed to an environment that supports freedom of expression and civil discourse. I ask each of you to…

Dear Panthers, In our nation, casting your ballot on Election Day is an important part of our democratic process. A presidential election year marks an especially pivotal moment in our country's history and future. Election Day Is Tuesday, November 3—Less Than Six Weeks Away With no classes planned on that day, I encourage you to…

Melissa Randazzo, PhD, assistant professor of communication sciences and disorders, is taking her expertise to Uganda to train educators and therapists there.

In 2016, two Adelphi University anthropology faculty members, working in Alaska with student collaborators, found a virtually complete, 14,000-year-old tusk of what may have been one of the last woolly mammoths on the Alaska mainland. At the time, it was thought to offer clues as to why the mammal later went extinct.

Since childhood, Courtney Lee Weida, EdD, associate professor and director of graduate art education in Adelphi's Ruth S. Ammon School of Education, has found the princess archetype "both captivating and problematic." Dr. Weida partnered with her sister, Jaime Chris Weida, PhD, assistant professor of English at Borough of Manhattan Community College (The City University of…

Newsday's College Admissions & STEAM Guide for 2020–2021 includes a feature on Adelphi's Gap Year Experience.

The work of Stephen Shore, EdD, clinical assistant professor of education, is cited in The Atlantic.

Long Island Business News features Betty L. Forest '47, PhD, '10 (Hon.)'s major gift to Adelphi, supporting nursing students and nursing education.

Mariano Torras, PhD, professor and department chair of finance and economics, is quoted in Newsweek's story, noting, "It is being represented as this economic crisis is due to COVID. I think it is more accurate to say that COVID was the spark to something that was happening anyway."

Josh Altman, PhD, associate director of Adelphi's Student Counseling Center, shared his expertise with Fast Company.

Demystifying blockchain, Bitcoin and other digital money matters

Before the COVID-19 pandemic, approximately 12 million people were employed in the manufacturing sector across the United States. According to a 2017 survey in the journal Applied Ergonomics, around 57 percent of workers in factory settings—who often perform heavy, repetitive tasks—reported feeling fatigued at work, which can lead to reduced output, chronic injury and even…

A young alumna tells of her experience at Adelphi's third Women's Leadership Conference.

Dear Panthers, It has come to my attention that more than 20 Adelphi students were present at a recent off-campus event that appeared to contradict New York state health guidelines and our University's social distancing protocols and Pledge to Protect. The University takes this matter seriously and the issue is now being investigated. Since that…

Dear Adelphi Community, We are still reckoning with the impact of a global pandemic, one that has demonstrated the way we come together as a university community. And it is time, again, for us to rally together. Since June, we have had many conversations, open and individual, to hear the concerns and pain of our…

Every fall, the incoming first-year class has the option to participate in the First-Year Community Action Program (FCAP). In this community service program, hosted by the Center for Student Involvement (CSI), first-year students engage in a summer experience with peers and gain a deeper understanding of civic engagement and social justice—two important parts of an…

A well-known scholar of issues in East Asian politics and international relations, Vincent Wang, PhD, dean of Adelphi's College of Arts and Sciences, continues to be a highly sought-out speaker and presenter.

The 2016 presidential election had a powerful effect on many therapy patients: They were upset, and they wanted to talk about it.

Spoiler Alert: It's not the equipment, technology or dreaded state PE Tests

When Provost and Executive Vice President Steve Everett, DMA, talks about the wealth of talent among Adelphi's faculty, one name that emerges immediately is Pulitzer Prize-winning classical composer and University Professor Paul Moravec, DMA.

Beginning September 30, the Adelphi University community will come together to "take a stand" during its annual Fall Arts Festival. Take a Stand: Your Voice Matters, is a series of virtual events, spanning more than a month, focused on voting and diversity and equality, ahead of the 2020 presidential election and during the continuing observance…

Adelphi researchers challenge long-standing assumptions and break new ground in patient care.

New insights into the impact of college sports on athletes' voices.

Professor's book for older children and teens raises awareness about a debilitating disease.

According to the World Health Organization, half of the world's population will be living in water-stressed areas by 2025, creating a dire need for improved waste recycling and water purification systems. Scientists around the world are searching for efficient energy sources to harness for this purpose—among them, Justyna Widera-Kalinowska, PhD, associate professor of chemistry at Adelphi.

On August 31, Adelphi officially welcomed a reduced number of students, faculty and nonessential staff back to campus for the first time since the New York state lockdown began in March. Keeping our campus open for in-person learning and experiences until Thanksgiving break will require us all to do our part. Here are some initiatives in place to help keep us safe.