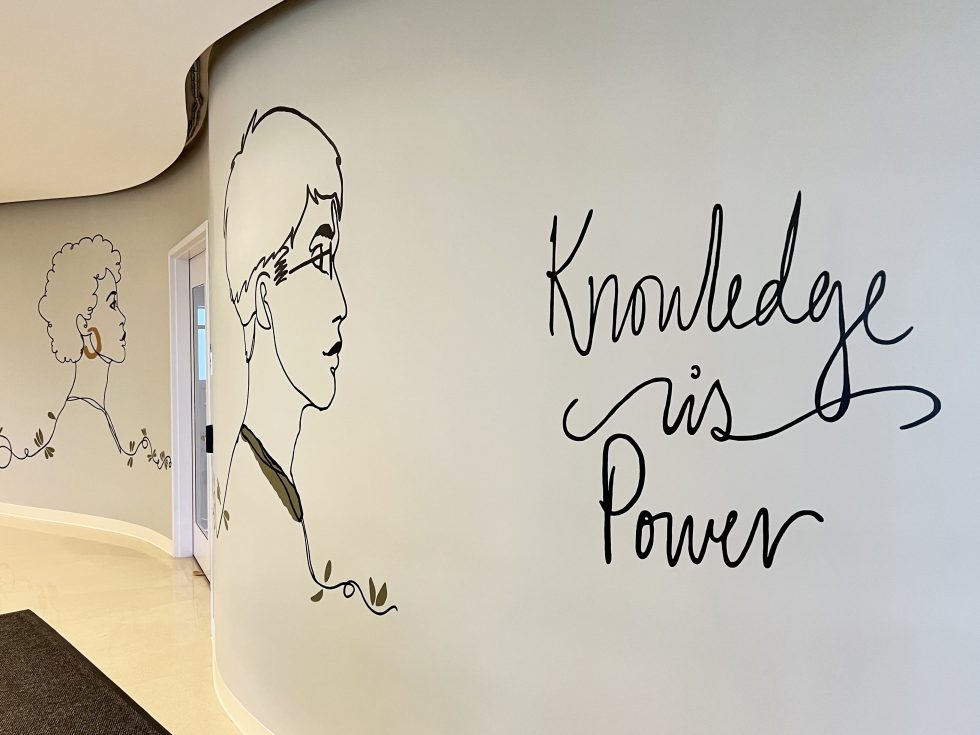 There's something different about Swirbul Library: The wall at the entrance, outside the Innovation Center, has gone from blank to brilliant, displaying a stunning mural, courtesy of the Department of Art and Art History, specifically the Mural Arts Workshop class.
Rebecca Luther has a lot going for her. She's pursuing a major in sociology and minors in both psychology and marketing, in addition to being a member of Adelphi's Honors College. She's also the president of Adelphi's Psychology Club. Luther came to Adelphi and joined the Psychology Club in the fall of 2019. She wanted…

Opportunity to teach in the Madeira Islands honors her Portuguese heritage.

Dear Class of 2022, Adelphi's 126th Commencement is Monday, May 23—and we can't wait to celebrate you and all you've achieved. Important information you'll find in this email: COVID-19 precautions What to expect at Commencement, from beginning to end Dressing for Commencement Getting to and around Commencement: transportation, parking and accessibility Livestreaming details COVID-19 Precautions Last…

Dear Adelphi Community, Our senior leadership and I are heartbroken and angered by the tragic events in Buffalo, New York, over the weekend. We grieve with the victims' families and friends and their communities. It is deeply troubling that violent hate crimes have become commonplace. We explicitly condemn white supremacy and violence of any kind.…

When Louise Geddes, PhD, associate professor and chair of the Department of English at Adelphi, and Valerie M. Fazel, PhD, instructor of English at Arizona State University, attended the Shakespeare Association of America annual conference in New Orleans in 2016, they were struck by the sights and sounds of an elaborate jazz funeral held in honor of the 400th anniversary of the playwright and poet's death.

For many people, the word archaeology conjures up visions of researchers digging up old things like ancient tools or pottery.

The following faculty members describe their productive sabbatical projects:

There's something different about Swirbul Library: The wall at the entrance, outside the Innovation Center, has gone from blank to brilliant, displaying a stunning mural, courtesy of the Department of Art and Art History, specifically the Mural Arts Workshop class.

Mirirai Sithole has been working steadily since she graduated from Adelphi University in 2012 with a BFA in theater. Her acting credits include numerous off-Broadway productions, including School Girls: Or, the African Mean Girls Play. On television, she's had roles in Black Mirror, Broad City, and Russian Doll—and season two of the Natasha Lyonne series is now available on Netflix.

For the first time since the pandemic hit in March 2020, College of Nursing and Public Health (CNPH) faculty and alumnae delivered presentations in person at the Eastern Nursing Research Society's 34th annual Scientific Sessions, held March 31 to April 1 in Providence, Rhode Island.

Come this fall, Adelphi students will have access to a host of new and refreshed facilities designed to enhance learning, personal development and well-being.

For many people, preparing for a workout involves simple steps like pulling on stretchy workout clothes, tying the laces on a pair of running shoes, filling up a water bottle and tuning in to a playlist of high-energy music.

A story highlights Adelphi's undefeated men's lacrosse team heading into the postseason.

National Prescription Drug Take Back Day addresses a vital public safety and public health issue. According to the 2015 National Survey on Drug Use and Health, 6.4 million Americans abused controlled prescription drugs. The study shows that a majority of abused prescription drugs are obtained from family and friends, often from the home medicine cabinet.…

The Adelphi University School of Social Work is proud to partner with CAMBA Inc. as a field placement site.

Wahiba Abu-Ras, PhD I will allocate the research release to address: "Orphan Children: The Invisible COVID-19 Pandemic in Jordan." The study has three main objectives: 1) to assess the impact of COVID-19 on Iraqi and Syrian orphan children living in Jordan; 2) to examine the impact of the financial crisis on the provision of services to…

Continuing education (CE) is in full swing this spring, and in the heart of planning for the Fall 2022 semester.

Chireau White (PhD Outstanding Student) Nominated by Elizabeth Palley, JD, PhD, director of the doctoral program Chireau White is a 29-year-old, Black, queer woman who is a fourth-year PhD student at the Adelphi University School of Social Work. Her current research interests are focused on organizational and societal contributors to social work burnout. She has…

Courses in jazz and blues literature and race and gender in film added to African, Black and Caribbean Studies offerings.

Four promising student entrepreneurs pitched original business plans to a panel of judges on Tuesday, April 26, at Adelphi's annual Business Plan Competition. The challenge, which took place in the Adelphi University Innovation Center, is a yearly opportunity for competitors to win $11,000 in prizes.

Adelphi University's School of Social Work doctoral candidate Jennifer Eileen Reddin Cassar has been selected to join the Fulbright Specialist Roster.

An article covers the winners of Adelphi's annual Business Plan Competition. The story and photo appear in 11 of The Patch outlets in New York and Connecticut.

U.S. News & World Report recently announced rankings of top graduate programs for 2023, including Adelphi University's programs in social work, psychology, nursing and business—adding to other recent honors, including being a U.S. News Best College among national universities.

Unique to Adelphi, the Viret Family Faculty Leadership Fellows Program develops aspiring University administrators and leaders. Paris-based donor Lionel Viret '95 established this innovative program with a $1 million donation. (This year's Fellows, above.)

Adelphi's 2022 Commencement keynote speaker and honorary degree recipient Kelly Hall-Tompkins, a renowned violinist and humanitarian, is featured.

Coverage of Adelphi's Artivism program appeared in a Greek-language news outlet. The story was also covered by Texnes Online.

The Adelphi University Department of Public Safety and Transportation's participation in National Prescription Drug Take Back Day is featured.

Our newest Newman Civic Fellow, Caio Gomes, is an environmentalist and student leader, who speaks five languages. We are committed to nurturing student leaders who want to find and create solutions for challenges in society.