Adelphi University is excited to celebrate the Classes of 2020 and 2021 with in-person Commencement ceremonies and Grad Walk experiences, as well as virtual Commencement ceremonies.
MarchingOrder
If you have applied to graduate and wish to participate in Adelphi University's in-person Commencement, Virtual Commencement ceremony and Grad Walk, please register on MarchingOrder.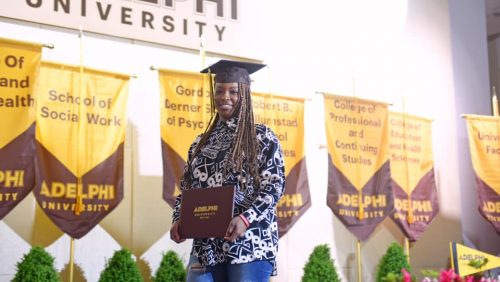 Grad Walk Experience: In-Person and Livestreamed
Offering our grads an opportunity to walk across the commencement stage and celebrate your hard-earned achievements with loved ones.
With the long-awaited announcement of updated guidance from New York state on April 12, Adelphi University is pleased to announce in-person Commencement ceremonies and conferral of degrees for the Class of 2020 and 2021 on our Garden City campus. These ceremonies are in addition to Adelphi's Grad Walk Experience and virtual Commencement ceremonies.
In-Person Commencement
Our in-person Commencement ceremonies will be held May 22, 23, 24 and 25. Each graduate may invite two guests to attend their celebration.
Virtual Commencement Ceremonies
Adelphi will hold virtual Commencement ceremonies by school/college on Monday, May 24 for the Class of 2021 and Tuesday, May 25 for the Class of 2020.
What You Need to Know to Prepare
Whether you're in the Class of 2020 and already part of our alumni community or you're about to graduate as part of the Class of 2021, make sure you're prepared to celebrate with us.
Get Ready to Celebrate!
You will be recognized with an official slide that can be customized with their photo and a personal message. You can also book an appointment to walk across the stage at our in-person ceremonies and grad walks.