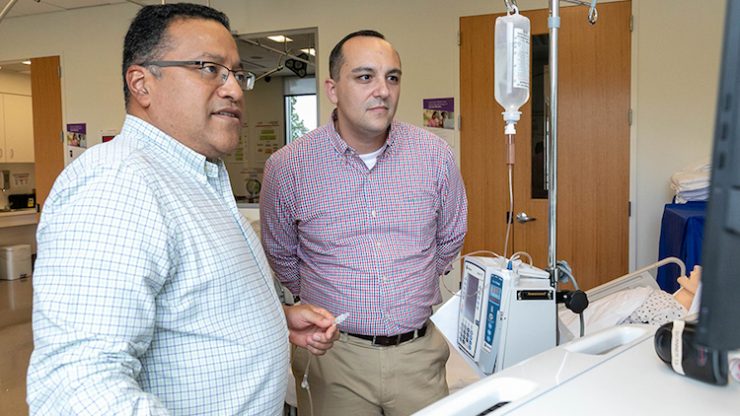 It's not every day that an Adelphi graduate student gets invited to present research at a global conference in the Middle East.
But that's what Joseph Brennan, MS '20, newly graduated from the College of Nursing and Public Health (CNPH) Adult Gerontology Primary Care Nurse Practitioner program, will be doing. In July 2020, he'll be presenting in Abu Dhabi—but not in person.
Brennan had thought he would be heading to Abu Dhabi, the capital of the United Arab Emirates, for the Sigma Theta Tau International 31st International Nursing Research Congress—until early April, when he learned the global coronavirus outbreak changed those plans. "They have canceled the in-person portion of the conference and will be holding it virtually," he said. "I will still be presenting my research project."
His research findings will be in an ePoster titled "Risk of STIs Among Individuals Using PrEP: An Integrative Review"—with STIs referring to sexually transmitted infections and PrEP to pre-exposure prophylaxis.
Sigma Theta Tau International (STTI) is a global nursing honor society. Its event, themed "Transforming Global Nursing Research and Scholarship Through Connections and Collaborations," was to be attended by a projected 800 nurse researchers, students, clinicians and leaders focused on evidence-based research.
As dean of CNPH Elaine Smith '78, MS '88, EdD, observed recently at an Adelphi meeting, this is a rare and prestigious opportunity indeed for an Adelphi graduate student.
Associate Professor Edmund J.Y. Pajarillo, PhD, chair, Department of Graduate Nursing Studies, said that for the first time, Sigma Theta Tau International asked various schools to nominate student presenters "to showcase the work of…rising stars in terms of conducting research."
Familiar with Brennan's 2019 Research Day presentation and also with his work as a "motivated, focused and top-notch student," not to mention being an associate member of the New York Academy of Medicine, Dr. Pajarillo said, "I knew he would be the perfect [STTI Congress] candidate." He added, "Dean Smith was in complete agreement that Joe really is exceptional and deserving of this recognition."
His Research Found More Testing Needed
Brennan briefly described how his research project came about and what his findings were. "While doing my clinical rotation last semester, I was able to learn from a nurse practitioner who had a large LGBT following," he said. "During this rotation, I noticed that there were quite a few patients coming to the office who take PrEP for HIV prevention with STIs."
He then decided to do a literature review to "see if this has become a frequent occurrence in this population. During my research," he added, "I found there's a higher rate of sexually transmitted infections in PrEP patients and also that there's a decline in condom use and an increase in risky behaviors. I am still in the process of this review, but I question how much education is being given to these patients when they are prescribed PrEP." In addition, he found that "patients on PrEP should have an increased frequency of STI testing for early detection."
Brennan, who said he is "honored to have been chosen as a congress presenter," observed, "I am extremely excited to be able to present my findings and to see what other research is being conducted on a global level."
Edwin-Nikko Kabigting, PhD, College of Nursing and Public Health assistant professor, will be presenting his own research at the same conference. Sigma Theta Tau International holds its International Nursing Research Congress every two years in different countries, Dr. Pajarillo said.
Developing Other Research
Brennan has been busy on other research fronts as well. He recently completed research on "A Literature Review and Opinion Article of the Nurse Practitioner's Role in Certification and Management of Medical Marijuana," to be published in the next issue of the Journal of the New York State Nurses Association, vol. 47, no. 1. He co-authored that article with Maureen Roller, MS '01, DNP, retired CNPH clinical associate professor and now senior adjunct faculty, Dr. Pajarillo noted.
That same article was initially submitted as an ePoster presentation on the medical marijuana topic by Brennan and Dr. Roller at the New York State Nurse Practitioner Association's conference, but Brennan said their later request to instead do a podium presentation was approved. The conference, as of publication, is still planned to be held in October in Saratoga Springs, New York. "Joe and I and two others also wrote an article that is under review right now in another peer-reviewed journal," Dr. Pajarillo added.
Last year, Brennan and his team won Outstanding Presentation-Graduate Level at Adelphi's Research and Creative Works Conference for a study indicating that changing patients' catheters for clinical reasons instead of as a matter of routine would improve their outcomes.