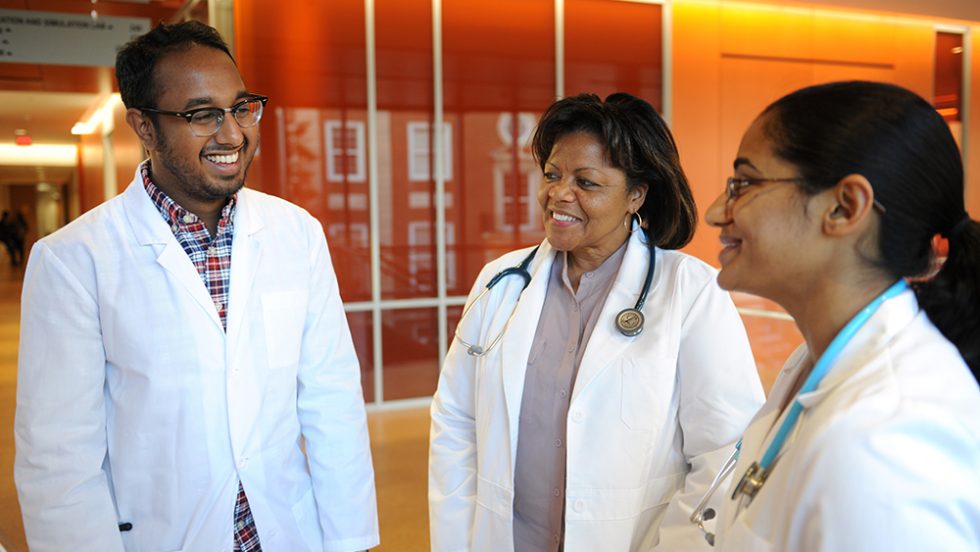 Adelphi was the first university on Long Island to offer a PhD in Nursing. Today, our nurse PhD candidates are involved in the highest levels of leadership, research and educating the nurses of tomorrow.
For nearly 40 years, Adelphi has produced leaders in the nursing profession through its nursing PhD program.
Begun in 1982, the program was the first nursing doctoral program on Long Island and is still one of just a few in New York state.
It was built on the storied reputation of Adelphi's College of Nursing and Public Health, recognized as a Center of Excellence by the National League of Nursing and one of the Best Grad Schools for Nursing in the nation by U.S. News & World Report.
"Our graduates are all over the country in positions of high responsibility," said Patricia Donohue-Porter, MS '78, PhD '87, a professor in the College of Nursing and Public Health and director of the nursing PhD program. "They're nursing executives in major hospitals, they're faculty members and administrators at schools of nursing, they're researchers. They're shaping the future of nursing."
Nurses with PhDs play a key role in educating future nurses. There is such a demand for nurses with doctorates that there's a federal loan program just for them. The Nurse Faculty Loan Program offers loan cancellation of up to 85 percent for nursing doctoral students who get a degree and teach for four years at a nursing school.
PhDs can head off the looming nursing shortage
Nurses with PhDs who can train new nurses are vital to avoiding the looming shortage of RNs in the United States caused by an aging population. There are about 3.6 million registered nurses working in the United States right now. The U.S. Bureau of Labor Statistics says the nation needs 1.1 million new RNs by 2022 to keep up with demand.
"Less than 2 percent of nurses in the U.S. have PhDs, but we're working to change that," Dr. Donohue-Porter said.
Dr. Donohue-Porter is herself a graduate of Adelphi's nursing PhD program. She got her doctorate in 1987, in the program's early days.
Adelphi's nursing PhD program prepares graduates to be collaborative leaders in education as well as research. "We prepare students for academic clinical partnerships," she said.
So even while a nurse with a doctorate is working in hospital administration or in a college classroom, they are still doing hands-on research or supervising student nurses in a hospital. "We always include a clinical focus, because we're a practice profession," Dr. Donohue-Porter said. "So, in our program, we prepare students to blend academic and clinical concerns so that, when they graduate, their contributions improve patient care."
Adelphi's PhD in Nursing offers a special concentration in the science of nursing education, which prepares students to educate tomorrow's nurses in care settings or academia.
Nurse PhD student honors
The program attracts dedicated students who excel as caregivers as well as scholars. Joseph Amnawah, a psychiatric nurse practitioner who expects to receive his doctorate in 2024, has just been named a Psychology/Mental Health Scholar by Jonas Philanthropies. The honor, which comes with a $15,000 scholarship as well as leadership experiences, is awarded to only 75 students nationwide who are dedicated to addressing the nation's most pressing healthcare needs and to advancing healthcare for veterans. Amnawah is the first Adelphi student to win this highly competitive award for PhD students.
"We're teaching nursing leadership," Dr. Donohue-Porter explained. "Our PhD degree can open the door for our students in many different areas."
Nurse PhD conducts COVID-19 research
Annie George, MS '11, PhD '20, received her nursing PhD from Adelphi in December 2020 with a concentration in research. She completed her dissertation on tele-ICU nursing, which turns out to have been prescient, given the role remote patient care took on during the COVID-19 pandemic.
Within four months of getting her doctorate, she became the Senior Director of Nursing Excellence/Research at NYC Health + Hospitals, the largest public health care system in the United States, with 11 hospitals in New York.
Dr. George's work at Adelphi has been a bridge to her new role as a nurse researcher. "I am already involved in multidisciplinary research related to COVID-19, and I have already published with my medical/nursing team here at NYC Health," she said. Her findings will be used to prepare nurses to use telemedicine nursing to manage future health crises.
"I really want to advance our nursing workforce in the way that is expected and defined by our profession," Dr. George said. She sees her role as being that of a teacher who uses her research findings to make nurses better at their jobs. "One of my job responsibilities is to help nurses get to an excellence level by preparing them for continuing education programs and accreditation," she continued. " If I can help them be more confident and better able to do great things, that will benefit our patients. "