How to Apply: Guide for First-Year Students
As an applicant to Adelphi University, you'll be given careful consideration for admission.
We believe in a holistic evaluation of your application and supporting documents. That means we'll take into consideration your experiences, your determination, and your potential contributions to our community in addition to your academic scores. Exemptions and additional requirements are determined on a case-by-case basis by the Office of University Admissions.
We welcome and encourage you to connect with us at any point in the process. We're here to help answer your questions. The Admissions Committee looks forward to reviewing your application and assisting with your transition to our Panther community!
If you are an international applicant, please review our international application requirements.
First-Year Application Info
How do I apply to Adelphi University?
You've got this! Our "How to Apply" video for first-year students makes it easy to complete and submit your application.
Deadlines and Guidelines
| Application Type | Deadline to Apply | Decision Date | Reply Date |
| --- | --- | --- | --- |
| Early Action (non-binding) | December 1 | December 31 | May 1 |
| Rolling Admissions Application | Rolling Admission | 3-4 weeks once application is complete | May 1 |
About Early Action
Students applying for Early Action are among the first students considered for a wide range of generous scholarships and need-based financial assistance. This early deadline option is non-binding. If all application materials are submitted by December 1, we'll notify you of your final decision by December 31.
In some cases, the Admissions Committee may defer making a final decision until a candidate's midterm grades have been received, or until a personal interview takes place.
Early Assurance Programs
Applicants who are interested in our competitive early assurance programs with partner institutions are encouraged to apply by the December 1 Early Action deadline as some programs may require early Spring interviews.
Program
Deadline to Apply
Interview Required
Test Scores Required
GPA for Eligibility
Test Scores for eligibility
(cannot use superscore)
SUNY Upstate: Medicine
December 1
Yes
Yes
90%/3.5 (weighted)
1200 SAT or 25 ACT
NYU Dental
January 15
Yes
Yes
3.5 (weighted)
1360 SAT or 29 ACT
Albany Law
February 1
Yes
Yes
3.4 (weighted)
570 Math/600 ERW or 24 ACT
Drexel Law
February 1
Yes
Yes
3.5 (weighted)
1290 (570 Math/ 600 ERW) or 27 ACT
SUNY Optometry
February 1
Yes
Yes
93%/3.9 (weighted)
1360 (with minimum 700 on Math) or 30 ACT
Philadelphia College of Osteopathic Medicine (PCOM)
February 1
Yes
Yes
3.5 (weighted)
1340 (670 Math/670 ERW) or 29 ACT
3+4 New York Institute of Technology College of Osteopathic Medicine (NYIT)
February 1
Yes
Yes
90%/3.7 (weighted)
1200 SAT or 25 ACT
New York College of Podiatric Medicine
February 1
No
Yes
3.5 (weighted)
1270 (with 620 minimum on Math) or 27 ACT
Dental- Lake Erie College of Osteopathic Medicine (LECOM)
April 1
Yes
Yes
3.5 (weighted)
1240 SAT or 26 ACT
Medical- Lake Erie College of Osteopathic Medicine (LECOM)
April 1
Yes
Yes
3.5 (weighted)
1240 SAT or 26 ACT
Applicants must obtain the stated SAT or ACT requirement for their respective program in any one attempt of taking either exam.
Ready to Apply? We'll need your:
Completed application for admission
We'll accept either the Adelphi Application or the Common Application – whichever is easier for you!
Nonrefundable application fee of $50
Personal statement or essay
You are encouraged to submit, in 500 words or less, a response to one of the provided questions or a topic of your choice. You may submit a report or paper you have written during the current school year if preferred.
Official high school transcript(s)
In order to be considered for admission, you must be a graduate of (or graduating from) a recognized four-year secondary school or you must provide proof of official equivalent preparation. First-year students are expected to have successfully completed a minimum of 16 academic units.  You'll be considered on the basis of your individual academic record and co-curricular activities. We recommend completion of the following academic units:
English (4 units)
Science (3 units) (General science may be included)
Mathematics (3 units)
Foreign language (2–3 units)
Additional units to be chosen from history, social studies and the above fields (4 units)
Letters of Recommendation
One or more letters of recommendation from a school/college counselor, teacher or school-based administrator. Letters from other sources, such as a volunteer coordinator, may also be considered.
Upon acceptance, please submit your official grade reports or transcripts for any advanced college-level coursework completed in high school (i.e. AP, IB, or college-level courses) in order to earn college credit.
Optional Supplemental Application Materials
SAT/ACT Scores
Adelphi has adopted a test-optional policy, allowing you the option but not the requirement to submit your SAT or ACT for fall 2022 and spring 2023 admission. This policy also applies to fall 2023 and spring 2024 admission terms. Regardless of whether or not you choose to submit your test scores, you'll still be considered for one of our generous merit scholarships. Simply select your test preference on the admission application.
If you do intend to submit your SAT or ACT scores, please submit official copies of your score (Note: the Essay section of the SAT and the Writing section of the ACT are optional). If these scores do not appear on the official high school transcript, you must request an official copy be sent to us directly from the College Board or ACT.
Codes for First-Year Applicants
Adelphi University's Profile or College Board Code: 2003
Adelphi University's ACT Code: 2664
Adelphi University FAFSA Code: 002666
Prospective international students who are non-native English speakers are required to submit English language exam scores that demonstrate their proficiency in the language. Exam options include SAT, ACT, TOEFL, IELTS, or Duolingo. Additionally, select early assurance programs  require submission of test scores due to partner institution requirements. Should any partner institutions modify their requirements to become test score optional, Adelphi will counsel students accordingly.
An admission interview can be scheduled with an admissions counselor upon request. If you are identified as a candidate for the Honors College,  you may be asked to complete a virtual interview for program consideration.
A résumé is strongly recommended for all students – it helps us get to know you better!
Requirements for Performing and Visual Art Students
If you are applying to Adelphi as a performing or visual arts major (art, art education, dance, music, music education, theatre — acting or design technology), you must complete a portfolio review or audition, specific to your academic major of choice (in addition to the previously described application requirements). Your application can not be reviewed for an admissions decision by the Office of University Admissions until a portfolio review or an audition has been completed with the proper department.
Please select your area of interest to learn more about the required portfolio review or audition.
Performing and Visual Art Student Requirements
Requirements for Homeschool Students
All applicants regardless of enrollment in a high school or a homeschool program will be given careful consideration for admission. If you are a homeschool student, we'll need your:
Academic record of coursework
Level of achievement (grade-point average)
College level coursework credentials (if college coursework is completed/in progress)
Proof of graduation: high school diploma, diploma from an organization governed by a StateBoard of Education, Graduate Equivalency Diploma (GED), or Test Assessing Secondary Completion (TASC)
Homeschool Students: For high school seniors, proof of graduation is not required when applying; however, verification of graduation must be submitted prior to enrollment. Students in homeschool programs must submit proof of high school graduation in the form of a diploma from a state-recognized homeschool agency, a letter from a local school district verifying graduation, or a copy of the GED or TASC transcript. Documents that serve as "Proof of high school graduation" will vary and are subject to individual state guidelines.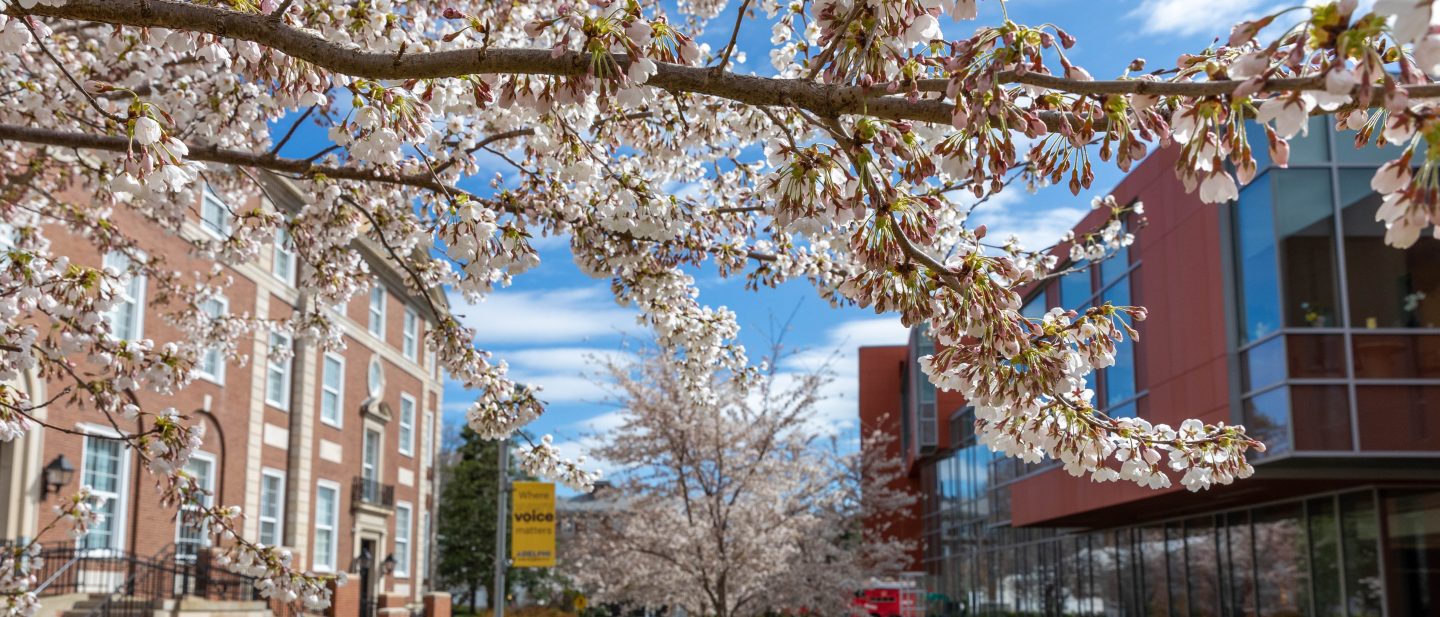 Ready to apply?
Adelphi is known for its top-ranked academic programs, small classes and personalized attention. Start your journey today.