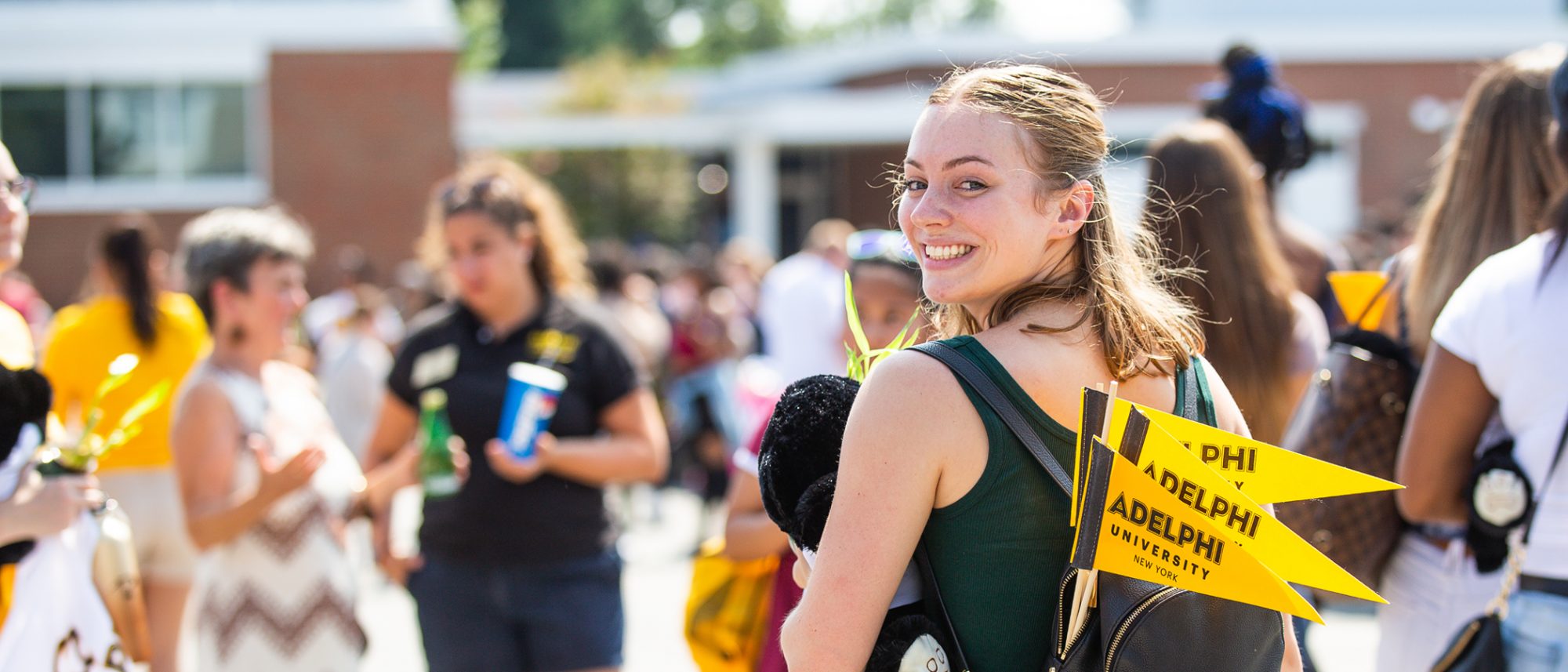 Welcome, Panther! Congratulations, again, on your acceptance to Adelphi University, where you will find success, support and a welcoming community.
It's time to get excited about planning your Adelphi experience. Here are some resources and suggested next steps for you and your family as you get started.
Once You've Been Accepted—Your Next Steps
We know you have a lot to think about right now- you and your family might have additional questions about our programs, scholarships and financial aid, campus housing and other topics important in the decision-making process.
Get to know your campus.
We invite you to tour our scenic campus, whether for your first or a follow-up visit, in person or online. We'll show you around and answer your questions about academic and campus life. Even if you've been here before, setting foot on our gorgeous campus after you've been accepted allows you to experience campus from a different perspective. Many students have shared they fell in love with Adelphi the moment they set foot on campus; we hope you do too.
Celebrate your achievements!
Be a part of our community, meet your future classmates and receive personal counseling on your next steps. Join us for our upcoming 2023 Accepted Student Days in March and April.
Explore your financial aid options.
Applying for financial aid (which starts with completing your FAFSA) and learning what grants, scholarships, loans, student employment and other funding options you're eligible for is one of the most important steps you can take to determine the affordability of Adelphi. You'll have a clearer picture of your personal out-of-pocket expenses vs. the listed tuition price. Between scholarships, grants, loans and on-campus employment, we'll help you make an Adelphi education affordable.
Explore Resources
As you're finalizing your enrollment decision, get all the information you need for your transition to Adelphi.
Speak 1:1 with our One-Stop Student Services Center
Our One-Stop Student Services Center advisers are ready to personally assist you with questions regarding your financial assistance plan. And if you haven't already done so, submit your FAFSA as soon as possible.
Explore On-Campus Housing
Each of our residential communities offers support and convenience that helps you make the most of your Adelphi experience. You can even live with students who share your interests in one of our First-Year Living Learning Communities.
Preview our Panther Pride
Our Youtube channel has tons of videos that will help you get a feel for student life, the success of our graduates and exciting opportunities that await you!
After You've Paid Your Deposit