Broaden your perspective, and gain knowledge that will enhance any health-related career, by minoring in public health.
Why Earn Your Minor in Public Health?
The COVID-19 pandemic has brought new appreciation of the vital importance of the public health field. Gain an introduction to the field, covering issues including communicable diseases like COVID-19, chronic disease, health education, environmental issues, access to healthcare and healthy lifestyles. Open to students in any major, a public health minor is especially valuable for students in nursing, premed, social science, health education or physical education programs.
Why Minor in Public Health at Adelphi?
Adelphi's public health faculty, including Clinical Associate Professor K.C. Rondello, MD, and Assistant Professor Maria-Pilar Martin, MD, has taken a leading role in fighting the COVID-19 pandemic. Dr. Rondello, who is a disaster epidemiologist, has emerged as a nationally prominent authority on the pandemic.
Learn from faculty members with expertise in public health issues affecting women and vulnerable populations in the United States and abroad.
Gain a solid foundation in public health, including an introduction to the organizations and agencies providing public health services, and local and global health challenges facing society in the 21st century.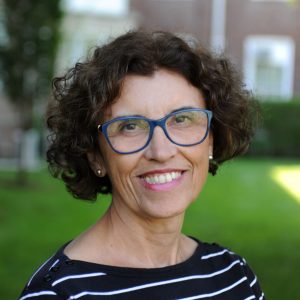 $80,225*
* based on Adelphi University Career Outcomes Survey & NACE First Destination Survey, Class of 2021
the average annual salary of our 2021 baccalaureate graduates—that's 36% higher than the national average
based on Adelphi University Career Outcomes Survey & NACE First Destination Survey, Class of 2021
What Can You Do With a Public Health Minor From Adelphi?
A public health minor can provide you with valuable knowledge and skills related to promoting and protecting the health of communities. While specific opportunities and career paths can vary depending on your interests, here are some potential areas where Adelphi's public health minor can be useful.
A public health minor can enhance your understanding of health-related issues and provide a broader perspective on the social, environmental and behavioral factors that influence health. This knowledge can be applied to a wide range of fields such as biology, sociology, psychology, environmental science and political science.
Public health minors often gain research skills through coursework and hands-on experiences. You can assist in public health research projects, analyze health data and contribute to scientific studies. Research experience is valuable for pursuing advanced degrees in public health or related fields.
With a public health minor, you can work in community health education programs, designing and implementing health promotion campaigns, conducting workshops, and developing educational materials to raise awareness about various health issues.
Public health minors can find opportunities in nonprofit organizations, community health centers and advocacy groups. You may work on initiatives related to disease prevention, access to healthcare, health equity, policy advocacy or community outreach.
Public health is a critical component of government agencies at the local, state and national levels. You can contribute to public health initiatives, assist in data analysis, participate in policy development, or work on health education and promotion programs.
Public health minors can explore opportunities in international health organizations, nongovernmental organizations (NGOs) or global health initiatives. You may engage in projects related to infectious disease control, maternal and child health, health infrastructure development, or health education in resource-limited settings.
A public health minor can provide a foundation for working in occupational health and safety roles. You can focus on assessing and reducing workplace hazards, promoting employee well-being and developing policies and programs to ensure a safe working environment.
With a public health minor, you can pursue careers in health consulting firms, where you can contribute to projects involving health policy analysis, program evaluation, healthcare quality improvement or health data management.
If you develop a strong interest in public health, a minor can serve as a stepping stone to pursuing advanced degrees, such as Adelphi's Master of Public Health (MPH) or a related field. This can open further opportunities in research, academia and leadership roles within the public health sector.
How Do I Declare the Minor in Public Health?
Students are advised to consult the department's adviser, Dr. M. Pilar Martin, as early in their studies as possible. This will enable you to seek the advice needed to be able to complete the requirements of the minor.
Complete the Change of Major/Minor form on the Registrar website.
Application Requirements
To apply for this program, submit the appropriate application requirements:
Transformative Educational Opportunities
All undergraduate students have the opportunity to apply for the following programs to expand their educational landscape: