Broaden your perspective, and gain knowledge that will enhance any health-related career, by minoring in public health.
Why Earn Your Minor in Public Health?
The COVID-19 pandemic has brought new appreciation of the vital importance of the public health field. Gain an introduction to the field, covering issues including communicable diseases like COVID-19, chronic disease, health education, environmental issues, access to healthcare and healthy lifestyles. Open to students in any major, a public health minor is especially valuable for students in nursing, premed, social science, health education or physical education programs.
Why Minor in Public Health at Adelphi?
Adelphi's public health faculty, including Clinical Associate Professor K.C. Rondello, MD, and Assistant Professor Maria-Pilar Martin, MD, has taken a leading role in fighting the COVID-19 pandemic. Dr. Rondello, who is a disaster epidemiologist, has emerged as a nationally prominent authority on the pandemic.
Learn from faculty members with expertise in public health issues affecting women and vulnerable populations in the United States and abroad.
Gain a solid foundation in public health, including an introduction to the organizations and agencies providing public health services, and local and global health challenges facing society in the 21st century.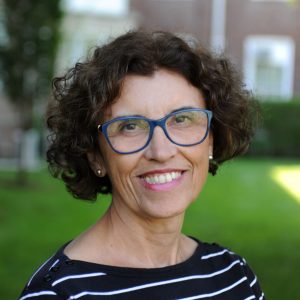 $80,225*
* based on Adelphi University Career Outcomes Survey & NACE First Destination Survey, Class of 2021
the average annual salary of our 2021 baccalaureate graduates—that's 36% higher than the national average
based on Adelphi University Career Outcomes Survey & NACE First Destination Survey, Class of 2021
How Do I Declare the Minor in Public Health?
Students are advised to consult the department's adviser, Dr. M. Pilar Martin, as early in their studies as possible. This will enable you to seek the advice needed to be able to complete the requirements of the minor.
Complete the Change of Major/Minor form on the Registrar website.
Application Requirements
To apply for this program, submit the appropriate application requirements:
Transformative Educational Opportunities
All undergraduate students have the opportunity to apply for the following programs to expand their educational landscape: