Unlock exciting career opportunities within the art world as an innovative and dynamic teaching artist.
Why Earn Your BFA in Art and Design Education?
Prepare for a career teaching art for diverse learners across a range of educational settings. You will learn a range of ways to make, present, interpret and teach art, as well as how to collaborate across a variety of disciplines and communities in the process. Graduate ready to take on a number of creative endeavors in the arts, including teaching grades Pre-K through 12 at a public or private school, lead museum education programs or run a community-based arts program.
Why Major in Art and Design Education at Adelphi?
Build your creative skills with courses in studio art, art history and contemporary art and be eligible for New York state certification in visual arts education upon graduation.
Shape your degree to match your unique passions—from art therapy to animation or museum education—as you learn to design and facilitate arts-based programs.
Enhance your résumé by gaining hands-on experience in STEAM (science, technology, engineering, arts and math), a cutting-edge, interdisciplinary approach to teaching and learning.
What Can You Do with a Degree in Art and Design Education?
Inspire children and adults alike as a teaching artist, creative arts therapist, arts activist or museum educator. Fulfill your creative passions as a graphic designer or photographer, or make an impact as an exhibition coordinator or nonprofit arts administrator
Artists at Work: Mural for the Multicultural Center
When art education major Gianna Valente got the chance to design a mural for the Multicultural Center, she wanted to show the diversity she sees at Adelphi. The mural, representing student life on campus, was painted with the help of classmates in her mural class and adjunct faculty Cara Lynch '12, MS '15.
$80,225*
* based on Adelphi University Career Outcomes Survey & NACE First Destination Survey, Class of 2021
the average annual salary of our 2021 baccalaureate graduates—that's 36% higher than the national average
based on Adelphi University Career Outcomes Survey & NACE First Destination Survey, Class of 2021
Art and Design Education Minors
Customize your studies to suit your interests by incorporating one of six minor options with courses ranging from digital photography, ceramics, painting and more.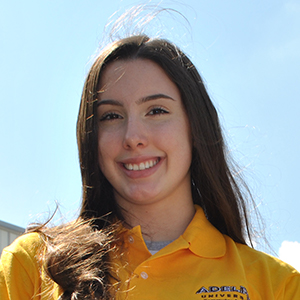 Galleries and Exhibitions
We are proud of the work of our students and faculty:
Exceptional Hands-On Learning
At Adelphi, we believe hands-on experience is key to setting our students up for future career success. Thanks to our strong partnerships with schools and organizations on Long Island and beyond—as well as our robust alumni network—our art and design education students graduate with more than 500 internship hours, with opportunities that include teaching in schools, museums and at after-school programs. Students also have the opportunity to exhibit their work in one of four University galleries.
Program Info
Application Requirements
To apply for this program, submit the appropriate application requirements along with a portfolio of recent work.
Transformative Educational Opportunities
All undergraduate students have the opportunity to apply for the following programs to expand their educational landscape:
Art Studios
Spaces that inspire and foster creativity.
Art History Lecture Hall
With small class sizes, the art history lecture hall located in Blodgett Hall offers one-on-one attention from our experienced art professors.
2 Photos
Senior Art Studios
Individual studio space for BFA Studio and Art and Design Education students is available in their senior year.
2 Photos
Sculpture and Ceramics
The 5,000 square foot sculpture studio and adjacent yard house a small foundry for lost wax and sand casting, wood fabrication equipment, and a sheet metal shop with welding machines.
3 Photos
Printmaking Studio
The 1400-square-foot printmaking area is well equipped to support a number of different printmaking techniques including all varieties of intaglio, solarplate, monotype, relief, and screenprint printmaking.
3 Photos
Graphic Design and Digital Production
We have 2 digital labs that include 40 Mac Pro computers equipped with a full suite of art and design software, 2 large format archival color inkjet printers, 4 color printers, 6 scanners, and 20 Wacom tablets.
4 Photos
Painting and Drawing
The 3 painting and drawing studios are well lit and feature skylights, easels, and designated storage areas for canvas and 2D work.
8 Photos
Program Director and Department Chair