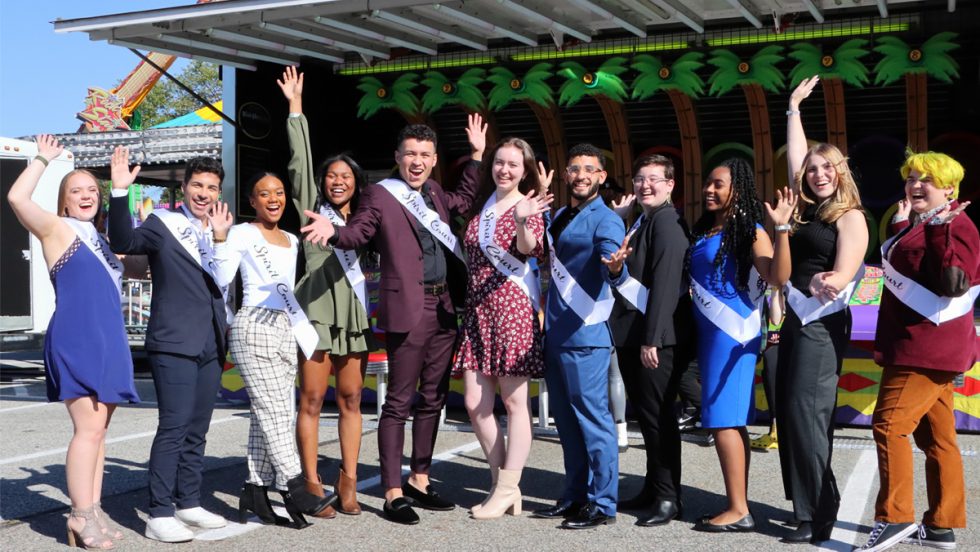 This past weekend marked two important anniversaries: the sixth year Adelphi held Spirit Weekend and the fifth anniversary of one of the University's newest traditions: the naming of the Prestigious Panthers—the gender-neutral alternative to the traditional homecoming king and queen—as well as the Spirit Court. While two students—one male, one female—serve as king and queen, more than two students, regardless of gender identity, can be Prestigious Panthers. These exemplary students represent the very best of Adelphi: academic excellence, creativity, global awareness, community involvement and Panther pride. At Spirit Weekend, they are given plaques and sashes instead of the traditional crowns and flowers.
"The Prestigious Panthers and Spirit Court represent exceptional student engagement and student leadership," said R. Sentwali Bakari, PhD, vice president for student affairs. "As a senior, these are the types of experiences that help students develop a balanced Adelphi portfolio."
"Adelphi's Prestigious Panthers are an exceptional representation of Adelphi's values," said Anna Zinko, assistant vice president for student affairs. "These students have excelled academically, displayed constant leadership and committed themselves to serving the community. They have contributed so much to Adelphi in their past four years, and it's our honor to recognize this phenomenal group students."
Meet this year's Prestigious Panthers and Spirit Court and learn more about them.
Prestigious Panthers:
Kelly Andreuzzi

 

is majoring in environmental science and minoring in ethics, law and justice. They are president of the Environmental Action Coalition and the Feminist Alliance and a member of Adelphi's Sustainability Committee and Gender and Sexuality Alliance.
Jende Uy is majoring in biology/premed and minoring in forensic anthropology. She's the vice president of Gamma Beta Phi and a leader in the First-Year Community Action Program and participates in women's club soccer and volleyball.
Miguel Velasquez, history and education major and Levermore Global Scholar, was

 

named a 2021 Newman Civic Fellow

 

and was featured on

 

The College Tour.
Jonay Jackson is majoring in business management. She is a Willumstad Leadership Scholar, Panther Pantry volunteer coordinator, and the recipient of the President's Leadership Award and Emerging Leader Award.
And the 2022 Spirit Court:
Carmilia Moise is a nursing major. She is a member of various student organizations, including Black Students United, the Feminist Alliance and Her Campus.
Brei Snyder is majoring in dance and minoring in food studies. A member of the Honors College, she is an Adelphi admissions ambassador and National Residence Hall Honorary president.
Mylo Fisherman

 

is a psychology major pursuing a master's degree in elementary education through Adelphi's Scholar Teacher Education Program (STEP). He served as president of the Gender and Sexuality Alliance and is the founder and current president of Students Beyond the Binary.
Christina Korotki is majoring in psychology and minoring in criminology and sociology. She is a member of Psi Chi and Levermore Global Scholars. She has also been selected to participate in the

 

inaugural Bhisé Global Learning Experience, a program established this semester by Bharat Bhisé, MBA '78.
Reilly Fortune is a mathematics and economics major. She is a member of the Honors College, a teaching assistant in the Department of Mathematics and Computer Science, and a Bridges to Adelphi peer mentor.
Gabriel Silva is a psychology major and sociology minor. He was vice president of the Latino Student Association. He is also a

 

top finisher on Adelphi's cross country and track and field teams.
Caio Gomes is an international studies major, a French and peace studies minor, and a member of

 

Levermore Global Scholars. He was

 

named a 2022 Newman Civic Fellow

 

and selected for the Bhisé Global Learning Experience.
In Their Own Words
The students shared their thoughts about what being on the Spirit Court and what Panther Pride meant to them with the selection committee.
"Serving on the Spirit Court is a unique opportunity to inspire younger students," said 2022 Prestigious Panther Kelly Andreuzzi. "As a queer person, I'm happy to be that representation that some people would really love to see."
"Being a Panther means being involved in the campus community," said Mylo Fisherman, adding that he wants to use his position in the Spirit Court to continue to push the conversation about trans and gender-nonconforming students.
"Being on Spirit Court means getting the opportunity to represent kids who, many years ago, probably wouldn't have been able to be here," said Miguel Velasquez, a first-generation college student whose family is from Central America. "Being a Panther to me is about giving people a chance to share their thoughts on how we can improve and create a safe space for everybody—a space that welcomes people of different backgrounds, needs and abilities."