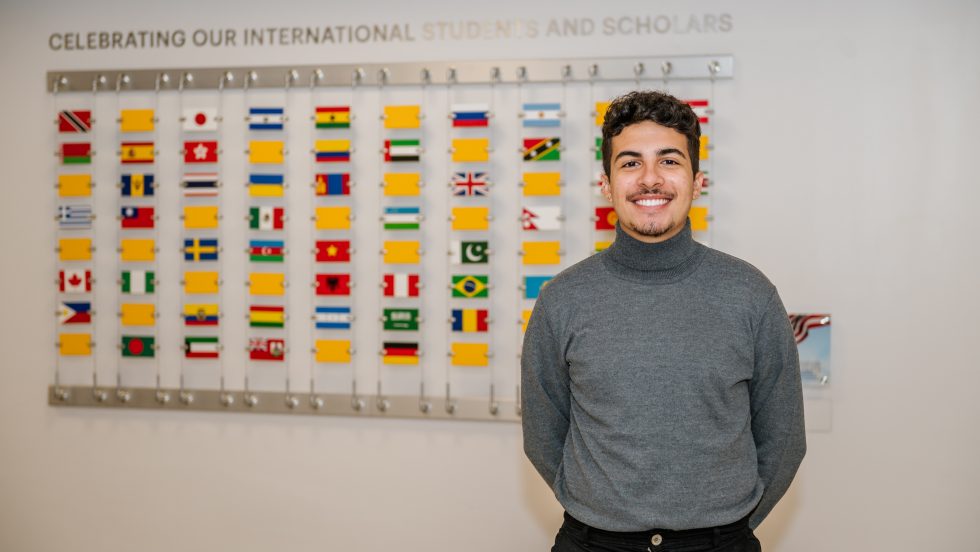 Our newest Newman Civic Fellow, Caio Gomes, is an environmentalist and student leader, who speaks five languages. We are committed to nurturing student leaders who want to find and create solutions for challenges in society.
Teaching today's students to be tomorrow's leaders in social justice is a strong ideal at Adelphi. That's why the University has produced winners of Newman Civic Fellowships in each of the past five years. The prestigious yearlong program recognizes student change makers from colleges across the country and helps them meet other outstanding students so they grow into problem solvers in their fields.
Adelphi's 2022 advocate for a better world is Newman Fellow Caio Gomes.
Gomes, a first-generation college student from Brazil, is a junior majoring in international studies with minors in peace studies and environmental studies. He speaks five languages and plans a career in higher education so he can become a professor who furthers the causes of human rights, social and climate justice, and world peace. He has ideas about how to make that happen.
"The key to changing people and the world for the better is education," Gomes says. "Education is not accessible to everyone here in the U.S., and certainly not elsewhere in the world. I believe making education accessible to all would be transformative." That's why he wants to be a college professor—so he can change the future through teaching.
A commitment to social justice and diversity is in Adelphi's DNA, and Gomes and previous winners—current junior Miguel Velasquez, current senior Trish Ferguson, Najee Hunt '20 and Antonette White '19—reflect that dedication. They are also representative of the University's gender, cultural and racial diversity, as well as its encouragement of student leadership.
An Education Via Travel
Gomes already knew a lot about the world by the time he got to Adelphi. "My whole childhood, my parents would travel two or three times a year so we could see and learn about the world," he said. "They helped me see the importance of being a global citizen."
In this year's Newman Fellows program, Gomes will join around 200 students to engage in learning opportunities and develop ideas for social change. While last year's program was entirely online due to COVID-19, this year's program will be hybrid. Activities will begin in the fall and continue throughout the academic year. Gomes is excited about meeting students from other campuses. "I really hope to make some good connections," he said. "I want to further my community service and leadership experiences."
Gomes is also in Adelphi's innovative Levermore Global Scholars (LGS) program, which is dedicated to preparing students to become global thinkers and leaders in a changing world. He's an officer in the International Student Society and the Multilingual Experience Club and is on the Student Leadership Council of LGS. Off campus, Gomes furthers the cause of social justice by volunteering for a food recovery initiative and the Long Island Food Not Bombs project. Both organizations work to help people facing food insecurity in Adelphi's neighboring community of Hempstead, New York.
Solutions to Big Problems Start Small
In an era when the problems facing the planet—war, climate change and pandemic—may seem overwhelming, where does one even begin to find solutions? Start small, Gomes says.
"We lose sight of what's close to us and the impact we can have on one another and those who are around us," he said. "Everyone can do a little bit in order to make an impact locally, even if it's just within your neighborhood, or even if it's just between you and the people who live with you.
"Donate to your local food bank, he said. Volunteer for a nonprofit working for social justice or at a nursing home. Small actions have a bigger impact than you know."