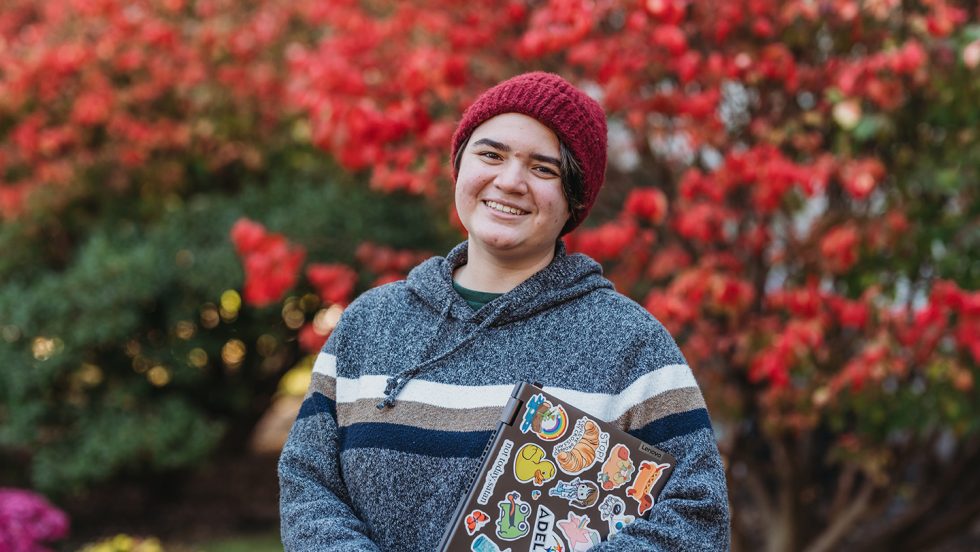 Senior Mylo Fisherman chose Adelphi for its inclusive community. Now he seeks to help other students find a home by being active in the Gender and Sexuality Alliance and launching a new club, Students Beyond the Binary.
For Adelphi senior Mylo Fisherman, being a leader and advocate on campus means helping others on their personal journeys of self-discovery and acceptance.
To accomplish that, he served as president, and is now public relations manager, of the Gender and Sexuality Alliance. After identifying a need on campus for a club solely focused on transgender and gender-nonconforming issues, he formed a new club, Students Beyond the Binary, and now serves as president. Fisherman juggles these extracurricular activities with a demanding course load, majoring in psychology and simultaneously pursuing a master's degree in elementary education through the school's five-year Scholar Teacher Education Program.
Fisherman came out as bisexual in his senior year of high school, while also questioning his gender identity. At the same time, he was making his college decision. "Adelphi was the first and only college I toured, and the moment I stepped foot on campus I knew it was the school for me," he said. "I loved the beautiful campus, the small class sizes and how close to home it was."
It turned out to be the right decision. "The culture of the school, and the amazing friends and advisers I met during the LGBTQIA+ First-Year Experience, made me feel comfortable and accepted," he said. He credits the support of students, faculty and staff with helping him make the decision to come out as a transgender man during his first year at Adelphi.
Gender and Sexuality Alliance
Fisherman joined the Gender and Sexuality Alliance (GSA) and served as president his sophomore and junior years and will also handle public relations for the club. Its mission is to provide a safe space for all students regardless of gender identity or sexual/romantic orientation, advocate for a safer and more accepting University community, work to educate all who wish to learn more about the LGBTQIA+ community, and act as a source of community and support.
Fisherman is particularly proud of the work done during his tenure to make the club more visible on campus and of its weekly IGTV series, InQUEERies, which features interviews with members of the Adelphi LGBTQIA+ campus community. The club won the Excellence in Programming award this past year from the University's Center for Student and Community Engagement, for initiatives including a transgender film series and interactive events.
Ren Blake, incoming club president, said he is "looking forward to creating a welcoming environment in which people feel welcomed and like this is their family. I hope to bring the colorful rainbow of the queer community more into Adelphi's beautiful campus."
Next semester, GSA will meet on Fridays from 3:00 p.m. to 4:00 p.m. For more information, visit the club's MyAULife page, follow them on Instagram @adelphigsa or email gsa@adelphi.edu.
Students Beyond the Binary
Fisherman founded Students Beyond the Binary last year and currently serves as president. The organization's purpose is to create a safe space for transgender and gender-nonconforming students and their allies on Adelphi's campus. Next semester will be its first as a fully recognized, University-sanctioned organization.
He invites faculty, staff and students interested in learning more to attend meetings on Fridays from 2:00 p.m. to 3:00 p.m. For more information, visit the club's MyAULIFE page, follow them on Instagram @adelphisbb or email sbb@adelphi.edu.
Advocacy and Support
While there always is more work to be done, Fisherman said, "The Adelphi community is really accepting … most professors are understanding and, for the most part, I've never had a bad experience." He added that the first day of classes can be stressful, even though the University has a policy enabling transgender students to have their preferred name appear on class rosters. He and others have been working with University administration to add preferred pronouns to the rosters, to avoid misgendering. "If people feel safe and want to be out in the classroom setting, they should contact their professors before the semester," he said. "Most want to do the right thing."
Fisherman said, "My younger self would be proud of the person I am now." He has advice to those questioning themselves while going through the LGBTQIA+ journey. "It's OK to not know who you are and to take time to figure it out. You don't necessarily have to come out and you don't necessarily need to label yourself. Do what you feel comfortable with, as long as you are safe and happy."