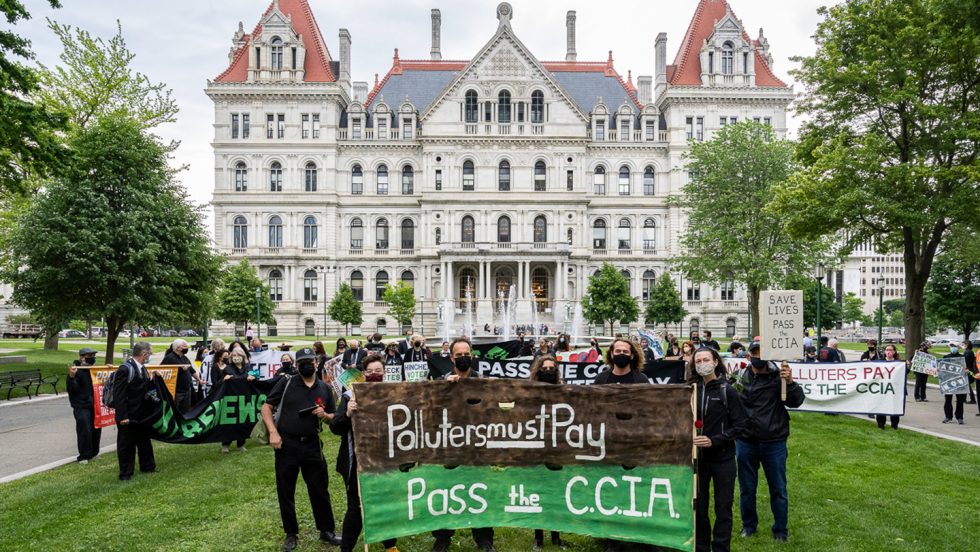 Kelly Andreuzzi, a junior, has always been passionate about environmentalism. So, as a first-year student, it was a no-brainer for Andreuzzi to join the Environmental Action Coalition (EAC), a student organization that promotes education, sustainability and environmental equity for all.
"I was fresh out of high school and wanted to make a difference," said Andreuzzi, who uses they/them pronouns. The next year, Andreuzzi became president and began to implement change on campus and throughout the state. "My goal was to help inspire, motivate and provide resources and trainings to people who wanted to get more involved in environmental activism," they said.
Andreuzzi initially declared a major in environmental studies, then changed to environmental sciences and added a minor in ethics law and justice because "I really wanted to focus on how we can change our policies and the things we're doing," they said. "I firmly believe we have a lot of environmental solutions. A lot of horrible things are happening right now. I'm pursuing these degrees because I want to make a difference."
Encouraging a Sustainable "Momentum"
After becoming president of EAC, one of the first things Andreuzzi had the EAC do was get the Adelphi Sustainability Committee active again. The committee is devoted to implementing sustainable practices at Adelphi but hadn't been active for more than two years. The EAC is now heavily involved in the committee and Andreuzzi serves as a chair. Andreuzzi is also a Student Government Association senator.
As someone who said they like to "stick with the sustainable side of things," Andreuzzi used their connections on campus, including the EAC and the Sustainability Committee, to create a tool kit that was presented at the Momentum 2 town hall held earlier in April. This tool kit highlighted the ways that Adelphi can ensure that proper sustainability measures are being planned for. These measures included hiring a sustainability coordinator, reducing campus greenhouse gas emissions, becoming the greenest campus on Long Island and implementing measures to divest from fossil fuels.
"I know when a lot of people think about environmentalism, they think we're talking about the bees and the turtles," Andreuzzi said. "But learning about environmental injustice, such as how many Black and brown communities have to unfairly suffer from discriminatory waste practices, and how people of color have higher rates of asthma and other health issues due to an unfair [amount of] environmental pollution, or Tuvalu, which is a Pacific island nation—they are at risk of losing their entire country—just hearing about them is quite devastating. That's definitely what pushes me to do all this work."
Making a Change On and Off Campus
After graduating, Andreuzzi plans to continue their advocacy for sustainability and pursue ways to change policies that better the environment. However, Andreuzzi isn't waiting until graduation. On April 6, Andreuzzi and several Adelphi students rallied together and traveled to Brookhaven Town Hall to give testimony at a Climate Action Council public hearing.
In 2019, New York passed the Climate Leadership and Community Protection Act, otherwise known as the Climate Act, which established greenhouse gas emission reduction goals. The EAC members, along with other environmental activists, voiced their concern that New York will be implementing false solutions to climate change and not taking enough action to ensure a just transition. This is one of the many ways that the EAC promotes sustainable change.
On March 8, Andreuzzi and another EAC member went to Albany to take part in a rally for the $15B for Climate Justice campaign, a movement encouraging legislators to include $15 billion for climate justice in the 2022 New York state budget.
"We marched in front of Governor Hochul's mansion and then rallied in front of the capitol building to show our support for the movement," they said. "It was estimated that more than 500 people came!"
On Wednesday, April 27, the EAC will host a tabling event in the Ruth S. Harley University Center lobby to help raise money for the Water Gala, an annual EAC event that highlights the importance of water in a local and global context, including how water impacts sanitation and disease outbreaks, intersections between water and environmental justice, and local to global water stress. The gala is in collaboration with the Thirst Project, a nonprofit that brings safe drinking water to communities around the world where it is not immediately available.
"Right now, my main goal is to focus on these Climate Action councils and get people to turn out throughout the state and wherever they can," Andreuzzi said. "As we talk about becoming a more sustainable society, we need to make sure that change is coming from all levels of people. We need all levels of organization, of governance, of institutions to change and be more environmentally conscious."