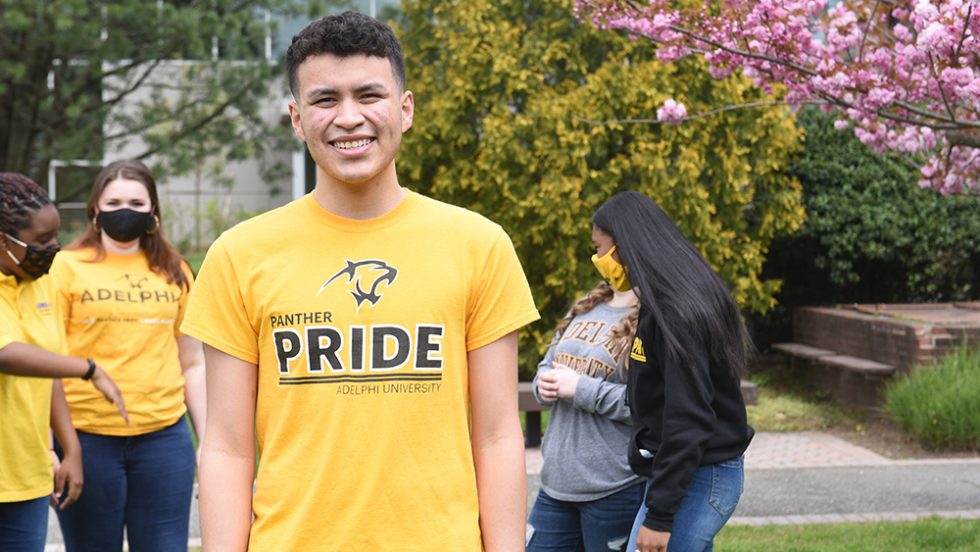 Social justice and student leadership are strong ideals at Adelphi, producing four Newman Civic Fellows in as many years. Our 2021 advocate for a better world is Newman Fellow Miguel Velasquez.
As a first-generation college student and first-generation American, sophomore Miguel Velasquez is committed to breaking down barriers for students with similar backgrounds.
"Just being here and having an opportunity to get a college education is a dream that my parents had for me and that I had for myself," said Velasquez, who came to Adelphi from the Long Island town of Mineola. "For students like me, our experiences are shaped by what resources are available to us. It's important that I find ways that we can build a community together and help each other."
It's this commitment to leadership that earned Velasquez the 2021–2022 Newman Civic Fellowship, which recognizes student change makers in colleges across the country.
A commitment to social justice and diversity is in Adelphi's DNA, so it is no surprise that University students have won Newman fellowships in each of the past four years. Velasquez and the previous winners—Trish Ferguson, Najee Hunt '20 and Antonette White '19—reflect that dedication. They are also representative of the University's gender, cultural and racial diversity as well its encouragement of student leadership.
In this year's Newman Fellows program, Velasquez will join 212 students to engage in virtual learning opportunities and develop strategies for social change. In fact, they've already met online to discuss issues such as racial justice, police reform and civic engagement.
"We were brainstorming ideas for how, as a campus, we can implement programs that make a difference locally and on a global scale," Velasquez said. For example, he is currently working on sending care packages to families displaced by natural disasters, such as recent hurricanes in Honduras.
"For students who can't come to campus to put together a care package, we were also brainstorming ways they can contribute, like using social media to raise awareness," he said.
At Adelphi, Velasquez plays an active role in many student organizations, including the Student Activities Board and the Leadership Certificate Program, where he works to address issues of diversity, equity and inclusion. He is also working with the admissions office, leading campus tours in Spanish and highlighting multicultural organizations on the University's social media platforms.
He is currently studying to become a history teacher through the dual bachelor's and master's degree program.
"History impacts the contemporary world that we live in, and I think it's important to diversify what is being taught and give an alternative perspective," Velasquez said. "The narrative that I know is different from the narrative that students are learning in different parts of the country and the world."
Velasquez is also part of the prestigious Levermore Global Scholars program, which supports future global leaders and thinkers with seminars, internships and service projects. He's even joined fellow students in attending peaceful demonstrations in New York City supporting the Climate Strike and the Black Lives Matter movement.
"The Levermore Global Scholars program introduced me to activism," he said. "We had some very heavy, eye-opening conversations in classes like Professor [Melanie] Bush's seminar, Community, Love and Justice. Those classes inspired me to go to the Climate Strike protest with other students. It was the first protest I ever went to."
As for the Newman fellowship, Velasquez is looking forward to networking further with students from across the country and sharing ideas for social change. For example, he met another student in Nebraska who also wants to become a teacher and is working with local elementary schools on community-based programs.
"That's definitely something I'm going to investigate in the future," he said. "Through the program and the resources that they give us, I can find new people to talk to and we can share ideas to engage in both traditionally and virtually."
Miguel Velasquez: Honored as a Newman Fellow Student Change-Maker
A history major, Levermore Global Scholar and Newman Civic Fellow, Miguel Velasquez is featured in Adelphi's Spring 2022 episode of The College Tour on Amazon Prime.