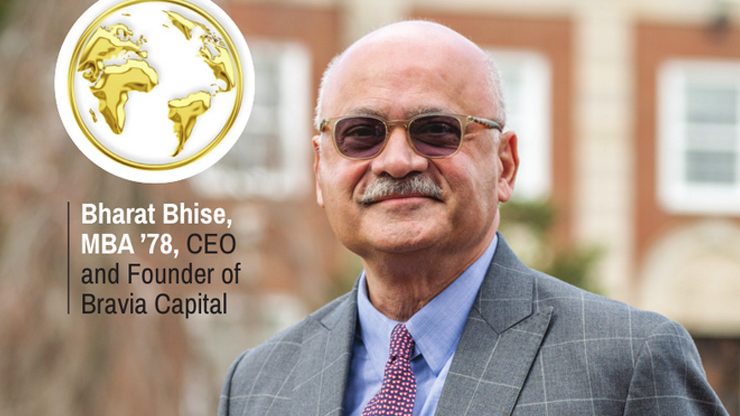 A distinctive new program for Levermore Global Scholars (LGS) at Adelphi University will send a group of students to India in January 2023 for an intensive, all-expenses-paid, study tour, sponsored by Adelphi alumnus Bharat Bhisé, MBA '78.
Bhisé has established the Bhisé Global Learning Experience Fund at Adelphi to further promote a global mindset at the University by providing students with an overseas trip complemented by a semester of cultural and academic opportunities.
The goal of the Bhisé Global Learning Experience is to serve as an incubator for global learning in a focused, structured and experiential way through distinctive on-campus and international experiences.
"Adelphi's Levermore Global Scholars program has always wanted to offer the kind of immersive and intensive overseas and on-campus experience that Mr. Bhisé's sponsorship has made possible for this upcoming semester," said Katie Laatikainen, LGS program director and professor of political science.
Bhisé, who earned his MBA at Adelphi in 1978, credits the University with being the first step in his career. He is an investor and leader in the global transportation, leasing and logistics industries, and the founder and CEO of Bravia Capital.
"Adelphi's commitment to global awareness is exemplified by the mission of its Levermore Global Scholars program," said Bharat Bhisé. "These values closely align with my strong belief that young people must be exposed to different countries and cultures to broaden their horizons and gain new perspectives. It's a critical part of being able to succeed in today's world."
The Bhisé Global Learning Experience for 2023 includes an immersive 10-day trip to India for eight students in Adelphi's Levermore Global Scholars program to explore the country's people, culture, environmental issues and history through visits to several cities and important sites including colleges, businesses and nongovernmental organizations.
The students selected to travel to India as part of the 2023 Bhisé Global Learning Experience took part in a competitive application process. We are pleased to introduce them today:
Malika Burieva, junior communications major
Erica Criollo, junior international relations major
Caio Gomes, senior international studies major
Callum Ferguson, junior ethics and public policy major
Amanda Frånstedt, senior finance major
Christina Korotki, senior psychology major
Valentin Le Goupil-Maier, senior finance major
Tiffany Pacheco, senior international studies major
"The Bhisé Global Learning Experience Fund will support an important goal that I share with Adelphi—to cultivate global citizenship and prepare thoughtful international leaders through powerful, firsthand learning experiences," Bhisé added.
Additional experiences focused on India's role in the global community are planned throughout the Spring 2023 semester at Adelphi University.
All Adelphi Levermore Global Scholars will continue exploring the country through a specialized curriculum and academic and cultural trips. The full on-campus community will be invited to learn more about Indian economics, politics, culture and society through distinguished lectures and themed events. The program's 2023 focus on India will culminate at Adelphi's 20th Annual Scholarship and Creative Works Conference in April when the scholars will present their research to the University community.
Adelphi's Associate Provost for Faculty Support and Global Affairs Susan Briziarelli, PhD, said, "We are so excited for our students to have this outstanding experience. We hope to see the program grow to offer these truly unique opportunities for students to discover other countries and to experience our world."
"Adelphi's deep values of diversity and global awareness are ideally reflected in the program that Mr. Bhisé has gifted to our students and University community, " said Adelphi's Vice President of University Advancement and External Relations Thomas Kline, EdD. "Additionally, his extraordinary generosity further advances one of our Momentum 2 strategic plan's main goals—to strengthen Adelphi's distinction for academic excellence through valuable experiential learning opportunities."
Learn more about the Bhisé Global Learning Experience.
Learn more about Momentum 2.