School of Psychology History
Adelphi integrated the teaching, research and practice of psychology.
Adelphi's Gordon F. Derner School of Psychology was the nation's first university-based professional school of psychology. Since its historic founding in 1972, it has earned international recognition for its pre-eminence in psychology and related disciplines.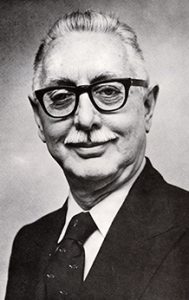 The school is named for its founding dean, Gordon F. Derner, PhD, who came to Adelphi in 1950 and, in 1951, started the clinical training program, which was accredited in 1957. Dr. Derner was a respected clinical psychologist and exemplary administrator and teacher. His former students include Paul Ekman, PhD '58, whose research has transformed our understanding of emotion and its nonverbal expression and who was named one of the most influential psychologists of the twentieth century by the American Psychological Association. Nicholas Cummings, PhD '58, former chief of mental health for The Kaiser Permanente Health System and the founder of the California School of Professional Psychology, calls Dr. Derner "one of my very early heroes." Beverly Greene, M.A. '77, PhD '83, a professor in the Department of Psychology at St. John's University who is admired for her pioneering work in multicultural psychology, credits Dr. Derner with emphasizing the importance of diversity in student recruitment.
In 1984, a year after Dr. Derner's passing, the Gordon F. Derner Institute of Advanced Psychological Studies was named in his memory. That year, George Stricker, PhD, the assistant dean since its founding, was named dean. Dr. Stricker retired in 1992, and Robert Mendelsohn, PhD, was appointed dean. Louis Primavera, PhD, was named dean in 2000. After 12 years of dedicated service, Jacques Barber, PhD, stepped down from his role as the sixth dean. In 2023, J. Christopher Muran, PhD, was appointed dean.
In 1997, the Institute accepted its first class in a program leading to the Master of Arts in General Psychology. In September 1998, the Department of Psychology became part of the Derner Institute as its undergraduate division, offering the Bachelor of Arts in Psychology. This merger united the faculty and integrated the resources of a broad, methodologically-rigorous curriculum with those of a respected professional school of clinical psychology.
Today, faculty members teach across the various levels and programs, and students with different levels of training can collaborate with and learn from each other. Also, Derner School of Psychology professors with complementary areas of expertise are better able to work together on research. Thus, Derner provides a rich learning experience from the undergraduate level all the way through the postdoctoral level in one integrated setting dedicated to the teaching, research and practice of psychology.