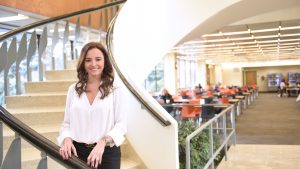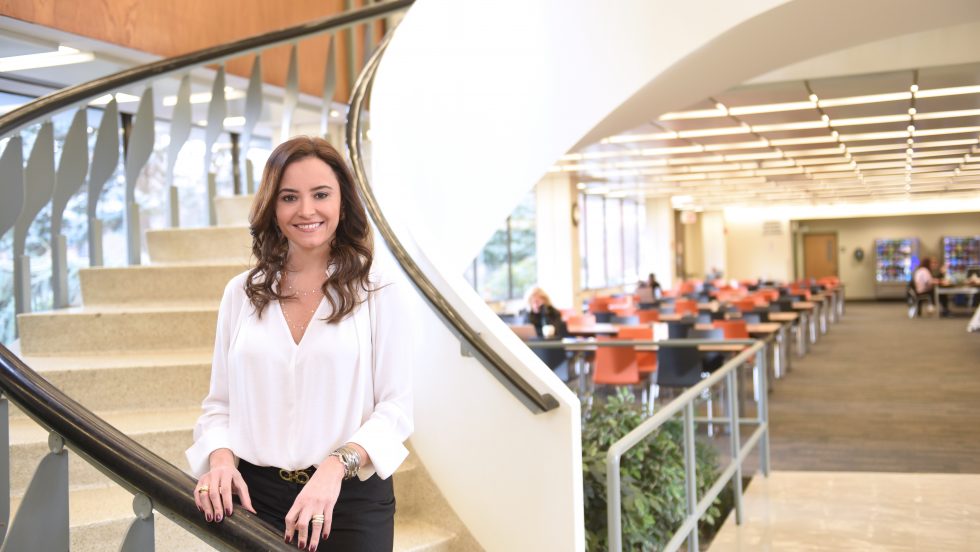 Adelphi University created a new, state-of-the-art Innovation Center designed to enable students of all disciplines to collaboratively solve problems with real-world projects.
With many Generation Z students aspiring to start their own businesses or just looking to gain practical work skills, providing a space where these dreams can become a reality is critical. To give students such a space and opportunities, Adelphi University created a new, state-of-the-art Innovation Center (IC) designed to enable students of all disciplines to collaboratively solve problems with real-world projects.
The Innovation Center, located on the first floor of Adelphi's Swirbul Library, opened earlier this year, successfully launching the IC Labs, a program dedicated to design solutions for corporations and nonprofit organizations, engaging students and faculty in eight- to 10-week projects. The 2,000-square-foot center features cutting-edge technology such as a smart wall, a dedicated WiFi network, digital communication and recording tools, virtual reality goggles, new printing and scanning equipment, and more.
Due to the COVID-19 pandemic, the center shifted to a virtual format, developing remote internships for students over the summer to ensure they would still gain practical work experience. This summer, the IC managed 14 projects, placing 55 students in internships at companies including, among others, the American Cancer Society, New York State Industries for the Disabled (NYSID) and Safe Place International.
"During this time of crisis, the Innovation Center is designing programs to help students develop the digital and collaboration skills necessary to succeed in this new environment and job market," said Graziela Fusaro, director of Adelphi's Innovation Center. "We are focused on training students to develop these skills by applying what they learn in the classroom to find solutions for real-life challenges faced by our partner companies and nonprofits."
This fall, the center continues operations online, hosting labs and problem-solving and project-based sessions that allow students to interact with faculty and guests from outside organizations, as well as numerous credit-bearing activities. The center will also launch Live Class Pilots with eight faculty members from the College of Nursing and Public Health, the College of Arts and Sciences, and the Robert B. Willumstad School of Business, serving approximately 200 students. Each class will be paired with an organization and students will have the opportunity to analyze problems, explore possibilities and seek solutions.
"The Innovation Center works closely with faculty to design experiential learning opportunities with external partners for subjects that are conceptual," said Fusaro. "Our Live Class Pilots are designed to fill that gap and build the bridge between conceptual topics and applied learning."
This fall, the center is also launching Adelphi's Gap Year Experience program, a virtual 11-week, credit-based option for students who are taking a year off before officially beginning college studies. The program will provide valuable experience and career preparation, focusing on collaborative projects with organizations such as IBM and Northwell Health. The experience will be offered again in Spring 2021. See more about the Gap Year Experience at adelphi.edu/gap-year.
"There is substantial educational research which validates when students are able to apply the concepts, theories and ideas that they have learned in college classes to real-world problems, they are able to retain and use this information more effectively throughout their careers," said Steve Everett, DMA, provost and executive vice president at Adelphi.
"The primary goal in establishing the Adelphi Innovation Center was to establish partnerships with a variety of nonprofit, for-profit and government agencies that expand the opportunity for our students to actively participate in interdisciplinary innovation and education and to work on real-world problems with them," Dr. Everett added. "Through these projects, students will learn and implement user research techniques, testing methods and presentation skills—all important for eventual career success."