Gain skills. Earn credit. Make it count.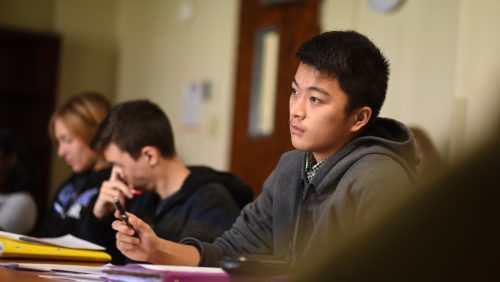 More Ways to Innovate
The Innovation Center at Adelphi has designed programs for students to work on as an extra class activity or for credit during their academic year, including live cases, internships and labs.
There are many reasons to decide to take a gap year—a desire to travel or volunteer your service, or just take a "pause" to find what truly motivates and inspires you. But there's a lot going on right now. With restrictions imposed by the COVID-19 pandemic, traditional gap year activities just aren't possible.
Why Take a Gap Year with Adelphi?
This Gap Year Experience is designed for students to learn problem-solving skills through a project-based approach. Students will be divided into multidisciplinary teams and develop a consulting project for a selected partner company.
By participating in a combination of leading guest speaker series, lectures, company meetings, and team dynamic exercises, students will learn problem-solving frameworks and professional skills.
Projects will cover a wide range of subjects in strategy, marketing, social work, health, and other areas according to student interest and partner company engagement. Students will be able to choose to work with either a domestic or an international partner ranging from Fortune 500 companies, non-profits, or start-ups. Students will be placed into teams of 4-8 like-minded students and paired with a partnered company to work with based on your field of interest.
Goals for Your Experience
Learn by Doing
Learn how to break a problem into actionable pieces by participating in a live dynamic project with a real company.
Team Building
Engage with other students from different backgrounds and learn how to collaborate remotely and add to each other's expertise to create better solutions.
Digital Professional Experience
Enhance your career readiness by developing professional skills and learning how to work remotely.
Test Drive
Confirm your major choice by trying projects in different areas and identifying areas you would like to develop a career in.
Program Options & Costs
Personalize your gap year experience. You can choose between two options:
Academic Credit: The for-credit experience 3 credit course costs $

3,630

per term (undergraduate course 0137-228) and $4,035 (graduate course 0137-689) applicable to any major.
Certification: the certificate experience costs $3,200 per term (graduate and undergraduate).
Timing & Program Format
This Gap Year will run remotely throughout the semester allowing students to connect and collaborate from anywhere in the world. It's an 11-week schedule with 3 weeks of training plus 8-week projects each term.
| Terms | Dates |
| --- | --- |
| Fall 2020 | September 7 – November 20 |
| Spring 2021 | February 1 – April 16 |
Students should plan for an average weekly commitment of 10-15 hours a week. Each week students will engage in:
Participating in faculty lectures, meetings with the Innovation Center leadership, and webinars with industry leaders from across the globe. These sections will be scheduled on a weekly basis Monday through Friday anytime between 9:00 a.m. and 12:00 p.m. EST.
Completing project-related work, both individually and as a group plus weekly company meetings. These sections will have a flexible schedule according to the team and partner company availability.
Develop your public speaking style and building your professional persona. This includes working on your résumé and presenting an elevator pitch.
Engage in problem-solving and project management training. This includes design thinking, brainstorming and fostering leadership skills.
This time is focused on project-related activities. Along with your teammates and partner company, you'll engage in market research, competitor analysis, internal analysis, and research & development.
During this midpoint, you and your team will focus on strategic thinking and professional communication. This includes formulating your strategy, key takeaways, and market conclusions.
The final few weeks of your journey will be devoted to project-related activities including final presentations. This includes strategy design, execution plan, implementation timeline, final suggestions and deliverables.
Looking for Well-Being & Career Exploration?
Start engaging with companies and work on real-life projects to jump-start your future.