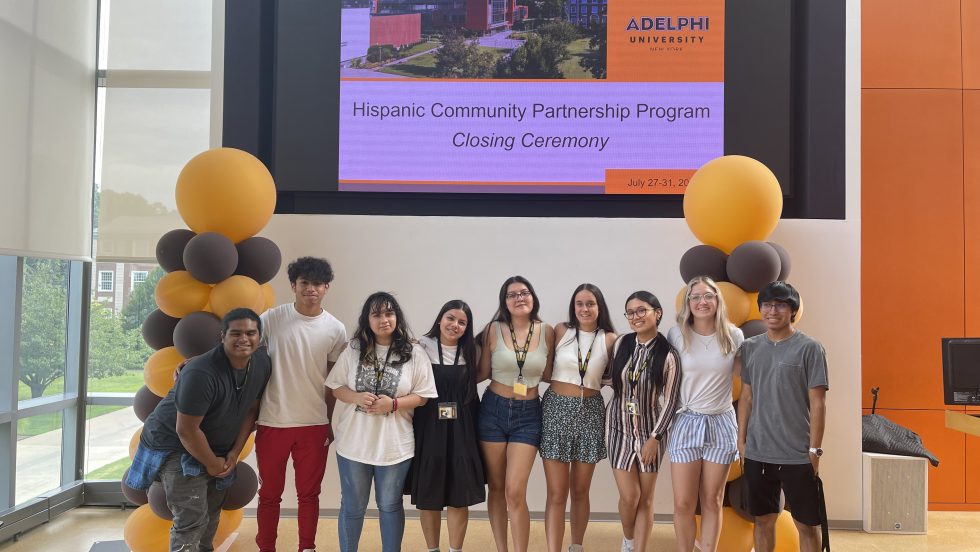 Part of Adelphi's long-term strategy is to become a home for increasing numbers of students and faculty of Hispanic backgrounds and to continue conducting research and offering opportunities that support our growing Latinx community. We're well on our way.
In 2019, Adelphi was designated an Emerging Hispanic Serving Institution (HSI) by the US Department of Education, according to Title V of the Higher Education Opportunity Act. Since then, Adelphi's HSI Task Force has been working to move Adelphi out of "emerging" status. According to the Hispanic Association of Colleges and Universities (HACU), in 2021-2022 there were 572 institutions in the nation designated as full HSIs and 400 emerging HSIs.
"Becoming a Hispanic Serving Institution will bring tremendous pride and accomplishment to Adelphi University and assure our present and future Hispanic and Latinx students and faculty of Adelphi's inclusive and welcoming educational environment," said R. Sentwali Bakari, PhD, vice president for Student Affairs and Diversity, Equity, Inclusion and Belonging. "The HSI recognition will strengthen our ability to promote a sense of belonging and engagement by augmenting scholarships and support services for Hispanic and Latinx students."
The intentional effort is one of several key priorities we committed to in our Momentum and Momentum 2 strategic plans, efforts that helped Adelphi's population of incoming Hispanic students grow by 43 percent between Fall 2015 and Fall 2021. When we welcomed our largest-ever first-year class in the Fall of 2023, 23 percent of our new 1,400+ students reported a Hispanic background. Today, Adelph's total enrollment of undergraduate students is 21 percent Hispanic. To be designated as a full HSI, an institution must report at least 25 percent of full-time Hispanic undergraduate students.
"Our efforts begin with Hispanic and Latinx students, but we're not excluding anyone," said Sandra Castro, PhD, task force co-chair with Chotsani West, assistant vice president of Diversity Equity Inclusion and Belonging. "It's a question of how we continue to better serve a growing Hispanic population nationally, most specifically on Long Island and in New York City."
Castro emphasized the focus on servingness. "The distinction is important because we must move from simply enrolling Latinx students to actually serving them and supporting their success to graduation. The data shows that the retention rate for Latinx students is lower compared to other students; we want to help them persist."
The HSI Task Force includes members from the faculty, staff and administration, and the group solicits input from students and Adelphi community stakeholders via town hall meetings. Its mission is "to support our institutional commitment to serving the unique needs of our Hispanic students by building a network of resources that intentionally focuses on serving Hispanic students at Adelphi so they will thrive and graduate." Key focus areas of the Task Force are academic support, the alumni network, Hispanic community partnerships, mentoring, student life, parent resources, scholarships and financial resources, and student counseling, among many other things. Dr. Castro notes that the Task Force is reviewing data to establish benchmarks that will measure progress on its goals, aligned with the long-term strategic goals of Momentum 2.
In the last few years, our HSI Task Force has helped make bilingual status a preferred qualification for student- and family-facing positions at Adelphi. They have also greatly expanded Adelphi's Hispanic Community Partnership Program which launched in 2019, aimed at introducing the college experience to more Hispanic high school students.
Dr. Castro, who is also an associate dean of the College of Professional and Continuing Studies, says that Adelphi students are just one area of focus for the Task Force. "We're also looking at issues related to family and community, particularly of first-generation college students. Are we providing materials in Spanish, offering campus tours in the evenings, highlighting Hispanic/Latinx faculty, research and scholarship, and partnering with local Hispanic/Latinx communities, service providers and partners?"
Growing our number of Hispanic and Latinx faculty and staff is another focus and enhancing our inclusive and welcoming environment is yet another. For Hispanic Heritage Month in 2023, Adelphi's website features some of its Hispanic faculty members and events include a presentation by Latinx community members about cultural heritage, music, food, customs and traditions on October 11. On October 12, the HSI Task Force is sponsoring a film presentation of Don't Tell Anyone (No le Digas a Nadie).
"Future students and families will be even more attracted to Adelphi because the educational environment will increasingly be culturally relevant and inclusive, reflecting a commitment to our students' cultural identity and academic and professional success," said Dr. Sentwali. "The HSI designation will help create a broader outreach with community organizations and expand our partnerships with local, regional, national and international agencies and institutions."
Dr. Castro estimates that Adelphi University will reach full HSI status as early as 2025 or 2026. As a fully designated HSI, Adelphi will be eligible to apply for federal discretionary grants that assist with strengthening educational opportunities for Hispanic Americans and other underrepresented populations.