Make a life-changing impact on school-aged children as you help them master academic, social and emotional challenges.
What Can I Do with a Master's in School Psychology?
Develop the expertise to evaluate the learning and behavior patterns of children, consulting with both their parents and teachers. You will learn to counsel children who are experiencing difficulties in school and to develop and implement appropriate intervention and prevention services.
Why Earn Your MA in School Psychology at Adelphi?
Benefit from hands-on opportunities like working in school settings with youth who have special needs.
Gain cultural competence and the ability to meet the needs of diverse populations and schools.
Tailor your studies to your interests with opportunities, including a specialization for working with children on the autism spectrum and their families or gaining bilingual certification.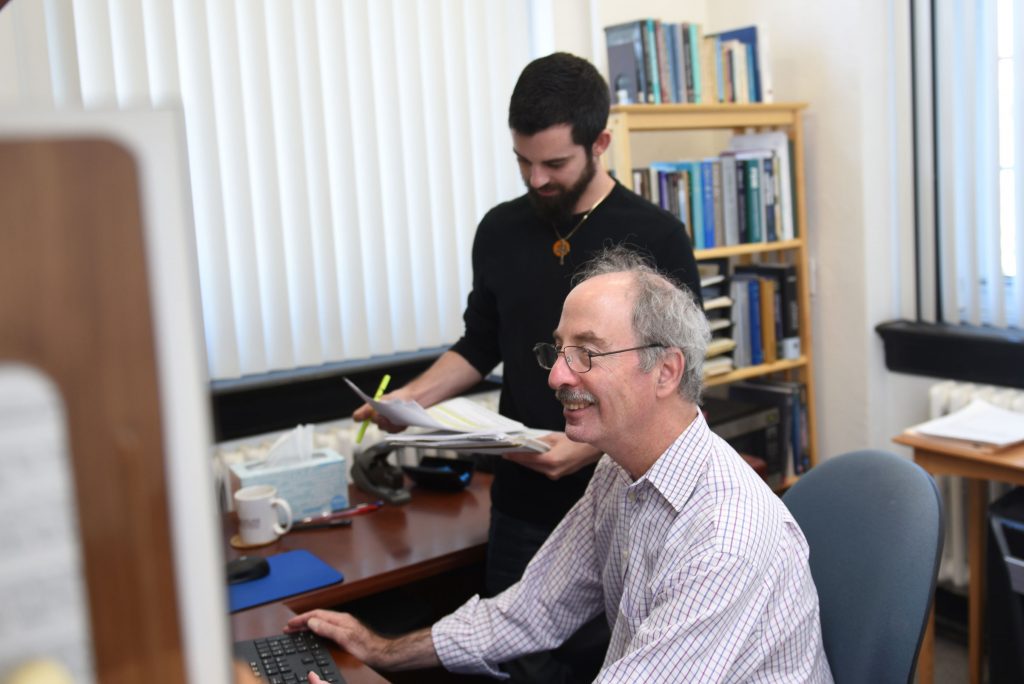 95%*
* based on Adelphi University Career Outcomes Survey: Class of 2021
of our master's graduates say that Adelphi University increased their understanding of the roles and responsibilities of professionals in their field
based on Adelphi University Career Outcomes Survey: Class of 2021
Program Options & Certification Information
Adelphi offers additional credits to allow for the opportunity to pursue a certificate in bilingual school psychology or a specialization in autism. Students also have an opportunity to apply for acceptance to a federally funded Infant Mental Health specialization program (IMH-DP).
Recognized by the Psychologist-In-Training (PIT) program of the NYC Department of Education, the Bilingual School Psychology certification requires students to complete 15 graduate credits (five courses) in areas related to bilingual assessment, education and counseling. Three of the courses students need to take are offered in the School Psychology program and two are in the TESOL program in the School of Education. Specifically:
Multicultural Issues in Psychology
Internship (bilingual setting)
Counseling and Assessment of the Multicultural Child
Foundations of Bilingual Multicultural Education
Assessment Considerations for ESL and Bilingual Population
Students who are pursuing a bilingual certification are eligible to apply for a paid internship position.
The School Psychology program offers a specialization track in autism for students interested in broadening their knowledge in this area. To obtain the specialization in autism, students need to take the following four courses:
Diagnosis of and Intervention in Autism Spectrum Disorders
Autism I: Students with Severe to Moderate Autism
Autism II: Students with AS, HFA and Related Disorders
Counseling Students on the Autism Spectrum
The Infant Mental Health Developmental Practice specialization (IMH-DP) is a full-time, fully funded intensive training project that requires students to participate in courses and complete a separate two-day-a-week internship requirement in an infant/early childhood center between the second and third year of their studies.
Students complete the remaining requirements for the School Psychology program one year later and are eligible for endorsement as an Infant Mental Health Specialist through the New York State Association for Infant Mental Health (NYS-AIMH).
Exceptional Hands-On Learning
At Adelphi, we believe hands-on experience is key to setting our students up for future career success. Our students have gained valuable experience outside the classroom, through graduate student assistantships and field placement opportunities, conference and presentation participation.
First-year students will apply for practicum placement, which is 280 hours over the course of a full school year, while second-year students will apply for internship placement, which is 1,200 hours over the course of a full school year. Our program collaborates with numerous public schools in Nassau and Suffolk counties, with whom relationships have been developed for field placement experience.
Opportunities for additional training in school neuropsychological evaluation and individual child and group psychotherapy are available through the program's partnership with the Bronx Community Charter School and the Derner Hempstead Child Clinic.
Social Training Center
The Social Training Center, an initiative created by the program, is a comprehensive support and guidance service initiative for students with autism spectrum disorder, level 1 (formerly known as high-functioning autism or Asperger's syndrome). It provides local high school–aged and college-aged individuals (ages 15–22) with ongoing weekly therapeutic services.

The center provides the graduate students with a unique opportunity to be group co-facilitators, developing skills in diagnostic practices, group counseling, parent counseling and data collection. In addition, students are encouraged to participate in research to submit proposals for paper and poster presentations at conferences.
Application Requirements & Deadlines
The priority application deadline for Fall admission is March 1. Applications received after the priority deadline will be reviewed on a space-available basis.  Applicants must have a bachelor's degree with a minimum 3.0 GPA on a 4.0 scale, and should submit the following:
Graduate application and $60 fee
Three letters of recommendation (academic or professional)
Personal essay
Applicants should have 15 credits in psychology, including a course in statistics
Official transcripts from all prior institutions and proof of bachelor's degree from an accredited four-year institution
Résumé (preferred)