Advance your clinical practice career at our award-winning Gordon F. Derner School of Psychology, choosing from three areas of concentration.
What Can I Do with a Mental Health Counseling Degree?
A master's in mental health counseling will prepare you to be an entry-level mental health counselor in a variety of settings, including inpatient and outpatient hospital departments of psychiatry, community mental health clinics, rehabilitation programs and schools. Once licensed, you can open a private practice or work with an established organization in roles such as staff therapist or substance abuse specialist, or step into leadership as a behavioral health administrator or clinical director.
Why Earn Your MA in Mental Health Counseling at Adelphi University in New York?
Benefit from a work-compatible schedule with classes offered in the evenings in our full-time program.
Concentrate in key job market areas including substance abuse, global mental health and infant mental health.
Develop clinical skills through participation in the national counseling examination and benefit from hands-on experience with a practicum and internship.
Learning occurs in an environment with award-winning, nationally and internationally renowned faculty
23%*
* Bureau of Labor Statistics
expected job growth through 2030 for mental health counselors—much faster than the average growth for all occupations
Bureau of Labor Statistics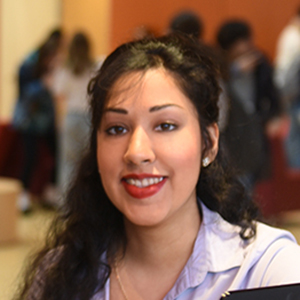 Adelphi Lands Two Major National Rankings from Addiction Counselor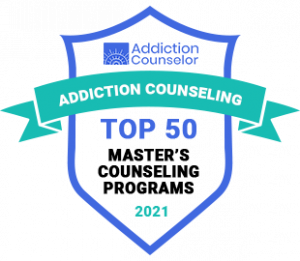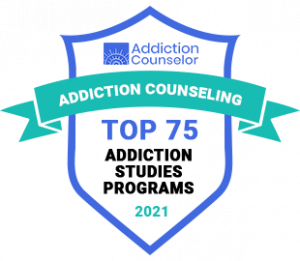 Adelphi University's Gordon F. Derner School of Psychology ranks No. 24 among Addiction Counselor's Top 50 Master's Counseling Programs in the nation. Derner also ranks 40th among the Top 75 Addiction Studies Programs in the U.S.
On its website, Addiction Counselor said it ranks addiction counseling degrees based on such educational statistics as a program's retention rate, graduation rate, cost and student-to-faculty ratio.
Degree Options and Concentrations
We offer our students the opportunity to focus their studies in the following areas:
Substance Abuse Counseling Concentration
Completing the coursework in the substance abuse counseling concentration equips you to deliver clinical services to clients and their significant others seeking treatment for chemical dependency. Our theoretical models of addiction and evidence-based practices prepare you for work in a variety of settings. Students who complete the program will have satisfied the state of New York's 350 hours of educational requirements, will receive a certificate of completion and are eligible for the Credential in Alcohol and Substance Abuse Counseling Trainee certificate (CASAC-T).
Global Mental Health Counseling Concentration
As the middle-class populations of emerging global economies increase at a rapid rate, so does the need for mental health counseling. Our global mental health counseling concentration prepares you to meet the ongoing—and accelerating—international demand for clinical mental health counseling, especially in Asia. With its balanced focus on theory, research methods and clinical applications of psychological science, the program provides sophisticated training to help you counsel those in need the world over.
Exceptional Hands-On Learning
At Adelphi, we believe strongly in the power of hands-on learning opportunities. All students in this program will build clinical competency skills through a practicum and internship experience. Our graduates benefit from our close ties with local hospitals, agencies and organizations in the New York area and have helped by providing mental health services in a variety of settings, including:
Program Info
Application Requirements and Deadlines
The priority program deadline is March 1. Applications completed after this date will be reviewed on a space-available basis. Applicants must have a minimum 3.1 GPA and should have completed prerequisite courses (or an equivalent) in general psychology, abnormal psychology, developmental psychology and research methods. Applicants should submit the following application requirements:
Graduate application and $60 fee
Two letters of recommendation
Personal essay
Official transcripts from all prior institutions and proof of bachelor's degree from an accredited four-year institution
Admissions interview
Résumé (preferred)
GRE scores will not be required for Fall 2024 admission.