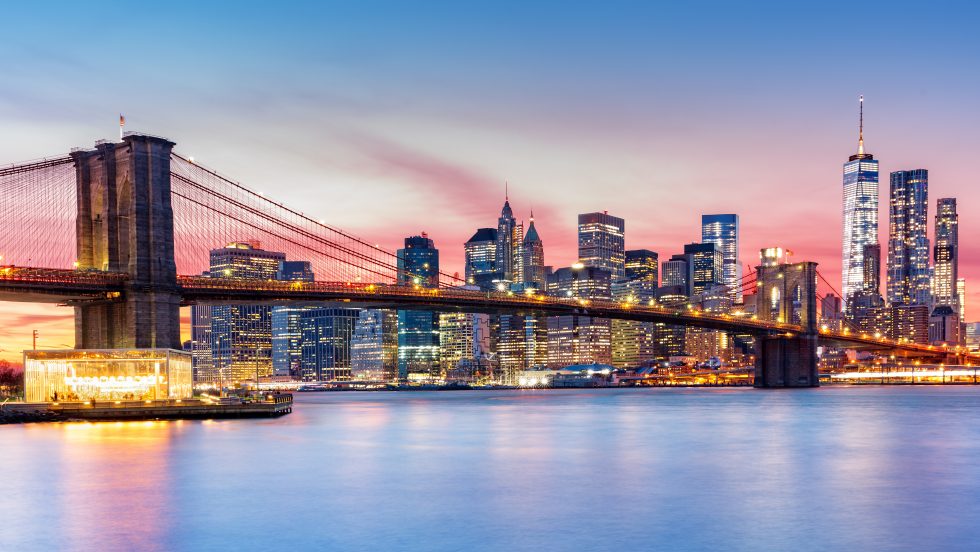 Goal 4 of Momentum: Strategic Plan for Adelphi University, 2015–2021, called for Adelphi to become a "powerfully connected university."
This goal committed us to strengthening our connections with alumni, friends, partners, our region and the Adelphi community. Our relationships in all these areas inspire Adelphi pride and help secure our University's future, advance our mission and benefit all our students. Below, we share just some of the ways we have become more powerfully connected as a university. Our upcoming strategic plan, Momentum 2, will continue this work.
Strengthening bonds and nurturing Panther pride
Our strong ties to one another and our communities inspire Adelphi pride—it's part of our culture and a critical reason for Adelphi's success and growth over the past six years. Through our Momentum strategies, we further boosted school pride and engaged even more of our 118,000 living alumni who are powerful role models for our students. Their lifelong connections with the University make us stronger.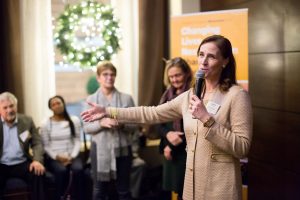 On and off campus, proud ambassadors and generous donors help share and support the Adelphi University mission. New regional alumni chapters have grown in Boston, Washington, D.C., and New York City, in addition to Connecticut, Florida and Los Angeles. Since 2015 (with a pause during the pandemic), Christine M. Riordan's Momentum Tour across the country has allowed alumni far and wide to reconnect over memories and shared pride. Adelphi Affinity Groups bring alumni with shared experiences together—including ones for playwrights, our theater alums, our Levermore Global Scholar alums, our LGBTQIA+ community alums and allies, and multicultural alumni.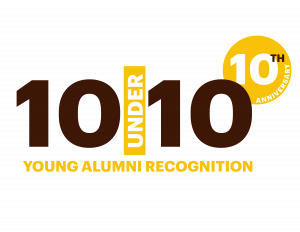 After Momentum rolled out, so did two terrific annual events in 2017. A signature Women's Leadership Conference draws close to 300 alumni, professionals, faculty and students to network, learn and hear accomplished female keynote speakers. And our annual tradition of Spirit Weekend began that same year, attracting more than 1,000 Adelphi families. Our fifth annual Spirit Weekend in 2021 welcomed 3,075 in-person and virtual attendees from eight states and two countries and also celebrated the 10th anniversary of our 10 Under 10 program for inspiring young alumni.
We are fortunate that the Adelphi family is inspired to support our students and our mission to transform lives. Since Momentum began, our generous donors have helped Adelphi establish 77 new scholarship funds to support our students' success, our annual President's Gala has raised net proceeds of more than $1.8 million, and our endowment had grown by $36 million by this time in 2020. Also impressive, our first annual Giving Day crowdfunding campaign in 2017 raised $28,600 from 357 donors and, in 2021, Giving Day totals quadrupled to $276,837 from 1,596 donors.
Giving Day 2021
$

276,837

raised

1,596

donors
Known for our commitment to community engagement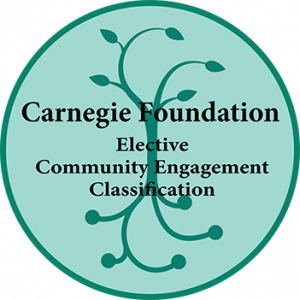 Adelphi first received the prestigious Carnegie Community Engagement Classification in 2010, which was renewed in 2015. In 2020, our classification was reaffirmed when we were named one of only 119 U.S. colleges and universities with this distinction. The Carnegie Classification—the leading framework for recognizing community engagement in U.S. higher education—signals institutional commitment to community engagement and service. It is awarded following a process of institutional self-study and assessed by a national review committee led by the Swearer Center for Public Service at Brown University, the administrative and research home for the classification.
Our commitment to community engagement is exemplified by the important programs we continue to support and expand. Examples include the Adelphi NY Statewide Breast Cancer Hotline & Support Program, providing support to patients, survivors and loved ones for more than 40 years, our Institute for Parenting, ensuring the well-being of local children and families, and our community-centered health programs provided by the Hy Weinberg Center for Communication Disorders and our Gordon F. Derner Center for Psychological Services. Among others, we are also proud of our growing Jaggar Community Fellows Program and our students' regular service in area schools and community centers.

A vital role during the pandemic
Adelphi quickly responded to support our neighbors and frontline workers when COVID-19 reached Long Island and the rest of New York.
We provided personal protective equipment (PPE) to area hospitals. Adelphi's College of Nursing and Public Health sent 130 boxes and 20 cases of surgical masks, gloves, gowns, caps and shoe covers to help mitigate the shortages experienced on the front lines at the height of the pandemic. Our departments of chemistry and biology contributed additional gloves, while our Department of Environmental Studies and Sciences provided 20 full hazmat suits, two portable decontamination showers and high-end respirators.
150

boxes and cases of surgical masks, gloves, gowns, caps and shoe covers

20

full hazmat suits

2

portable decontamination showers
Beyond supplies, nearly 200 Adelphi students volunteered to help with the round-the-clock staffing needed to support patients during the pandemic. They worked as nursing assistants alongside graduate and doctoral students in area hospitals. As students returned home when all learning went online in early 2020, Adelphi offered our empty residence halls to healthcare heroes who needed rest and shelter. Showers and lockers in our Center for Recreation and Sports were available to nurses, doctors and emergency medical technicians needing a break between shifts and before returning home.
Adelphi students volunteered to help with the round-the-clock staffing needed to support patients during the pandemic
We developed important new partnerships
Partnerships established across Adelphi University make our institution an important economic resource for our region and our state. The Commission on Independent Colleges and Universities in New York (CICU) released a report in 2021 showing Adelphi's economic contribution to New York state was $549.9 million in the 2018–2019 academic year.
Adelphi's economic contribution to New York state in the 2018–2019 academic year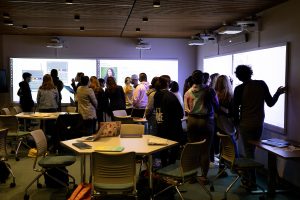 Since September 2020, Adelphi's state-of-the-art Innovation Center has partnered with more than 50 businesses and nonprofits. Our cutting-edge labs are where students and faculty collaborate with these partners to provide students of all disciplines a chance to shine by working on real-world problems. True to its name, the Innovation Center got creative during the pandemic—developing an 11-week, for-credit virtual Gap Year Experience for students who were choosing to defer college at the time.
Sharing the pride with all who value and love Adelphi, we are proud of our community-centric momentum and all it enables our University, and its partners and family, to achieve.