10 Under 10 Young Alumni Recognition
2022 Honorees
Who says that it takes years to live your passion, establish your own business, make a difference in your community or rise through the corporate rank? Not these young alumni, who have achieved exceptional career and professional accomplishments—before even celebrating their 10-year Adelphi reunion.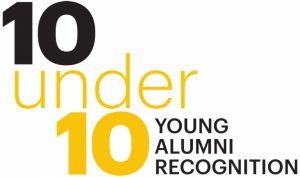 About The 10 Under 10 Young Alumni Recognition
Adelphi is proud to have so many graduates, particularly young alumni, involved in such impressive and meaningful work across a wide range of disciplines. Through 10 under 10, Adelphi proudly celebrates and showcases the successes of its young alumni who are already shaping the future. Nominate a deserving young alum today!
10th Anniversary Scholarship
2021 marked the tenth anniversary of the 10 Under 10 Young Alumni Recognition Program.
Our Panther community came together to celebrate this momentous occasion during the 2021 Adelphi Spirit Weekend, where we inducted our tenth anniversary class as well as recognized the 100 inspiring alumni who have been inducted into the program since 2012.
In honor of the 10th anniversary of the 10 Under 10 Young Alumni Recognition Program, please consider making a gift to the newly established 10 Under 10 Scholarship. The collective donations will help give a life-transforming Adelphi education to a current Panther who exemplifies qualities of a 10 Under 10 Inductee including leadership, community service, participating actively in extracurricular and service programs, and involvement in making a difference in the campus community. We hope you will join us in supporting this scholarship.