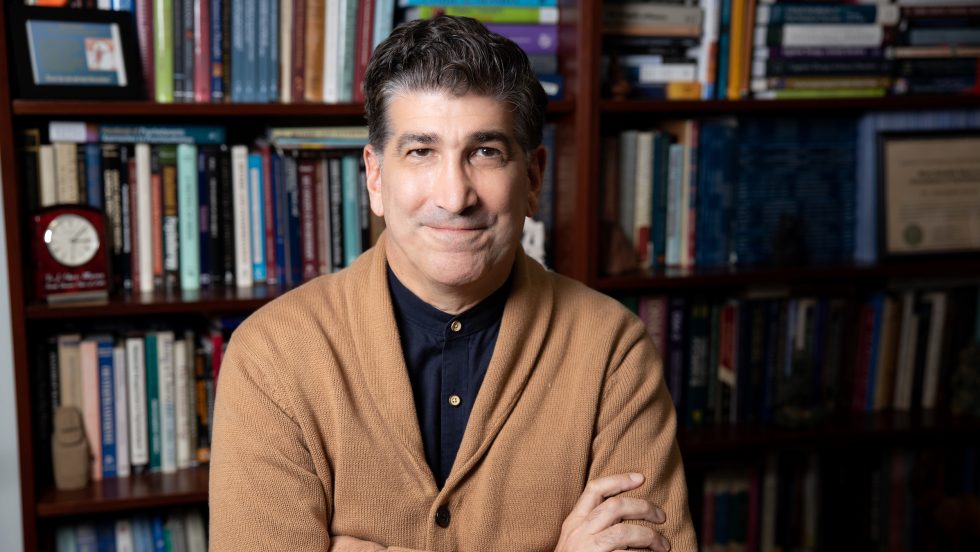 The first university-based school of psychology in the United States, the Gordon F. Derner School of Psychology continues to boast some of the finest minds and exceptional scholarship. Read about six faculty members and their lifetime achievement honors, groundbreaking research, practice and equity-related work, and outstanding contributions.
It was 50 years ago, in 1972, that Adelphi's Gordon F. Derner School of Psychology became the nation's first university-based professional school of psychology. Named for the program's founding dean, it is home to a faculty that is internationally recognized for its leading research and scholarship in psychology.
"The School has become much more research-oriented and integrated than ever, and the recognition our faculty members have received for career contributions really speaks to that," said Chris Muran, PhD, interim dean of the school.
Dr. Muran received one of those honors himself when he was named winner of the 2021 Alfred M. Wellner Lifetime Achievement Award for Research Excellence by the National Register of Health Service Psychologists, the largest credentialing organization of psychologists in the United States. The award cited his "career-long research contributions toward better understanding the therapeutic relationship, in particular the concept of alliance rupture."
"For me, it's always about the work, the publications and the grants; those are the important measures for me," Dr. Muran said. "But I've come to appreciate this recognition is important for the institution."
Dr. Muran also received the Senior Distinguished Research Career Award from the Society for Psychotherapy Research (SPR), an international, multidisciplinary association devoted to research on psychotherapy. The award recognized his work leading a psychotherapy research program at Mount Sinai Beth Israel since the 1990s.
"SPR has been a professional home for me over the past 30 years," said Dr. Muran. "That was a particularly significant honor to be recognized by my colleagues in such a way. It's been a really important community and a really important part of my life."
Meanwhile, Dr. Muran and Jacques Barber, PhD, professor and dean of the school, were invited to provide a chapter for the new edition of the "bible of psychotherapy," Bergin and Garfield's Handbook of Psychotherapy and Behavior. Building on the original chapter they published in 2013, Dr. Muran and Dr. Barber—who was recognized in recent years with the Distinguished Research Career Award from the SPR, Distinguished Research Career Award from APA Division 39, and Distinguished Contributions to Teaching and Mentorship Award from APA Division 29—collaborated on a review of the research on treatment efficacy and change processes in psychodynamic therapy.
"It's quite an honor to be published in the Handbook of Psychotherapy and Behavior," Dr. Muran said. "It means a lot to me because of its reputation, and it's really important for Adelphi to be represented in such a volume. And it's something I know Jacques is especially proud of as a culmination of his contributions to the field."
Other Derner School faculty across disciplines and career stages have also been recognized for their outstanding work. Here are highlights from the past few years.
Kirkland Vaughans, PhD '85, received the Diversity Award for Psychology in Division 39, acknowledging his decades-long career as a clinical psychologist treating Black youth. He has also served as director of the Derner Hempstead Child Clinic, where he developed a community-based psychotherapy program.
"We started the clinic in Hempstead because of the high suspension rate and low graduation rate among Black high school boys at the time," Dr. Vaughans said. "Instead of just focusing on therapy for individual students, we also focused on treating the school environment—teachers, support personnel, parents."
Robert Bornstein, PhD, has received the Society for Personality Assessment Martin Mayman Award for Distinguished Contribution to the Personality Assessment Literature and the APA Division 12 Distinguished Contribution Award for his scholarship. Dr. Bornstein is also one of only three faculty members at Adelphi to be appointed a University Professor, an honor recognizing exceptional achievement.
Mark Hilsenroth, PhD, was recently recognized for his career contributions to APA Division 29 when it honored him with the Society for the Advancement of Psychotherapy's Distinguished Psychologist Award. He had an impressive 10-year run as editor of its journal, Psychotherapy.
Professor Lea Theodore, PhD, an expert in school psychology, was honored by APA Division 16 with its Jean A. Baker Mid-Career Service/Practice Award.
As the Derner School celebrates its 50th anniversary this year, Dr. Muran looks forward to seeing how faculty and students will continue to integrate research and practice.
"The school has always been a home for psychoanalytic thought, and to see it develop over generations has been pretty amazing," Dr. Muran said. "When I look ahead, I'm really excited to see how the school continues to evolve and become even more impactful on the field."