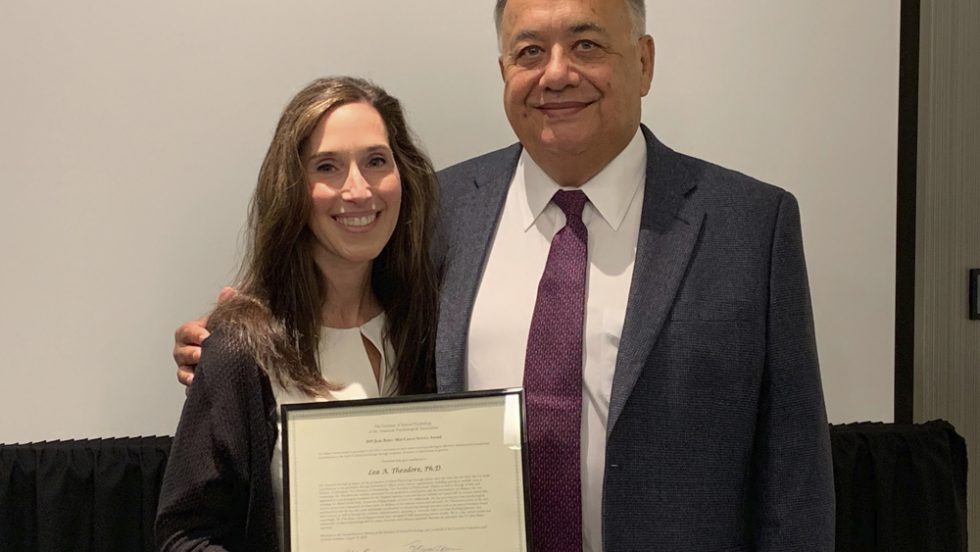 Lea A. Theodore, PhD, a professor at Adelphi's Gordon F. Derner School of Psychology, licensed psychologist and school psychologist, knows the effects of environmental conditions on children all too well.
After witnessing unfortunate conditions such as parental abuse, divorce, inadequate housing, and increased exposure to alcohol, drugs and violence on the lives of children, she dedicated her life to making a difference.
Dr. Theodore's years of dedicated service earned her the 2019 Jean Baker Mid-Career Service/Practice Award presented at the annual American Psychological Association (APA) convention. The honor recognizes school psychologists who have demonstrated exceptional contributions to the field of school psychology through programs of service or innovations in practice.
Held August 8–August 11 in Chicago, the APA convention brought together thousands of scientists, educators, practitioners and applied psychologists from around the world to explore the most compelling issues across the diverse discipline.
"Dr. Theodore has tirelessly advocated for our profession, social justice and the best interests of children," the APA award statement read.
One of Dr. Theodore's contributions includes her emphasis on using data-based decision-making to treat the whole child—academically, socially, emotionally and behaviorally. She promotes group contingency interventions, including yoga in the classroom, which has been shown to improve student academic performance and behavior. She is currently co-editing a work that will help bridge the gap between research and practice: Desk Reference in School Psychology, to be published by Oxford University Press.
Dr. Theodore was recently elected to the APA Council of Representatives and appointed by the APA board of directors to serve on the Committee on Division/APA Relations (CODAPAR), for the term 2020–2022.
Bruce A. Bracken, PhD, an internationally renowned professor and test author, nominated Dr. Theodore for the award. Dr. Bracken indicated that he was especially impressed by, and proud of, her broad and deep sense of service. He noted, in part, that Dr. Theodore served as a psychological consultant for the Virginia Supreme Court and highlighted her lobbying efforts on Capitol Hill for several critical family and youth bills, including the Mental Health Parity Act, Helping Families in Mental Health Crisis Act, and the Mental Health Reform Act.
"It was incredibly humbling for me to be recognized for my work by tremendous scholars," said Dr. Theodore. "It also demonstrates that one person can make a difference and serve as an agent of change, which may inspire or influence others."
Dr. Theodore was elected a Fellow of the American Psychological Association in October, 2021.