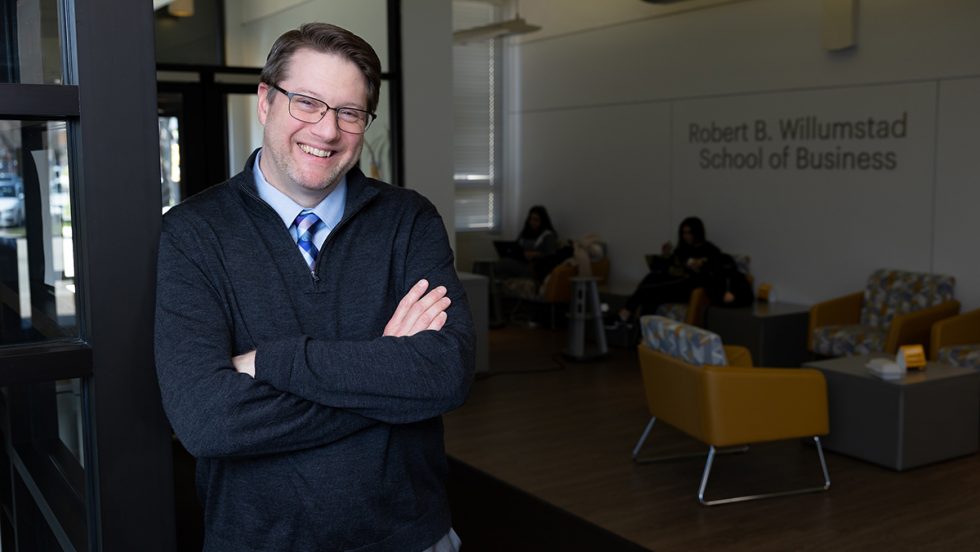 Robert B. Willumstad School of Business alum Jared Mroz '22 earned his master's in business analytics—while working in a leadership position at financial powerhouse Morgan Stanley. See how he managed this dual path.
After almost 10 years in leadership positions in network operations at Morgan Stanley, Jared Mroz, MS '22, saw an opportunity to expand his skill set.
He'd worked on projects related to data science before but was never involved in the analytics side of them. So, he decided to delve into the subject himself and enter Adelphi's MS in Business Analytics program. Mroz, who says he was a better student at 45 than at 20, earned his degree in this past December with a 4.0 grade point average and an in-depth understanding of this growing field.
"The program opened my eyes to a different way of thinking about data and analytics," Mroz said. "It removed the mystery of machine learning and artificial intelligence and the technologies that are used to develop those concepts. Now I understand how they work, and they've provided new insights that can advance my career substantially."
The field of analytics is growing at a rapid pace and becoming increasingly important for business growth. With data flooding in from a variety of platforms, companies need experts who can analyze that data for key insights and fuel decision-making. That's why business analytics is considered a degree of the future, giving students the tools, they need to make an impact in virtually any industry.
Adelphi's Robert B. Willumstad School of Business also offers MS programs in professional accounting and supply chain management, as well as traditional and accelerated MBAs. Business is one of the University's Core Four areas of focus.
Juggling full-time work with a master's degree program
Mroz continued to work at Morgan Stanley while earning his degree. He attended classes in person, one night a week for four hours.
"The program was designed in a way that was very advantageous to people like me who could set aside time in the evening for class," Mroz said. "Whereas maybe a few years ago I would watch TV or surf the internet after work, now I would study and work on my projects. It fit my lifestyle really, really well and was easy for me to manage."
Finding rich relationships with faculty and students
The program may have been focused on data and technology, but it was the people who made it special.
Mroz said that his work with Juan Jaramillo, PhD, associate professor of decision sciences and marketing, was particularly valuable. "I found him very inspirational in terms of his teaching style and how he was able to engage with me and get me to understand these concepts that were brand-new to me," Mroz said.
Mroz also made lasting connections with his classmates, even though many were younger. He formed a strong bond with Desmond Nartey '19, MBA '21, MS '22, an international student from Ghana who is now an analyst in audit and assurance at Deloitte. Mroz and Nartey met in their first class and started their own study group together.
"We ended up going through the entire program together, leaning on each other and helping each other succeed," Mroz said. "He really helped shape the personal experience that I had at Adelphi. My life is better because of knowing him."
Beyond these friendships and mentorships, Mroz notes the importance of human intervention in the business of data analytics.
"Everyone focuses on the machine learning, the coding and the numbers, but it's up to the person to make the analysis," Mroz said. "That's why we're business analysts, not coders or developers. We're tasked with interpreting the results and making sense of data in a human way. It does take other people. You can't do this in a silo."
Teaching the next generation of business students
The master's degree program didn't just help Mroz expand his career in business leadership. It also introduced him to a new passion: teaching. "The program awoke this desire in me to give back and help educate the next generation of business students," Mroz said. "It was one of those life-changing moments."
While continuing his role at Morgan Stanley, Mroz is now serving as an adjunct professor of machine learning and data analytics at a neighboring university. This coming fall, he plans to start his position as an adjunct faculty member at Adelphi, teaching database management systems in the evenings to both undergraduates and graduate students.
"I want to help the students the way my professors helped me," Mroz said. "I'm proud to say I want to be their colleague and stand with them as they teach the students coming up now. That's the impact that I felt by going through this program."