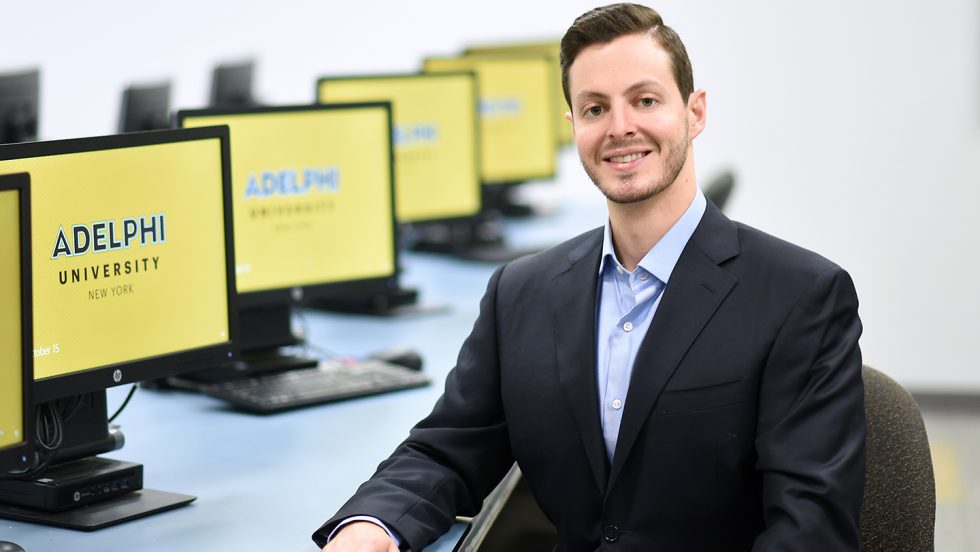 Business analytics is a degree of the future. Just ask Jaime Dasso '18, MS '20. After graduating with a bachelor's degree in business administration with a specialization in finance, Dasso decided to shift careers and return to his alma mater to pursue a Master of Science in Business Analytics. He was hired at CH Global Capital, an independent investment firm and financial advisor, after getting his master's degree. Now he's working as a senior analyst, using his skills and knowledge to analyze data. "Analytics is a field that is constantly developing," said Dasso. "Its applications become more and more important to businesses day to day."
Business analytics pertains to the skills, technologies (such as machine learning and artificial intelligence) and practices to extract insights from existing information that benefit companies, organizations and society. By mining and interpreting data, businesses can gain insight, identify problems and find solutions to drive decision-making and planning in business. And it's a field that's rapidly growing. The U.S. Bureau of Labor Statistics (BLS) predicts a 12.1 percent growth in employment under computer and mathematical occupations between 2019 and 2029. According to PricewaterhouseCoopers, 69 percent of employers are looking for applicants with analytics and data science skills—skills the BLS notes only 23 percent of college and university leaders say their graduates have.
Juan Jaramillo, PhD, associate professor of decision sciences and marketing, saw an opportunity to meet "the unsatisfied high demand for data scientists and analytics experts," he said, and designed and implemented Adelphi's Master of Science in Business Analytics (MSBA) program. "Today, there is an excessive amount of information that needs to be cleansed, organized and analyzed, so organizations can act quickly and take advantage of new opportunities," said Dr. Jaramillo.
Making its debut in Spring 2020, the MS in Business Analytics is an applied program that provides graduate students with the training that will allow them to flourish in the business analytics field. Students are taught to apply state-of-the art analytics and artificial intelligence tools "to solve problems and deliver solutions in a professional manner," Dr. Jaramillo explained. For instance, companies can market products more effectively if they can predict the particular needs of each customer. Even human resources can predict career paths and better fits to a company based on applicant characteristics.
Here's what sets Adelphi's MS in Business Analytics apart from similar programs:
The faculty has developed partnerships with global corporations that bring real-world problems into the classroom. Students can interact directly with executives from these organizations, solve problems and present their solutions. "Given the fast-paced nature and development of analytics, it is imperative that professors are working in the field and are able to transfer recent development in tools and techniques to students," said Dasso. "Our professors in the program were able to do this in the best way, allowing us to know how to continue developing our skills and how to apply our knowledge in a professional environment."
The program's faculty is working with the Innovation Center to create IC Labs. Students participating in IC Labs develop new skills and expand their knowledge beyond the classroom. An example is ICLAB Corona, which has been developed in partnership with Corona Ceramics Corporation to develop Python visualization for sales forecasting data.
The MS in Business Analytics is a 30-credit/10-course program. Graduates can obtain this master's degree in just one year as full-time students, though there is a part-time option as well. Courses are offered in the afternoon in cycles of eight weeks but can also be offered in the evenings.
Specific undergraduate degrees or completed courses are not required; all it takes to enroll is a completed undergraduate degree and an aptitude for mathematics and computer programming. We offer our courses in person to provide the best experience for team and lab work on projects. However, given the ongoing pandemic, Adelphi is testing the Hyflex model. Hyflex is a flexible structure that gives students the option of attending courses in the classroom, online or both. This allows students to participate from remote locations, even internationally.
Having a degree in business analytics will be increasingly important as companies continue to turn to business analytics to drive decision-making and planning. Dasso noted how the program provided him with the necessary knowledge and tools to develop complex models and make informed decisions. "I had a truly wonderful experience [at Adelphi}," he said. "I never thought about pursuing higher education elsewhere."