Najee Hunt came to Adelphi determined to make a difference on campus and in the community. He's done that—and has won a prestigious Newman Civic Fellowship, an honor given to student leaders from across the country.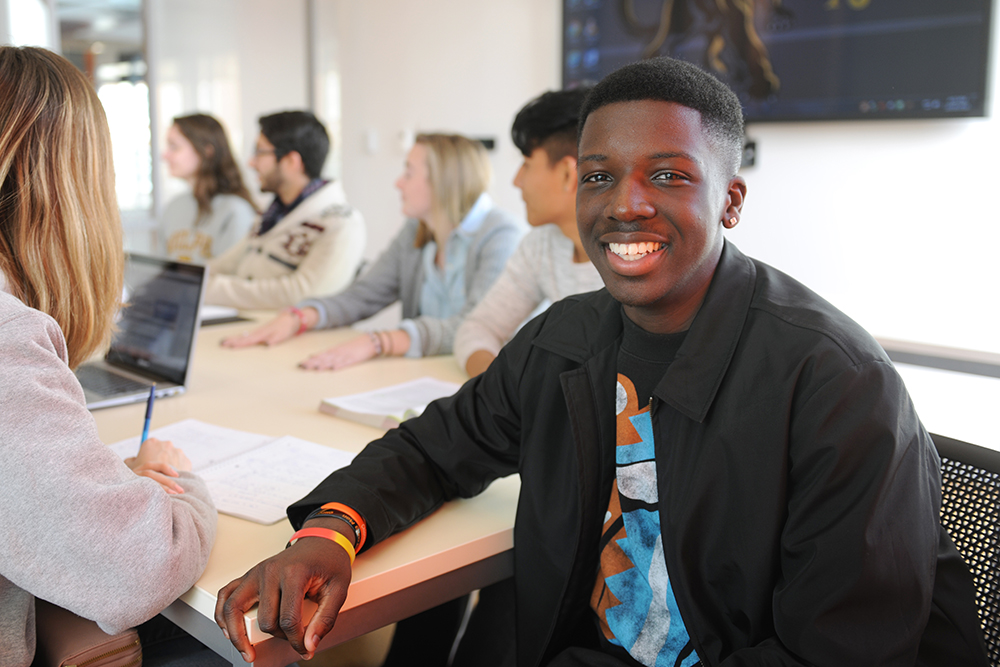 Najee Hunt arrived at Adelphi in 2016 determined to make a difference. He's done that—not only on campus, but in the local community. And his work has been noticed, as this winter, when he was named a 2019–2020 Newman Civic Fellow, an honor given to student leaders committed to solving problems in their communities.
Now a junior majoring in psychology, Hunt is also the current president of the campus organization Black Students United (BSU). The organization is devoted primarily to promoting diversity and inclusion on campus, but Hunt has added community engagement to its mission.
In fall 2018, he invited more than 100 students of color from nearby high schools to BSU's annual Black Solidarity Day, offering an opportunity for BSU members to connect with and mentor young people. Hunt also created a daylong program just for the visiting students, taking them on a campus tour, arranging workshops on preparing for college and having them join an African dance class. And he arranged a screening of Black Is…Black Ain't, an award-winning documentary about black identity in America, and led a town hall after the screening where students were encouraged to talk about moments when they felt marginalized.
"I asked them, 'Have there been times when you felt you weren't being heard as a person of color? When you felt that your voice was being ignored?'" Hunt said. "It went from one brave student to five students to 10 students to everyone wanting to talk about their experiences. Because at that moment, they felt like they were being heard."
Hunt, who was raised in the rough Brownsville neighborhood of Brooklyn and wasn't allowed to play outside as a child unless his mother or grandmother was with him, has found many other ways to help people who are struggling. He has volunteered at a charter school and mentoring program in Brooklyn, and worked at soup kitchens and at the New York Miss Amazing pageant, which celebrates girls and women with disabilities.
He has also been extremely active on campus. He's involved in other multicultural organizations besides BSU, including the Latino Student Association and Females Of Culture United for Success. He has also served as an admissions ambassador, giving tours to prospective students. He's proud that incoming students have said that seeing a person of color like him in a leadership role at the University was part of the reason they decided to attend. "I thought that was really beautiful," he says.
All these activities led to Hunt's selection as a Newman Civic Fellow by Campus Compact, a national organization dedicated to civic education and community development. The yearlong fellowship includes a national conference, scholarship and networking opportunities, and virtual learning and skill-building activities. Hunt says he looks forward to engaging with other committed students from across the country and hopes to collaborate on projects with them. "It could simply be something small, like a clothing drive, but it will provoke a great deal of change," he says.
Hunt has even more plans. His goal is to have a career as a clinical psychologist treating children who have been diagnosed with autism or who have undergone trauma. To help prepare for that, he has served as a research assistant at Adelphi's Cognitive Development Lab, and this summer, he'll intern at the Child Development Center of America in Davie, Florida, which specializes in treating children with developmental disabilities.
Gregory Miller, an administrative assistant in Adelphi's Center for African, Black and Caribbean Studies, knows Hunt well and will serve as his chosen mentor throughout next year's fellowship. "Najee is charismatic and able to express his opinion without being overwhelming," Miller says. "He possesses great listening skills and can really engage. That's rare—especially for a 20-year-old—and it's going to take him far."
---
For further information, please contact:
Todd Wilson
Strategic Communications Director 
p – 516.237.8634
e – twilson@adelphi.edu