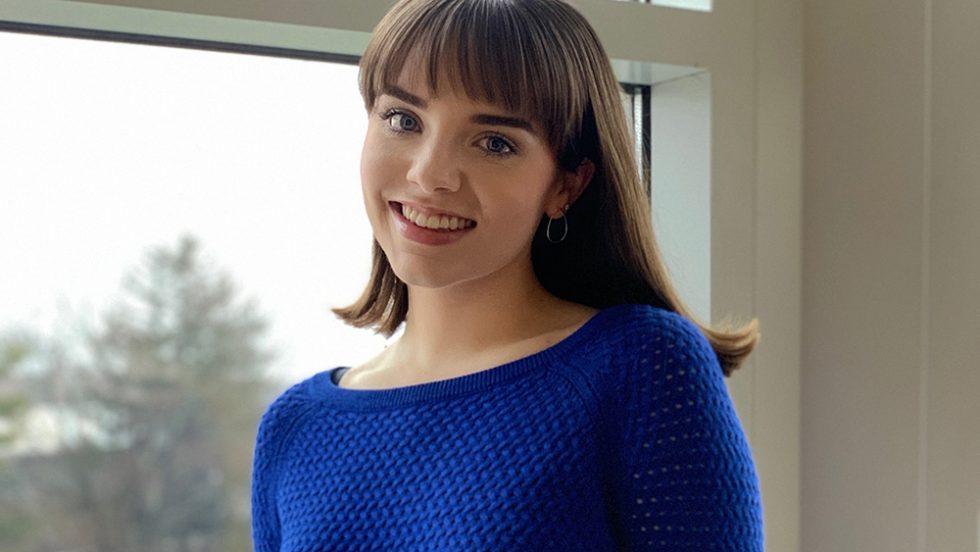 Trish Ferguson, a sophomore majoring in social work, has been named a 2020–2021 Newman Civic Fellow.
For the third year in a row, an Adelphi University student has been selected as a Newman Civic Fellow. Trish Ferguson, a sophomore majoring in social work, has been named a 2020–2021 Newman Civic Fellow.
Ferguson is one of 290 community-committed students selected by Campus Compact for the prestigious yearlong program that seeks to help change makers and public problem solvers in their personal, professional and civic growth through a variety of exclusive opportunities and events, including a national conference.
"I feel extremely honored to have been selected as a Newman Civic Fellow," Ferguson said. "It will provide me with the opportunity to learn from a community of inspiring individuals who are committed to community building and creating social change."
A Calling to Social Justice and Social Work
Since high school, Ferguson has aspired to make a difference as a social worker, taking leadership roles in many service organizations at her school. Her interest grew and evolved after enrolling at Adelphi, becoming a Levermore Global Scholar (LGS), engaging in many social justice events, including a food recovery program, and serving as student coordinator of the Adelphi Collaboration Project. Her involvement in the project's Women and Resistance in Mozambique event, focused on issues facing women in the region, contributed to her selection as an Outstanding First-Year Student.
"Trish embodies values that we at Adelphi consider most important," said President Christine M. Riordan. "She is civic-minded and altruistic and takes an active role in bringing about change; she seeks the perspectives of others and willingly learns from them. She strives to grow intellectually and become globally aware."
Looking Forward to Her Year as a Newman Civic Fellow
As a Newman Civic Fellow, Ferguson says she is most looking forward to building her skills and connections to make change in the world. "I look forward to the learning opportunities I will have to expand my knowledge and build up my skills in building communities and fostering social change," she said. "I am also really excited to become involved in another community of motivated and driven individuals who have interests similar to my own."
Along with all of Ferguson's community work, she also serves as a mentor to other Adelphi students as a peer assistant for First-Year Seminars and has assumed a key role in another Collaboration Project initiative, working with Adelphi's Interfaith Center, a local cathedral and groups from across the University to organize an innovative Meditation and Social Justice program.
"I feel as though my selection to be a Newman Civic Fellow will provide me with the chance to grow and develop in my work to build communities and support positive change," Ferguson said. "I hope to feel inspired by what I learn and experience with this fellowship and to apply it to my future work."
See more about the Newman Civic Fellowship program as well as Campus Compact.
---
For further information, please contact:
Todd Wilson
Strategic Communications Director 
p – 516.237.8634
e – twilson@adelphi.edu