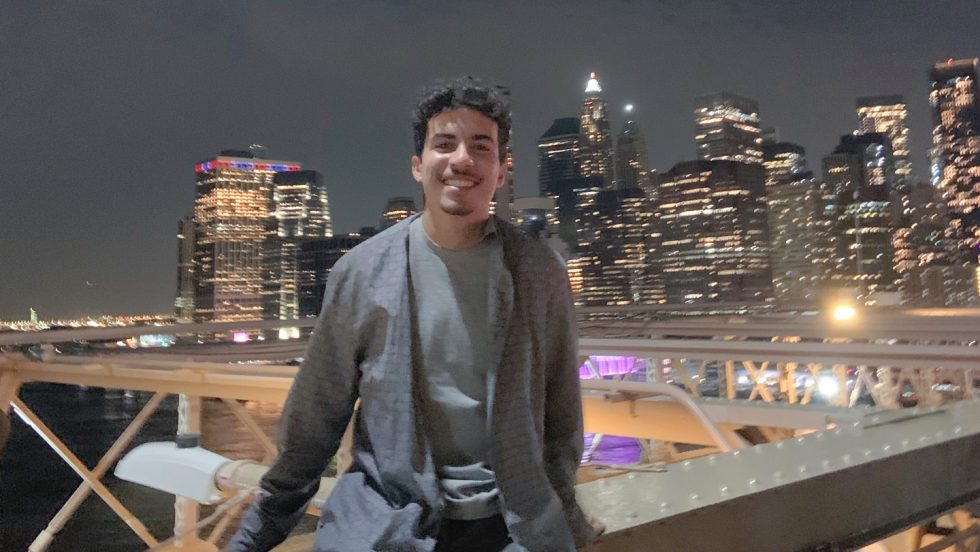 Caio Gomes is a junior international relations major with minors in peace studies and environmental studies. He is also a Levermore Global Scholar, Adelphi's innovative academic community dedicated to preparing students to become global thinkers and leaders in a changing world. After college, Gomes plans to tackle issues regarding human rights, social and climate justice, and world peace.
You are an international relations major, minoring in peace studies and environmental studies. You're also in the Levermore Global Scholars (LGS) program. Can you briefly explain the relationship of these academic tracks at Adelphi and your future goals?
I have always been keen on politics and international affairs, and as I continued with my political formation and identifying with what I believe in politically, I found that I believe that the defense of the environment and of peacebuilding and human rights is key to a better future. Also, as an international student from Brazil, becoming a Levermore Global Scholar made complete sense to me, as an academic excellence program focused on global awareness and community engagement was a perfect fit for what I believe in. In the future, I wish to work in foreign service and, with all of the academic tracks that I work on, I think that they all intertwine to form a strong foundation toward my goals, based on what I believe in.
What is your favorite aspect of life at Adelphi University?
The Levermore Global Scholars Student Leadership Council, because it's where I met some of my closest friends and found a student group that is globally minded and focused on creating change and building a strong on-campus community that works for the betterment of life at the University.
What or who inspires you with regard to your future goals?
Though I have many role models, I would say that my close family is what inspires me the most. I'm a first-generation college student in my family, so being able to count on them and their endless support through all of the tough times that I have been through in my college experience has been essential to keeping myself together and staying strong. Also, their life stories and endless resilience are examples I wish to follow.
What are you currently working on?
In addition to my commitments on campus, such as the LGS Student Leadership Council and the International Student Society, I'm working at the International Services office, and I'm doing research assistance with a team working on refugee empowerment and education with the nonprofit Safe Place International. I'm also beginning to do research with fellow Safe Place International workers and partners on embassy grants awarded to nongovernmental organizations for projects across Europe and Africa.
What else are you passionate about?
A few of my passions are music, languages and travel. I'm very passionate about learning new things and, especially, learning new languages. I also have a deep interest in the power of communication, words and diplomacy in creating political change. Since I aim to work in diplomacy, I believe my love for languages and communication—be it written or spoken—will serve me well in my journey.
What would you like to share with the Adelphi community?
I believe the most important message I would like to put forward is one of the importance of unity and true diversity, not solely for the looks of it. An integrated and diverse student community, where each student feels welcomed and valued, should be a top priority, not only to faculty and University workers, but to all students. Every person on campus should strive to foster this environment so that all of us are able to reach our full potential for ourselves, and for the betterment of the community as a whole. Real change on campus will be enacted with strong leadership (of students and workers) and concrete actions, not with mere words or promises.