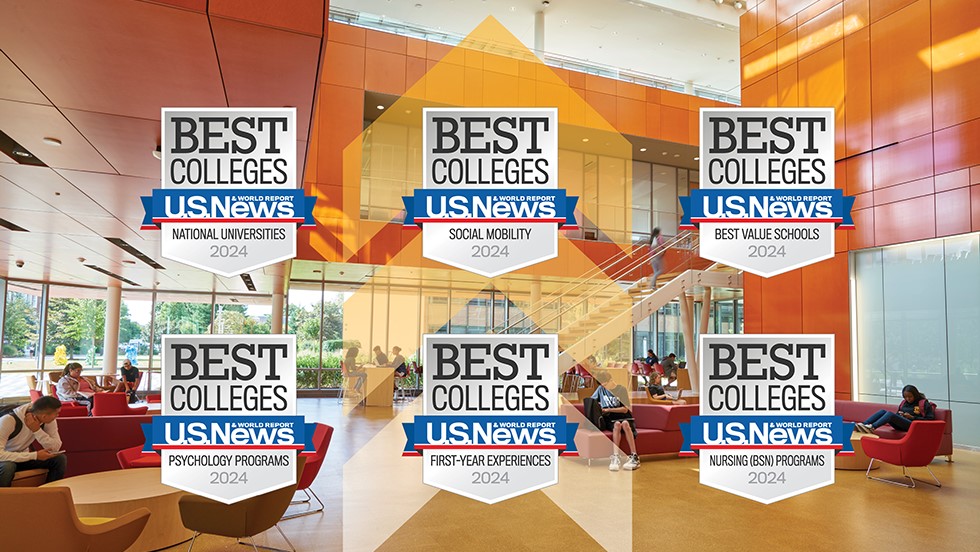 The recent rankings from U.S. News & World Report show double-digit leaps for Adelphi in four categories. Named a Best College, our ranking moved up 19 spots. As a Best Value School, we rose 35 spots. Adelphi surged an unprecedented 85 spots as a Top Performer on Social Mobility.
Our new rankings—which also include a double-digit rise in the U.S. News Best Colleges list as well as a strong showing in the Wall Street Journal/College Pulse Best Colleges in the U.S. rankings—reflect Adelphi's focus on academic distinction and outcomes, affordability, and promotion of social mobility. All are key parts of our strategy and mission, which are outlined in our Momentum 2 strategic plan. This plan calls for the continued expansion of our academic programs and deepening of student engagement, constant efforts to foster an even more inclusive and welcoming community, and increased focus on the infrastructure needed to meet the changing demands of higher education.
"These recent rankings, coupled with Adelphi's largest-ever incoming class this fall, are the culmination of the past eight years of strategic work to transform students' lives, expand our diversity, equity, inclusion and belonging programs, support underserved communities, focus on affordability, and promote academic distinction," said Christine M. Riordan, president of Adelphi.
Here's a closer look at our rankings and what they mean for the future of the University.
Best College
This is the sixth consecutive year Adelphi has been ranked among America's best colleges by U.S. News & World Report, and Adelphi climbed 19 points this year, coming in at No. 163 among 438 institutions.
Top Performer on Social Mobility
Adelphi moved up an unprecedented 85 spots to No. 55 in the media outlet's annual Social Mobility rankings. Adelphi was one of the first institutions to be included in this category since its introduction to the ranking in 2019, and has long been recognized as an engine for social mobility and student success.
Thirty percent of Adelphi students are Pell-eligible, 25 percent are first-generation, and 2,700 students are in nontraditional programs, ranging from graduate and online degree programs to adult education opportunities and certificate programs.
Best Value College
Adelphi is recognized as a Best Value College among national universities, jumping 35 places to No. 67 this year. Our student outcomes make Adelphi an excellent investment. On average, Adelphi graduates earn 39 percent higher salaries than the national average 10 years after graduation.
Best College in First-Year Student Experiences
Adelphi moved up even higher in the most prestigious Top 50 category on this list, rising 17 spots to No. 32. Adelphi is one of only three colleges and universities in New York state to be included in the First-Year Student Experience rankings. With a retention rate of 83 percent for first-year students, Adelphi also surpasses most regional peer institutions in bringing students back for their second year of college. Going further, Adelphi's graduation rate is 16 percent higher than the national average.
Best Undergraduate Programs
Adelphi moved up 19 spots in the Best Undergraduate Nursing Programs rankings, coming in at No. 229 among 656 programs. Over the past year, Adelphi's College of Nursing and Public Health has expanded its state-of-the-art Clinical Education and Simulation Lab (CESiL), which incorporates the use of adult, birthing mother, newborn, infant and child manikins. CESiL is also equipped with artificial intelligence tools and technologies to help students simulate real-life clinical experiences.
Adelphi's Derner School of Psychology's undergraduate program was also honored as a Best Undergraduate Psychology program.
Highest-Ranked University on Long Island by the
WSJ
Ranked No. 142 out of the top 400 universities by Wall Street Journal/College Pulse, Adelphi is the highest-ranked university on Long Island and No. 12 among colleges and universities in New York State on this list.
The ranking is the product of a revised methodology, which places an increased focus on student outcomes—a category in which Adelphi excels and is committed to as part of our mission. The Wall Street Journal specifically notes that its rankings emphasize how much a college improves its students' chances of graduating on time, and how much it boosts their salaries after graduation.
"These rankings are the foundation on which we will build even greater progress, innovation and adaptability as we execute our Momentum 2 strategic plan over the next four years," Dr. Riordan said. "I am inspired by our community's commitment and collaborative efforts to continue driving Adelphi University forward."