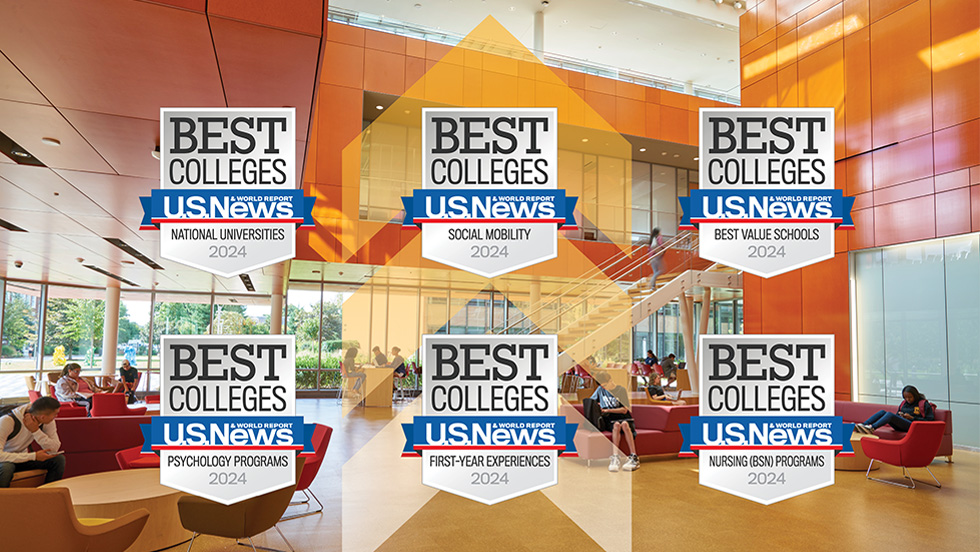 Adelphi excels in several 2024 U.S. News & World Report rankings including Best College, Social Mobility, Best Value, First-Year Experiences and Undergraduate Nursing.
In addition to its 19-spot surge to No. 163 in this year's U.S. News & World Report rankings of the 2024 Best Colleges in America, Adelphi University moved up an unprecedented 85 spots in the media outlet's annual Social Mobility rankings, from No. 140 last year to No. 55.
Adelphi is also recognized as a 2024 Best Value College among national universities, jumping 35 spots from No.102 last year to No.67 this year, and for delivering a top-notch First-Year Student Experiences, leaping from last year's rank of No. 49 to No. 32. Adelphi's undergraduate programs in nursing, psychology and business were also included in the rankings announcement on September 18—with nursing jumping 19 spots to No. 228 among the 656 nursing programs included, and psychology being ranked for the first time at No.234 of 542 schools. Among the 523 business programs included this year, Adelphi came in at No.310.
"Over the past eight years, we've undertaken strategic work to transform students' lives, support underserved communities, focus on affordability, promote academic distinction, and expand our commitment to diversity, equity, inclusion and belonging," said Christine M. Riordan president of Adelphi. "The results of this work are now being recognized with significant rankings moves and the arrival of Adelphi's largest-ever first-year class this fall. We continue to build even greater progress, innovation and adaptability as we execute the goals of our Momentum 2 strategic plan. I am inspired by our community's commitment and collaborative efforts to make Adelphi University a truly extraordinary home for students from around the world."
National Universities: No. 163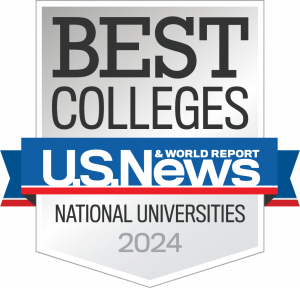 Recognized for the sixth consecutive year as one of America's best colleges by U.S. News, Adelphi University rose 19 spots, landing at No. 163 among 435 institutions of higher education in the United States and placing it in the top 37 percent of institutions nationwide in the 2024 rankings. Reflecting the outlet's changed methodology and greater focus on student outcomes, Adelphi's jump underscores the school's commitment to each and every student's personal and career success. This year's national rankings included new factors like first-generation student graduation rates and faculty research—efforts that have been a critical focus of Adelphi's strategic plans since 2015.
Nearby peer institutions featured in the national rankings include Stony Brook University at No. 58, Fordham at No. 89, CUNY-City College at No. 105, St. John's (tied with Adelphi) at No. 163, Hofstra at No. 185, and The New School at No. 201.
Top Performers on Social Mobility: No. 55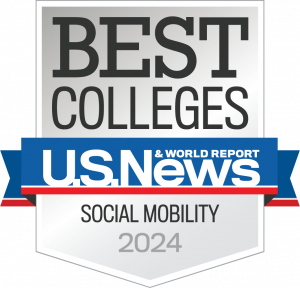 Adelphi, one of the first institutions to be included in the social mobility category since its introduction in 2019, has long been recognized as an engine for social mobility and student success—supported by the fact that 30 percent of its students are Pell-eligible (low income). Graduating students at a rate that is 16 percent higher than the national average and boasting average starting salaries 39 percent above the national average, Adelphi paves the way to career success. At No. 55 among the 434 included in this ranking and No. 6 in New York State, Adelphi's mission to transform students' lives is on display each and every day.
Best Value: No. 67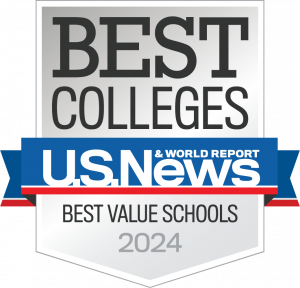 These factors also contribute to Adelphi's value equation and overall ranking by U.S. News, including data showing that Adelphi graduates earn 39 percent higher salaries than the national average 10 years after graduation. Its No. 67 ranking as among 211 best-value schools in the nation translates to Adelphi being the 10th-highest ranked university in New York state in that category and reflects the University's strong focus on promoting affordability and maximizing student outcomes.
First-Year Student Experiences: No. 32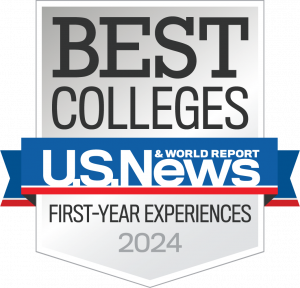 Adelphi is one of only three colleges and universities in New York state, joining Bard and Barnard, to be included in the first-year student experiences rankings. This year, in welcoming its largest incoming first-year class, Adelphi expanded its First-Year Seminar program, introduced a new communications campaign for incoming students and parents, and kicked off 40 new students' connected community experience through the University's signature First Year Community Action Program (FCAP), which received a Circle of Excellence Award from the Council for the Advancement of Student Education (CASE) in 2022.
Nursing: No. 228 Nationally, No. 2 on Long Island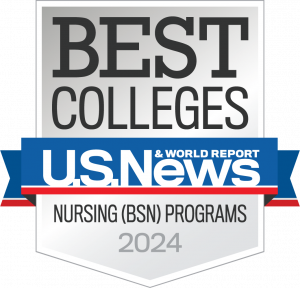 Adelphi moved up 19 spots on the 2024 Best Undergraduate Nursing Programs overall and ranks second among Long Island nursing programs, just behind its flagship public peer, Stony Brook University. Offering a range of programs including a direct-entry undergraduate program and an accelerated second-degree offering, Adelphi has long been recognized for its innovative evidence-based teaching and learning environment and for educating the next generation of healthcare professionals to be committed to excellence as leaders in their disciplines. The first school of nursing on Long Island, it is one of only seven nursing programs recognized by the National League for Nursing for advancing the science of nursing education. The University's College of Nursing and Public Health has a state-of-the-art Clinical Education and Simulation Lab (CESiL), incorporating artificial intelligence and high-fidelity adult, birthing, newborn, infant and child manikins.
Other Recent Rankings Tell Extraordinary Adelphi Stories
The U.S. News rankings come on the heels of other accolades that reflect Adelphi's long-term strategic goals and commitment to student success. The University is ranked No. 142 out of 400 institutions in the just-released Wall Street Journal/College Pulse 2024 Best Colleges in the U.S. The Wall Street Journal/College Pulse methodology emphasizes student outcomes, including retention and graduation rates as well as graduate salaries. Adelphi also is the only institution in the metro New York area to be named one of Campus Pride's Best of the Best LGBTQ-Friendly campuses, a list of just 30 institutions in the country with a perfect five-star rating for creating safe and inclusive communities. And it recently received the prestigious recognition—one of just four companies and the only university on Long Island—as one of America's Best Employers By State for 2023 by Forbes.
Find out more about all Adelphi's rankings and awards.