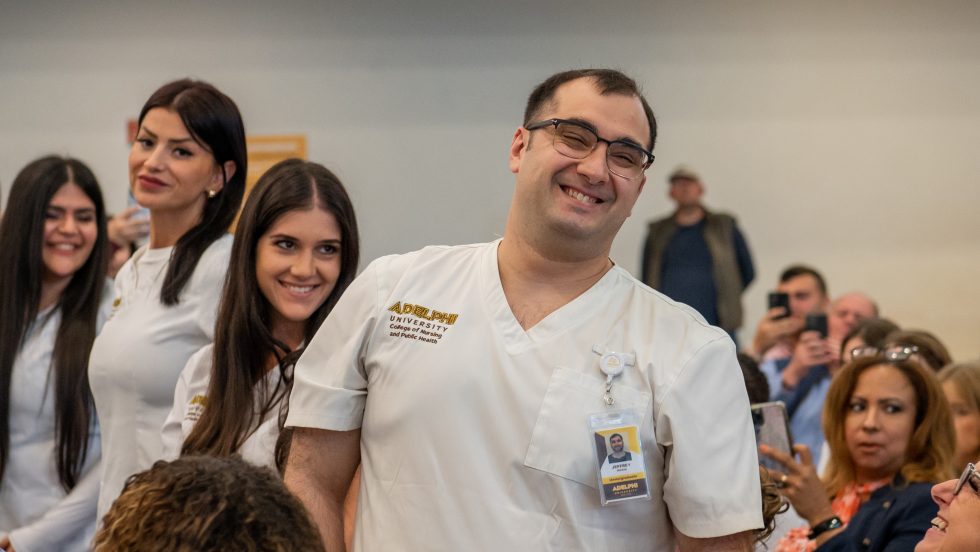 Samuel Fremd '69, born in a displaced persons camp in Germany at the end of World War II, left a monumental gift to our College of Nursing and Public Health. Made in honor of his mother and the nursing care she received, the gift has helped make 2022 a record-breaking fundraising year for Adelphi.
Samuel Fremd '69 left $4 million to Adelphi in what is one of the largest gifts to the University in its history. The generous donation was given to support scholarships for nursing students and will contribute to Adelphi's endowment, impacting many generations of students for years to come.
Thanks in large part to Fremd's gift, 2022 will be a record-breaking fundraising year for Adelphi.
"We raised $10.4 million in gifts and pledges, with total cash received of $9.6 million," said Thomas Kline, EdD, vice president of University advancement and external relations. "It's incredibly meaningful to celebrate this success during Adelphi's 125th anniversary year."
Fremd's gift illustrates the profound impact Adelphi has on members of its community and reflects the confidence benefactors have in Adelphi's future.
The man behind the donation
Fremd was born on August 10, 1945, in a displaced person's camp in Germany, just months after the end of World War II in Europe. His parents later moved to Long Beach, an oceanfront community on Long Island, and he attended Adelphi as a commuter student. After studying business and graduating in 1969, Fremd became a successful financial planner, investing in real estate in the Long Beach area.
Though he had contributed to Adelphi's Annual Fund and had been in contact with the University's advancement office about other possible donations, his legacy gift came unexpectedly. Adelphi was informed of the bequest in January 2022, only after Fremd's death in April 2021.
A generous gift with simple instructions
"Fremd left a generous gift with very simple instructions: It should support nursing students who can't afford tuition," Dr. Kline said. "Our admissions and nursing leaders are considering how best to use these funds to benefit our student body."
While Fremd was a business student, it's notable that he made his bequest to support the College of Nursing and Public Health
"The gift was made in honor of his mother and the care she received from hospital nurses as she battled lung cancer," Dr. Kline said. "Our nursing program is very compelling, especially given what we all experienced during the pandemic. I imagine Mr. Fremd saw that nurses will continue to play a critical role in our world."
Fremd's donation will also go to Adelphi's endowment, which provides University funding in perpetuity: The board of trustees recently approved a campaign to match all endowment pledges of $25,000 and over.
"This gift will live on forever," Dr. Kline said. "And the endowment will continue to benefit students long after we're gone. As long as the University exists, there will be a Samuel Fremd scholarship that supports nursing students."
A record-breaking year for fundraising
Fremd is joined by many other alumni and donors who made significant gifts to Adelphi in 2022.
Allan Larson, father of the Pulitzer Prize-winning writer and composer of RENT and tick, tick … BOOM!, Jonathan Larson '82, died in January 2022, leaving a $1 million gift to Adelphi. Mildred "Millie" Loughlin Kahane '49, a first-generation scholarship recipient and nursing trailblazer, bequeathed $1 million to nursing scholarships.
Adelphi had its most successful Giving Day in history this year, raising more than $500,000 for scholarships, athletics and student-centered programs. The 22nd annual President's Gala raised more than $345,000 for the President's Student Success Scholarship. And the Gordon F. Derner School of Psychology reached a milestone of $1.25 million raised for doctoral students from underrepresented communities.
"As Adelphi enters its 126th year, the connectedness of our community feels stronger than ever," Dr. Kline said. "I wish to thank our entire campus community for their collective efforts over the past year. This work will propel the University successfully forward on the path of our new strategic plan, Momentum 2."