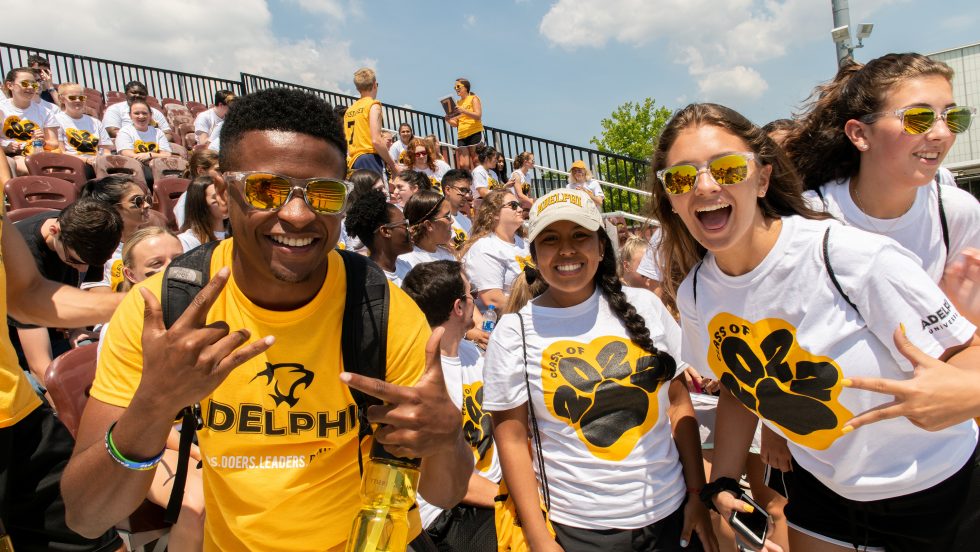 Record-breaking day generates support for scholarships, athletics and student-centered programs.
Adelphi University's Giving Day, an annual 24-hour fundraising initiative that brings together alumni, parents, faculty, staff, students and friends of the University, raised a record-breaking $503,218 on March 23, an increase of 78 percent over last year. The initiative garnered support from more than 1,740 donors, who supported 26 causes and programs on campus.
"I am incredibly proud of our Panther community for coming together in support of our students and programs," said Thomas A. Kline, EdD, vice president of University advancement and external relations. "The strong response and subsequent success is especially meaningful in this anniversary year."
With the theme "A landmark year. A landmark day to give," this year's event celebrated the University's 125th anniversary. In honor of this milestone, Trustee Emerita Helene Sullivan '79 came forward with an inspiring challenge to the community: If 500 donors made a donation of $125 or more, she would give $125,000 to establish an endowed scholarship for first-generation students. This offer was enthusiastically met by 503 Panthers, which led to Sullivan setting a record for the largest Giving Day commitment ever.
"Having been the beneficiary of another's generosity and the first in my family to attend college, I know what a gift it is to receive a scholarship and be able to attend Adelphi," shared Sullivan. "I can think of no better way to commemorate Adelphi's 125th anniversary than by helping to support future generations of deserving students."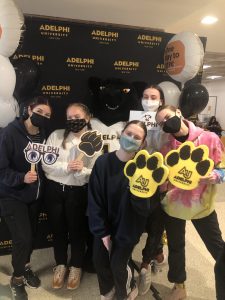 There were many other inspirational stories of success that emerged throughout the day. Athletics garnered the day's most participation as the largest recipient of funds, $105,739, and the highest number of donors, 910. Current student-athletes, alumni and parents—accustomed to friendly competition—embraced the challenges put forth by the Panther Club to go the distance. The University's sports teams competed against one another to unlock additional Giving Day funds. The two victors at the end of the night were men's baseball, which raised more than $30,000, and men's soccer, which received gifts from 245 donors. Both teams earned an additional $1,000 for their respective sports.
"I am overwhelmed by the amount of support our department received this year for Giving Day," said Danny McCabe, director of athletics and campus recreation. "It is a testament to the coaching staff and student-athletes who continue to maintain relationships with our alumni and community members. We are truly thankful to everyone who contributed, as all the funds will directly impact the student-athlete experience."
This year's Giving Day success was driven by a number of compelling challenges that encouraged Panthers to double their impact and extend the reach of their donations. Through 18 matching gifts provided by generous campus leaders, trustees, parents and alumni, an additional $66,500 was added to the Giving Day total. Of note was a generous $5,000 challenge by Kevin G. Mahony '83 for the Robert B. Willumstad School of Business that inspired an additional commitment of $15,000 from an anonymous donor.
Another highlight of the day was the establishment of two funds in support of women's leadership. In honor of the fifth annual Women's Leadership Conference that was held on March 26, LeeAnn Black '83, conference co-chair, and Loretta Cangialosi '80, vice chair of the Adelphi University Board of Trustees, came together to pledge $25,000 to establish an endowed fund that will support women's leadership activities at Adelphi long into the future. The day also featured a broader challenge for an annually expendable fund for women's leadership that garnered another $22,000 from 51 donors.
There were numerous festivities on campus throughout the day. A campus celebration was held in the lobby of the Ruth S. Harley University Center, where students, faculty and staff were treated to cookies and hot chocolate, giveaways, and the opportunity to take a photo with Paws, the Panther mascot. More than 60 students added their own messages of thanks to Giving Day donors on a virtual kudoboard.
"Adelphi expresses deep gratitude to those who participated during Giving Day—donors, ambassadors, challenge creators, volunteers and our entire Panther community," said Kline. "We truly are building tomorrow together!"