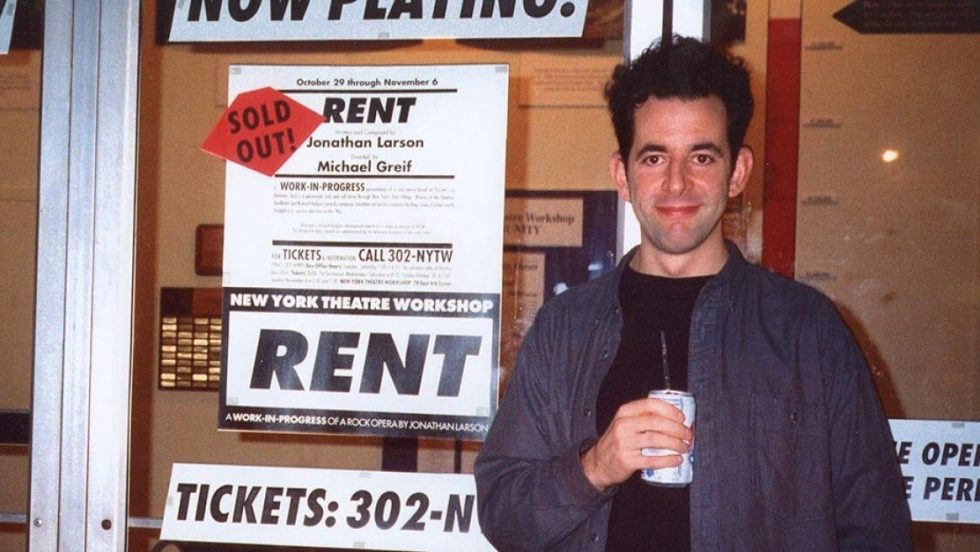 Reminiscing about the famed late artist and Broadway creator Jonathan Larson '82, colleagues and professors remember his time at Adelphi. And we look at how Adelphi will continue to lead in arts education beyond our 125th year.
Jonathan Larson '82 was the kind of person who made a memorable first impression. Just ask anyone who knew the Pulitzer Prize-winning writer and composer of the musical RENT during his student days at Adelphi.
"He came in like a spark plug," said Nicholas Petron, MA '70, professor and chair of the Department of Theatre, in a panel discussion held last November. Petron remembers the moment he met Larson in the late 1970s. Larson was a teen who had come to the Olmsted Theater on campus to audition for a spot in the performing arts department. "He went right to the piano—and this was an acting audition," Petron said. "He did some monologues, but that was after he putzed on the piano for a while. And that was my first impression: 'Who is this guy?' He was a firecracker."
Petron, who, along with Professor Emeritus Jacques Burdick, PhD, had come to Adelphi in the early 1970s from the Yale School of Drama to start an undergrad repertory theater, were blown away by the young Larson. They admitted him after that audition, and then helped their talented student fly into the stratosphere.
Petron is still guiding talented young artists in Adelphi's thriving theater program. The program offers two majors—acting and design/technology—and has graduated a constant stream of students who have gone on to professional careers. The program holds performances in the Adelphi University Performing Arts Center—recently recognized as one of the 35 best university performing arts centers in the country. The program excels on virtual stages as well. This Odd Geometry of Time, a virtual production written by Megan Lohne '04, directed by Shoshanah Tarkow '06 and featuring Adelphi student actors, won numerous awards at the 2021 virtual Kennedy Center American College Theater Festival.
A recent essay by screenwriter and film director Todd Robinson '82 about his close friendship with Larson—his roommate at Adelphi—inspired us to present these recollections by Petron and two of Larson's friends on campus, currently faculty as well.
His Talent for Writing Lyrics Showed Early
Larson majored in acting at Adelphi, but he showed extraordinary ability as a composer and lyricist from the get-go. Like Petron, the former classmates recall Larson sitting at a piano and making magic happen. For Larson, putting his hands on the keys of a piano was like speaking.
"He could write a song about anything," said classmate Kerry Prep '79, now an adjunct faculty member in the Department of Theatre. "He would take songs, strip out the melody, keep the chord structure and rewrite new melodies, just for fun." Prep recalls Larson doing that with the Police song, "Can't Stand Losing You." "He would regale me by doing this with songs," Prep said. "It was just something he did all the time, as an exercise."
During Larson's college years, he began composing music for small student productions called cabarets. He later scored a musical written by Burdick, the department head who, in the words of Petron, became Larson's "master teacher."
Prep said Larson worshiped composer and lyricist Stephen Sondheim and always played his records in the dorm. Prep told Larson he should write Sondheim a fan letter. "I said the worst thing that can happen is he won't write you back," Prep said.
Sondheim wrote back. It was the beginning of a mentoring relationship between the famous composer and the aspiring one that lasted until Larson's untimely death in 1996 of Marfan syndrome at the age of 35.
The Larson Legacy: No Sacred Cows
Larson learned to take artistic chances at Adelphi, said Maggie Lally '82, a Larson classmate who is now associate dean of faculty programs in the College of Arts and Sciences. "Adelphi gave us free rein to fail," Lally said. "Jon was given the freedom to write about political topics. There were no sacred cows." In college, Larson wrote cabarets about controversial social issues that became themes in his work: multiculturalism, addiction and homophobia.
AIDS appeared in 1981, when Larson was still in college, so the disease appears in his early work. He saw his friends getting the illness and he feared for his own life, said filmmaker and former Adelphi classmate Victoria Leacock Hoffman '85. "It was a nightmare. Everybody was dying," Hoffman said. "Suddenly you were afraid to sleep with anybody. You're in your 20s, and you were afraid you would get AIDS and find out you were going to die in two years."
Larson wrote about the AIDS crisis in a solo monologue he first performed in 1990 called tick, tick … BOOM! Petron said. It was an autobiographical piece about Larson's life as a struggling composer in 1980s New York as he tried to write his masterpiece as AIDS swirled and he feared for his life. "There was palatable anger in it," Petron said. "Jon was pissed. And rightly so. Frustrated and pissed." Larson put HIV-positive characters front and center in RENT, groundbreaking for the 1990s.
The Larson Legacy
A generation later, in 2021, Hamilton creator Lin-Manuel Miranda—who cites RENT as a big influence—directed a film adaptation of tick, tick … BOOM! for Netflix.
Larson's legacy is strongly felt at Adelphi. Since 2015, the University has celebrated the next generation of musical theater creators in the Larson Legacy Concert Series at the Adelphi Performing Arts Center, featuring performances by winners of the American Theatre Wing's Jonathan Larson Grants. Michael R. Jackson, who was showcased in the series, went on to win the Pulitzer Prize for his musical A Strange Loop, which is about to open on Broadway. Another honoree, Max Vernon, has their musical KPOP coming to Broadway this fall. Past recipients of Jonathan Larson Grants have gone on to create celebrated Broadway musicals, including Dear Evan Hansen.
In addition, the bench from the Life Cafe, the Lower East Side restaurant where Larson often wrote, sits in the lobby of the Performing Arts Center surrounded by RENT memorabilia. Larson's director's chair, used while he wrote RENT, sits in Petron's office. It will remain there, inspiring other students and alumni, until it moves to the Smithsonian with other objects and manuscripts from Larson's life.
Those who knew Larson always remember the creative energy that kept his mind running all the time, with no off switch. "This was Jonathan, as a student, working on a cabaret with me," Petron said. "We'd finish rehearsal, go back to the city, go to bed. My phone would ring at two o'clock in the morning. And it was Jonathan saying, 'Nick, Nick, is it okay if I change this lyric to this lyric?'" Petron said. "I'd say 'Yeah, Jonathan, that's fine.' That was a constant, it happened more than once. He was so full of ideas and energy."
Want to know more about Jonathan Larson's years at Adelphi? Watch the entire video recording of a panel discussion featuring Nick Petron, Maggie Lally and Kerry Prep held on campus in November 2021.