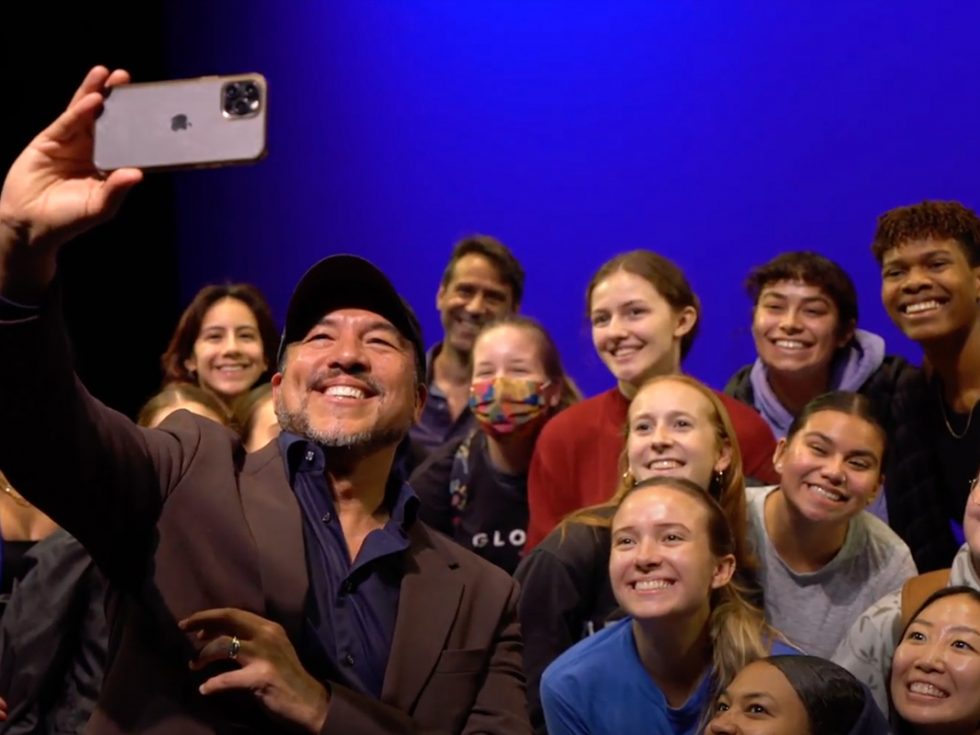 This fall, Adelphi proudly welcomed a renowned alum back to campus. Eduardo Vilaro '85 is the CEO and artistic director of Ballet Hispánico, the largest Hispanic arts organization in the United States.
The Commission on Collegiate Nursing Education (CCNE), the accrediting branch of the American Association of Colleges of Nursing (AACN), has recognized Adelphi University's Doctor of Nursing Practice (DNP) program in adult gerontology primary care.

The Adelphi community lost a longtime professor, campus leader and student advocate with the death of Regina Axelrod, PhD, on November 2. Colleagues and alumni share their recollections.

GivingTuesday is a global generosity movement that unleashes the power of people and organizations to transform their communities and the world. Each year Adelphi participates to support current Panthers.

The Adelphi University community mourns with those impacted by the senseless and tragic shootings that occurred at Club Q, an LGBTQIA+ club in Colorado Springs, over the weekend.

Adelphi is highlighted for the beautiful fall foliage on its campus.

Anna Zinko, assistant vice president for student affairs, and Jessica Monaco, coordinator of integrated care and case management, share the helpful services and programs Adelphi offers to students.

When Deborah Hunt, PhD '12, learned that patient errors are on the rise despite years of new protocols, the dean of the Adelphi University College of Nursing and Public Health decided to provide best practices for all healthcare workers.

This fall, Adelphi proudly welcomed a renowned alum back to campus. Eduardo Vilaro '85 is the CEO and artistic director of Ballet Hispánico, the largest Hispanic arts organization in the United States.

School of Social Work faculty members are dedicated scholars who remain at the forefront of their profession with innovative and comprehensive research. Here are some examples of recent scholarship.

Adelphi's new director of the Bachelor of Social Work program and associate professor has a clear vision: "To bring distinction to the University as the premier institution for preparing social work practitioners for success in a global society."

The Adelphi University School of Social Work is a premier partner in the New York State Office of Mental Health Schools of Social Work Project for Evidence-Based Practice in Mental Health, which provides training and education in recovery-oriented, evidence-based practices for adults diagnosed with serious mental illnesses such as schizophrenia or bipolar disorder.

In the Fall 2021 semester, across all of higher education, faculty members sought ways to keep students safe and engaged amid the continuing COVID-19 pandemic.

As a critical scholar, Eric Knee, PhD, assistant professor of health and sport sciences, often studies how systems of oppression create inequities in society.

According to the American Heart Association, about 55 percent of Black adults have high blood pressure, also known as hypertension.

There are, according to the National Institute on Deafness and Other Communication Disorders (NIDCD), as many as 3 million Americans who suffer from chronic stuttering.

A new interdisciplinary, open access scholarly journal will soon be published—with leadership from Adelphi Professor Reem Khamis, PhD, and support from Adelphi University Libraries—to bridge the knowledge gap surrounding speech and communications disorders as they relate to marginalized people and groups.

Grants are a vital source of funding for research and creative work, and an important validation of the significance of faculty scholarship. Adelphi University faculty members continue to successfully earn grants for important projects, from archaeological exploration and social work education to research on sports sciences and healthcare policy.

Every year, College Factual ranks schools in a variety of categories for its Best Colleges in America list. This year, Adelphi University was recognized as one of the Best Colleges in America for 2023.

This year's International Education Week (IEW) has a lot to celebrate: a week of events, Adelphi's rich history of global connections, a return to pre-pandemic opportunities for our students to study abroad, and the welcome presence, once again, of our international students.

Organized by two Adelphi Department of Mathematics and Computer Science assistant professors, the inaugural session of the Adelphi Summer Institute in Mathematical Epidemiology gave Long Island high school students an opportunity to conduct original research projects in mathematical epidemiology that focused on COVID-19 and cancer.

The Center for Career and Professional Development's Prep for Success Program takes pride in giving students and alumni the skills, guidance and opportunities for on-the-job experience to jumpstart their career planning. A new focus on innovative online programing options makes Prep for Success more accessible than ever.

Cara Lynch '12 has made mural magic again, this time in Long Beach, New York. Lynch's particular brilliance is not merely eye-catching, site-appropriate public art. She has been creating public art since she graduated from Adelphi and, last semester, began teaching as an adjunct in the Department of Art and Art History. She also includes the community when she…

The Bridges to Adelphi program and Gersh Drivers Ed are partnering to help college students on the autism spectrum get their licenses.

Samuel Fremd '69, born in a displaced persons camp in Germany at the end of World War II, left a monumental gift to our College of Nursing and Public Health. Made in honor of his mother and the nursing care she received, the gift has helped make 2022 a record-breaking fundraising year for Adelphi.

Graduates with an MS in applied mathematics and data science are breaking down barriers and taking on careers in STEM. One of them was advised in high school not to study science—and is now working in the Collider-Accelerator Department at Brookhaven National Laboratory.

Recent communications alumna Ana Lyz Rodriguez '22 created five powerful video profiles of Hispanic students at Adelphi. Watch their stories, and read about her own story as a filmmaker and advocate.

The story mentions Adelphi's assistance in finding mental health services for a local teen.