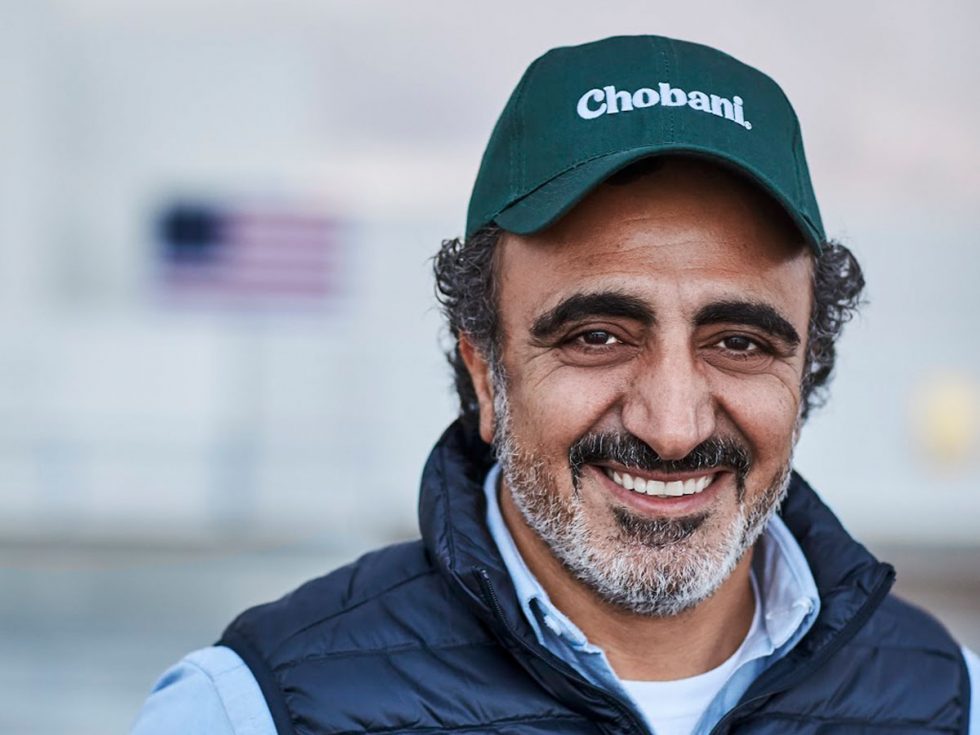 Growing up in Turkey, the founder and CEO of the best-selling yogurt brand had his life planned out. Then he had to start completely fresh.
Growing up in Turkey, the founder and CEO of the best-selling yogurt brand had his life planned out. Then he had to start completely fresh.

Adelphi's Class of 2023 celebrated their accomplishments with family and friends at the University's 127th Commencement ceremony on May 23 at Nassau Veterans Memorial Coliseum in Uniondale, New York.

The Adelphi University Robert B. Willumstad School of Business has introduced a hybrid accelerated option for its Professional Master of Business Administration (MBA) degree program.

"Farm-to-table" has been a popular movement for years, with restaurants adopting the label and creating menus boasting an abundance of fresh, local ingredients. Yet even as the public dines on this thoughtfully prepared food, many do not consider one critical link in the food chain between the farm and the table: the farmworker.

Associate professor and chair of the Department of Dance Orion Duckstein's idea for choreographing a piece about his grandmother's life emerged at an unexpected moment.

Elizabeth Palley, JD, PhD, professor of social work and director of Adelphi's social work doctoral program, is on a mission to bring American child care policy into the 21st century.

Adelphi University's nursing, business and public health programs have once again been included in the U.S. News & World Report rankings of top graduate programs for 2024.

For the past 20 years, Adelphi has honored students, student organizations and faculty members who have made a commitment to pursue excellence in their various endeavors.

Just three years after earning a master's degree in creative writing, Robin Gow, MFA '20, has sold three books to major publishers.

The caring science approach in nursing is on the rise, said Jean Watson, PhD, a distinguished professor emerita and dean emerita, University of Colorado Denver College of Nursing, as she addressed 90-plus Adelphi College of Nursing and Public Health (CNPH) attendees in an April 26 Zoom presentation.

Dear Adelphi Community, In December 2019, our university was fortunate to gain the service of Dr. Jacqueline Jones LaMon, JD, MFA, as its vice president of diversity and inclusion, bringing with her more than 13 years of prior leadership in the Adelphi community as a professor of English, program director for our MFA in Creative…

Adelphi University is hoping to welcome a record-setting undergraduate class this fall, following a 25 percent surge in deposits received by National Decision Day on May 1, 2023 versus 2022. The University has received deposits from more than 1,345 new first-year students, hailing from 26 states and 35 countries. "We are thrilled that so many…

Sauropods—including iconic long-necked dinosaurs like Brachiosaurus and Apatosaurus —were the largest animals ever to walk the Earth. No other dinosaur or land mammal even comes close. Now, a new Adelphi University study provides insights into how these supergiants achieved their record-breaking sizes over time. "It was previously thought that sauropods evolved their exceptional sizes independently a few times in…

College of Nursing and Public Health faculty presented on a variety of topics at the Eastern Nursing Research Society (ENRS) 35th Annual Scientific Sessions, which took place March 23 and 24 in Philadelphia.

Following an extensive national search, Joanne Corbin, PhD, has been selected as the next dean of the Adelphi University School of Social Work. She will begin in her new role on July 17.

Beginning in Fall 2023, Adelphi University will offer a new interdisciplinary, 22-credit Museum Studies program to current and prospective undergraduate students.

Project Firstline, a collaboration between the American Nurses Association and the Centers for Disease Control and Prevention, recently awarded Assistant Professor Edwin-Nikko Kabigting, PhD, and Clinical Assistant Professor Ani Jacob, DNP, an $8,000 educational grant to train nurses and nursing students on infection prevention and control.

What began in January 2023 as a visit by the Adelphi University College of Nursing and Public Health Dean Deborah Hunt, PhD '12, to Mohammad Yunus in Bangladesh has since led to a lecture by the Nobel Prize laureate on March 21 on the Adelphi campus—and now to a nursing school partnership agreement.

Philosophy may be seen as an area of academic speculation, but Shawn Kaplan, PhD, associate professor of philosophy and director of the Ethics and Public Policy program, researches how moral concerns affect current real-world issues.

Panthers are spreading awareness of the importance of mental health for student-athletes by teaming up with Morgan's Message, a national program named in honor or a young lacrosse player who took her life.

Our community's commitment to Excellence and to Diversity, Equity, Inclusion and Belonging are highlighted in this year's extraordinary honorees.

Adelphi's annual Scholarship and Creative Works Conference, better known as Research Day, celebrated its 20th anniversary with undergraduates and graduate students presenting their work in each of our Core Four areas of focus: arts and humanities, STEM and social sciences, health and wellness, and the business and education professions.

Adelphi senior Samuel Kang is the winner of two national honors at this year's Kennedy Center American College Theater Festival for his play, what we will be. He reflects on the continued leadership of Adelphi's theater program.

Master of Social Work student Sarah Delannoy is taking her concerns to a global stage. She'll join youth representatives from around the world in giving voice to the issues of importance to the rising generation.

Stephen Shore, EdD, clinical associate professor in the Ruth S. Ammon College of Education and Health Sciences, shares information on autism spectrum disorder (ASD) and notes that TikTok and other social platforms have been positive factors in spreading awareness of ASD.

Adelphi is listed as No. 13 in this annual listing, which is covered by multiple news outlets.

Adelphi University's sixth annual Giving Day on April 19 and 20, 2023, raised $481,430 from a record-breaking 1,902 donors, an increase of 9 percent in the number of donors over last year.

Zahin Ritee is a physics scholar, a leader, a high achiever—and an award-winning singer. Now she's been named a Barry Goldwater Scholar for excellence in STEM.