The focus of social science and liberal arts seminars becomes more specific than the core courses. Students can choose from a wide variety of different special topics developed by professors according to research interests.
The faculty teaching these seminars come from across Adelphi, but unlike many traditional classes, these seminars incorporate cutting-edge topics, methods, and teaching practices.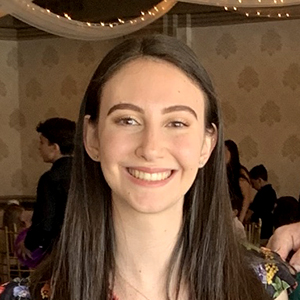 Example Seminar Offerings
In these seminars, our students realize that they are not simply learning facts but actively constructing the future of a field or dismantling disciplinary silos.
Nursing history in Europe and the U.S. has a long history of collaboration with states and churches and subversion of them. Women could access authority through their healing expertise, and we will think about the power of this work over the course of the semester.
The class will consider the evolution of nursing in medieval and early modern Europe. It will focus on the professionalization of nursing.
How does research inform views on society, religion, and science? What does it mean to be a mathematician or scientist? How do scientists think and how do they solve problems? Why is science useful? Is science compatible with religion? In this course we will go beyond a basic exploration of the scientific method and try to answer these questions by examining personal views of some of the greatest scientific minds of the last 200 years, as expressed through their non-technical classic works. We will read the works of Polya, Hardy, Einstein, Dawkins, Darwin, and more.
This research seminar covers topics in the history of sexuality in the United States from the colonial era to the present. Students will learn about changing conceptions of sexual identity; the regulation of sexual behavior through legal, medical, social, and political means; the representation of sex and sexuality in different media; and the connections between sexuality and gender, race, and class.
The stories that archaeologists tell about the past and how the past is reconstructed have real-world implications for health, well-being, and social inequality. This semester we will use case studies in the material past to explore these implications.
While masculinity is often associated with ideas of "normativity" and systems of patriarchy, what it means to be a man in society is much more complex. This class will interrogate how ways of being a man and cultural representations of/about men vary across time and cultures, and between different groups of men within the same society. Some questions we will consider are: How is violence figured as a part of, and reaction against, hierarchies of male identity? How do definitions of male identity become complicated by larger changes in contemporary society? Why do some individuals see masculinity as being damaged by the conditions of the modern world, and threatened by the progress of feminists? And how can a more nuanced and pluralistic understanding of masculinity challenge its less-inclusive forms? Special attention will be given to the centrality of the male body, and its implied strength, and how the intersecting dynamics of (dis)ability, class, race, sexuality, and gender complicate conceptions of masculinity across time and cultures.
Our class will interrogate these issues and questions across a variety of literary time periods and genres. Readings will include selected literary works from Flannery O'Connor, James Baldwin and Oscar Wilde; films from Richard Linklater (Boyhood) and Chaz Palminteri (A Bronx Tale); as well as a variety of other traditional and visual texts. Assignments will include two shorter essays and a longer research project.
Buddhist modernism is often described as the intersection of Buddhism and science. We will explore ways scholars believe Buddhism, rather than Christianity, is a better fit with science. We will also examine how Buddhist meditation fits with therapy and medicine.
Students will analyze the politics of literary censorship. Questions we will tackle include: How do literary works represent threats to political and moral homogeneity? How does the gender, class, or race of the imagined viewer or reader affect arguments for censorship? How does the intent of the author influence judgments about a text's morality or immorality?
How does social class shape culture in contemporary American society, in terms of identities, tastes, styles, beliefs, consumption, and perceptions of reality? This course is a sociological examination of class, culture, and power. Students will examine the ways in which high" and "low" culture is created, reproduced, consumed, embodied, and sometimes transformed in ways that both reflect and reproduce class inequality. Students will unpack contentious concepts, such as middle-class values, underclass culture of poverty, and cultural appropriation.
Principal Reading (additional reading will be assigned):
Hall, John R., Laura Grindstaff, and Ming-Cheng Lo. 2010. Handbook of Cultural Sociology. New York: Routledge.
When Egypt succumbed to Rome after the Battle of Actium, the West became fascinated with anything and everything Egyptian. We will investigate visual and literary paradigms of this obsession from antiquity through the 21st century: pseudo-Egyptian cults, notions of the afterlife, movies and tacky furniture, secret societies, grave-markers and mausolea.
This course will explore how writers and artists experiment with text. We will investigate the ways in which this work draws from language, sight, sound, and even technology. Students will participate individually and collaboratively in critical, interpretive and experimental work.
Fakes have been created, acquired, admired, and exposed for centuries. These objects of deception, whose production can be traced at least to the Phoenicians, have confounded collectors for millennia and today are ubiquitous on eBay. This seminar explores the complex role forgeries play in our interpretation and understanding of the past.
Class Learning Goals
Given adequate study through discussions and reference materials, the students should be able to accomplish the following:
Develop some understanding of the art forgery culture and its complex issues.
Relate artworks and forgeries to their cultural (historical, social, religious, political) background.
Develop an appreciation for the variety and complexity of the visual arts.
Further develop critical visual analysis and research skills.
This course will consider how fashion has traditionally played a role in social change and social movements throughout modern history. Students will analyze how groups have historically been—and continue to be–marginalized or excluded from institutions of knowledge and how these issues of equity and inclusion can be rectified.
This multi-disciplinary seminar focuses on the close examination of encounters with music in various contexts. Students will develop the vocabulary, analytical tools, and methods of inquiry that will help them to explore, study, and critically discuss their experiences of music. Reading knowledge of music is not a prerequisite.
Explore the advances in our understanding of genetics, genomics, and biological development, and the implications of these advances for what is possible, probable, and ethical in medicine, agriculture, our personal lives, and society in general.
Class Learning Goals
By the end of the course, students will:
Understand and be able to explain the basic mechanism of the storage, transmission, and expression of genetic information, and important techniques used in genetic and genomic analysis and manipulation.
Understand and be able to explain how genetic and genomic approaches are being applied in agriculture, medicine, human reproduction, and biotechnology, including the rationales, methods, and current status.
Understand and be able to apply basic principles of ethical analysis to the ethical, legal, and social issues arising as advances in genetics are applied in various areas.
Be able to search the biomedical literature and biomedical databases, write a research paper using the information gathered, and present the results orally.
Students will explore the work of radical collectives, community artists, guerilla performers, and other modern and contemporary troublemakers whose context-based art operates as a storm of storytelling, creative placemaking and participatory art.
In light of the projected loss of jobs due to automation, students examine the future of work from economic, political, and philosophical perspectives. Universal basic income (UBI) is examined as a response to the projected job losses. Students write a policy paper to defend an ethical response to these challenges.
This seminar will focus on photography and its relationship to art. Nevertheless, it is important to remember that photography has informed and transformed so much of our daily existence. Photography follows us everywhere. It is there when we get x-rayed at the doctor, and it is there when we run a red light. In the end, it is hard to imagine a world without photography. We have come to accept it as commonplace. How did this happen? And how did historic photographers work to further the technological and aesthetic developments of the medium — a medium which is at once expressive and factual? Through class discussions, shooting assignments, journal exercises, slide presentations, readings, and exams, we will attempt to answer these questions.
Students will critically evaluate prehistoric non-western cultures and reflect on cross-cultural comparisons. This course asks how peoples succumbed, averted or "survived" social and environmental calamities.
Topics include traditional knowledge as problem-solving strategies. Students will integrate course concepts into hands-on experiences by mapping and analyzing spatial data using GIS technology.
Behavioral ecology is the study of the evolutionary and ecological significance of behavior. In the human context this includes culture. Explore evolutionary psychology, sexuality, and cultural studies through discussions of scholarly articles and presentations, with an emphasis on fundamental concepts and recent advances.
Students will learn to plan, facilitate and evaluate a dialogue based in the model of Intergroup Dialogue. Students will also develop a critical awareness of social identities, understand one's own connections to power, privilege and oppression, and practice intercommunication skills such as active listening, purposeful sending, and providing feedback.
This course examines the "human" as a dynamic, evolving category, considering major trends in posthuman thought. We will analyze fiction, poetry, visual art, digital media, as well as pertinent works of critical theory and philosophy, to construct creative criticism.
This course aims to redeem bad taste. Using theorists such as Jack Halberstam, José Esteban Muñoz, Samuel Delaney, and Julia Kristeva, students will define Camp as an aesthetic, thinking about how failure and excess look beyond heteronormative, neoliberal, White definitions of "good" and "bad" taste to create new potentialities in literature and culture. Students will examine the post-Stonewall history of performance in New York City, looking at practitioners such as Taylor Mac, Charles Busch, Tarell Alvin McCraney, Harry Kondoleon, Qui Nguyen and Holly Hughes.
HBO's extremely popular Game of Thrones series was a reimagining of a medieval world, one with castles, dragons, knights, ladies, and a whole lot of white people. It's a popular way of thinking about the Middle Ages, but it's not an accurate one, and it's even more troubling because today's white supremacists routinely use and adapt medieval iconography or selected narratives in an attempt to promote their agenda. In this class, we will be looking at some original medieval texts and their later adaptations to examine the way that whiteness has been routinely reinscribed in the later versions, and the use those texts have been put to by white supremacists. It's a pretty straight line, for instance, from Volsunga Saga to The Niebelungenlied to Wagner's Ring Cycle to Adolf Hitler and his praise of Aryanism. We will investigate examples such as Crusader texts and imagery, Celtic crosses, and Thor's hammers to think about why today's popular discourse wants us to continue to think about the Middle Ages as a white (and Christian) space when a) the medieval texts do not; and b) it feeds into and supports today's white supremacists' overt agenda.
economics, political theory, sociology, theology, literature, among others – in shaping and misrepresenting relationships between human beings, technology, science, resource extraction, animals, and the environment, and how they may contribute to the planet's degradation and rehabilitation.
Using oral testimonies, memoirs, diaries, films and other reconstructions, this course examines "the soldier" by looking at those who fought on both the Allied and Japanese sides during World War II. We will try to ascertain what it is to fight, and what is lost and what remains after war. The Second World War is usually talked about in narratives of the "good war" that emphasize American victory over fascism, Nazism and the "fanatical" Japanese. In this course, we will move beyond these narratives by focusing on soldiers' experiences in the Pacific theater, and in doing so surpass the hegemonic representations and caricatures that are often presented as embodying the American and Japanese war experience. We will start by examining the problem of conveying war to those who have not experienced it. Often when war is re-told, the recreations impose order on what is an inherently chaotic experience. We will see war in its many forms– an arena where bonds of brotherhood are formed– and also a hellscape where men fight not just the enemy but turn on each other. We will examine soldiers' experiences of war in all its sheer physicality and violence as well as the mental toll it exacts. We will follow soldiers as they return home and follow how the processes of remembering war also involve processes of forgetting.
From the texts and images of Ancient Mesopotamia through the 21st century the class explores the textual and visual depictions of an enemy, often presented as "the other." Such images are often carefully constructed in order to influence/manipulate the opinions of the masses – and essentially play the role of propaganda.
The Pleistocene (Ice Age) was a transformative epoch for people and our ancestors. It was a time of rapid cognitive and technological innovation and achievements. In this class, we will delve into deep time and explore the Pleistocene peopling of the world.
This is the third segment of a two-year-long course offering consisting of a series of four "readings & discussion" seminars, focusing on a small number of political novels – by which I mean (as per Irving Howe's classic definition) works "in which political ideas play a dominant role, or in which the political milieu is the dominant setting."  In other words, this is not a course in literary criticism per se.  Therefore, a more accurate title might be, "Politics in Literature:  Confronting the Early 20th Century European Historical Experience."
And so, through a careful reading of three works, whose story-lines deal with some of the most dramatic developments in European history during the years 1936 – 1945 – we will address a number of the most compelling political, social, and philosophical issues of our time:  nationalism, liberalism, socialism, fascism, communism, and populist nationalism.
Principal Reading (additional reading were be assigned):
Robert O. Paxton & Julie Hessler, Europe in the Twentieth Century (Fifth Edition: 2012)
Koestler. Darkness at Noon
Roth. The Plot Against America
Jünger.  Paris War Journals, 1941-1954
We will explore recent ideas about great authors and ideas first met in Modern Condition and Human Condition. Our texts will be premier intellectual journals, magazines and newspapers in America: New York Times, New York Review of Books, New Yorker, The Nation.
The seminar will emphasize reading, discussion and writing.
The Covid-19 pandemic is only the most recent, though possibly also most acute, of the numerous challenges human society confronts in the early 21st century. Climate, finance, inequality – social, racial, and gender – artificial intelligence, bioethics, epidemiology, and geopolitics are some of the principal areas characterized by immense uncertainty in the coming decades. This is the present-day context in which we will revisit and explore the notion of progress. What is progress? In which ways is it – or is it not – a uniquely human concern? In what ways, according to the historical record, can we say that "progress" describes our collective experience? (In what ways does it not?) And perhaps most important, do our present-day challenges represent a major departure from humanity's historical trajectory?
Texts:
Isabel Wilkerson's Caste, Steven Pinker's Enlightenment Now
Richard Heinberg's The End of Growth
Thomas Kuhn's The Structure of Scientific Revolutions
In every society, there are ontological parameters and cultural assumptions about being alive and understanding the arc from birth to death. This seminar explores cross-cultural variations in human efforts to grasp, contain, and explain states of being through ritual practices.
Students will attempt to delineate the ideology of romantic love in Western thought, literature and scholarship, tracing major shifts in definitions and literary/philosophical concepts. Close attention will be paid to issues of gender. Representative texts from history, sociology and psychology will provide an interesting context for discussing literary prose/poetry.
Students will investigate the decade of 1910 via an examination of the student's ancestor from that era along with its history, science and arts. Adelphi students in the persona of their ancestor will interact on relevant historical issues with foreign students posing as their ancestor, learning differences, and finding commonalities.
This seminar examines through archaeo-anthropology, humanistic lenses, and art representation the symbolic meanings of cosmo-theogonic mythology and the chronicle of the human story narrated, recorded, and experienced in the religious realm of Classical antiquity. Myth theories, ritual studies, and ethnographic studies explore the transcendence of ancient polytheistic elements into modernity.