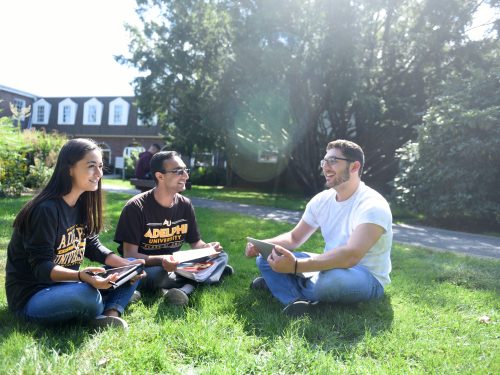 First-Year Student Admission to the Honors College
Acceptance into Honors College is based on your intellectual curiosity and potential, on your passion for reading, writing and thinking across the disciplines, and on past achievement.
How to Apply to the Honors College
To apply, students should complete the Honors portion of Adelphi's application or the Common Application. Students are welcome to upload evidence of their best academic writing.
Our Admissions Committee bases acceptance into the Honors College on a wide range of criteria. It looks specifically for candidates who have demonstrated intellectual curiosity and high achievement in high school.
While no single factor is decisive, the initial screening criteria include:
Class Rank (when available)
Cumulative GPA (incoming class average is 4.05 on a 4.3 scale)
SAT Score (incoming class average is 1388, with a minimum of 670 on the evidence-based reading and writing sections)
ACT Score (incoming class average is 31, which must include the writing section)
Letters of Recommendation (from your teachers)
Interviews
After a holistic review of the application, the Honors College will invite a promising applicant to an interview on campus. This interview gives applicants a chance to learn more about the Honors College and offers them the opportunity to share their own intellectual achievements and passions. The interview is a key factor in the final admissions and scholarship decision. If you live outside of the region or there is an impediment to traveling to our Garden City campus for your interview, it can be conducted over the phone or via Skype.
After the interview, students will receive a letter notifying them of acceptance or rejection.