Work out in a group setting for extra motivation. Our classes cater to a wide range of interests, abilities, and times to suit your schedule.
Group Fitness Schedule
Each semester we offer several group fitness classes to students, faculty and staff. Group Fitness is for everyone, regardless of your fitness level. The following classes are for Spring 2022, effective January 25th.
12:00 p.m.: Yoga with Dianne
6:00 p.m.: Zumba with Vicke
6:30 p.m.: Yoga with Deidre
7:00 p.m.: Cycle with Linda
12:00 p.m.: Barre with Sue
1:00 p.m.: Essentrics with Emilia
5:00 p.m.: Cycle with Cathy
6:30 p.m.: Strength with Harris
12 p.m.: Vinyasa Yoga with Lisa & TRX with Cathy
6:00 p.m.: Zumba with Vicke
7:00 p.m.: Cycle with Linda
1:00 p.m.: Essentrics with Emilia
5:00 p.m.: Power Yoga with Stephanie & TRX with Cathy
6:00 p.m.: Restore Yoga with Stephanie & Cycle with Cathy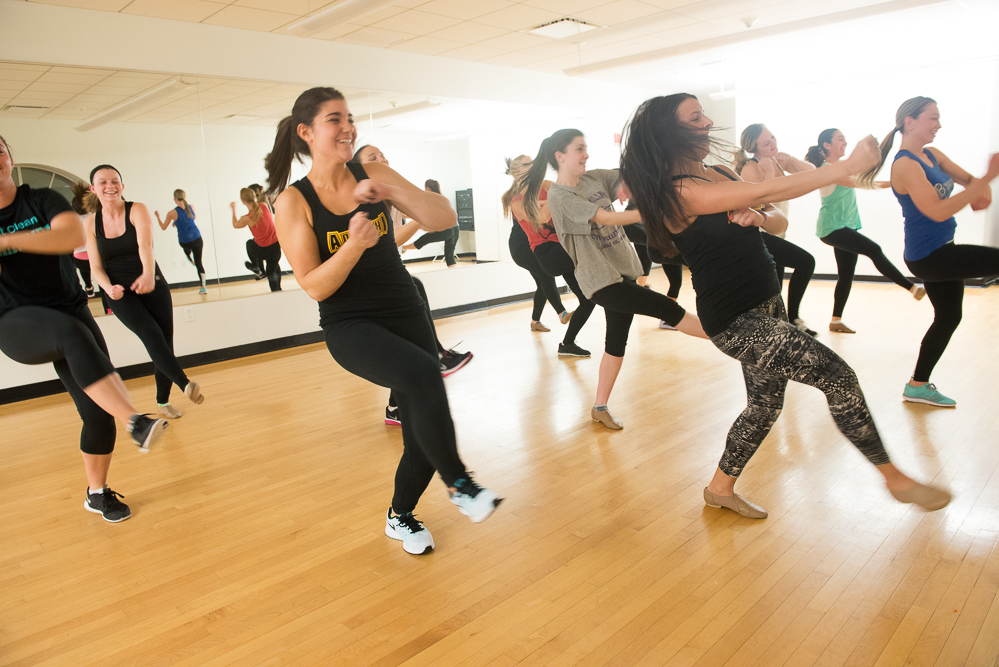 How to Register for Classes
Classes include aerobic conditioning, strength and endurance training; as well as weight-based and mind-body workouts.
Spring and Fall Semester Registration
Classes are free for faculty/staff and students. To register stop by the Campus Recreation Office in Woodruff Hall Room 240 or register online on IMLeagues using your Adelphi username and password.
Create an account with IMLeagues
Click on the "Group Fitness" tab and sign up and reserve a spot in the class up to 24 hours in advance!
Once you click on the "sign up" tab, it will take you to the waiver form. Read and accept the terms and conditions of the waiver.
You will now be able to attend any group fitness class of your choosing!
If you cannot make it to the class, please cancel your reservation at least 30 minutes prior to class. Remove your name by using the red Unregister for Session button at the top of the session page so that others will be able to take your spot.
Locations
Studio is located in Woodruff Hall, Room 304
Woodruff Hall Gym is located on the 2nd floor of Woodruff Hall
Racquet Courts are located on the 3rd floor of Woodruff Hall
Functional Training Studio is located on the 3rd floor of Woodruff Hall
Barre is a combination of postures inspired by ballet and other disciplines like yoga and Pilates. The barre is used as a prop to balance while doing low-impact exercises that focus on isometric strength training (holding your body still while you contract a specific set of muscles) combined with high reps of small range-of-motion movements. Barre also incorporates light handheld weights to bring the burn to all those reps, as well as mats for targeted core work.
Indoor cycling, often also called spinning, as an organized sport, is a form of exercise with classes focusing on endurance, strength, intervals, high intensity and recovery, and involves using a special stationary exercise bicycle with a weighted flywheel in a classroom setting.
Flow and Restore yoga is a deliciously balanced practice to both uplifts and relax you – beginning with a nourishing flow and ending with big renewal through restorative poses (calming postures using props such as blankets, bolsters, blocks, straps), this class is a guaranteed mix of the best of both worlds, providing peace and restoration.
Get ready for our high-intensity class! HIIT is a popular training method used by athletes and fitness enthusiasts all over the world. HIIT is known as high-intensity interval training and involves repeated bouts of high-intensity effort followed by different recovery times. HIIT workouts are stated to burn more calories than traditional exercises. Make sure to always listen to your body and push as hard as you can until your next recovery time.
Intro to Functional Training is a class that will be taking place in our new Functional Training Room. The combination of resistance training (weights), plyometrics (explosive jumping movements), bodyweight exercise and strategic cardio keeps your body guessing and helps push through the plateaus. This class will allow you to learn about the equipment in our new studio and help you gain knowledge to use it during our open hours.
Strength and Conditioning is the selection and development of dynamic exercises used to improve physical performance. Proper strength and conditioning allows an athlete to strengthen supporting muscles, even out muscle imbalances, increase mobility, correct posture, stabilize joints, learn new movement patterns, enhance coordination and peripheral skills, and so much more. Workouts are a full body strength and conditioning circuit suitable for any age and fitness level.
TRX® Suspension Trainer, a highly portable performance training tool that leverages gravity and the user's body weight to complete hundreds of exercises. You're in control of how much you want to challenge yourself on each exercise because you can simply adjust your body position to add or decrease resistance. The TRX® Suspension Trainer delivers a fast, effective total-body workout, helps build rock-solid abdominals, increases muscular endurance, and benefits people of all fitness levels.
Vinyasa Yoga is a flowing, dynamic sequence of poses that is one of the most popular styles of yoga in the United States. Also sometimes called "Vinyasa Flow Yoga," this type of practice involves synchronizing the breath with a continuous flow of postures. The fluid, almost dance-like movements increase flexibility, strength, and stamina, as it calms the mind and improves overall health.
Perfect For everybody! Each Zumba® class is designed to bring people together to sweat it on. Zumba takes the "work" out of workout, by mixing low-intensity and high-intensity moves for an interval-style, calorie-burning dance fitness party. Once the Latin and World rhythms take over, you'll see why Zumba® Fitness classes are often called an exercise in disguise. A total workout, combining all elements of fitness – cardio, muscle conditioning, balance, and flexibility, boosted energy and a serious dose of awesome each time you leave class.
Recorded Classes
For your convenience, if you cannot make our in-person group fitness classes or want to take an extra class on your own, we've recorded them for later. Classes are available on our Youtube channel.
is a high-energy martial arts-inspired workout that is totally non-contact. Punch and kick your way to fitness and burn up to 570 calories in a class. No experience needed. Learn moves from Karate, Taekwondo, Boxing, Muay Thai, Capoeira and Kung Fu. Release stress, have a blast and feel like a champ. Bring your best fighter attitude and leave inhibitions at the door.
Ideal for anyone and everyone, BODYFLOW® is a new generation yoga class that will improve your mind, your body and your life. You can expect to bend and stretch through a series of simple yoga moves, elements of Tai Chi and Pilates while an inspiring soundtrack plays in the background. Breathing control is a part of all the exercises, and instructors will always provide options for those just getting started.
Exercising muscles around the core, CXWORX™ provides the vital ingredient for a stronger body. A stronger core makes you better at all things you do, from everyday life to your favorite sports – it's the glue that holds everything together. All the moves in CXWORX have options, so it's challenging but achievable for your own level of fitness. During the 30-minute workout trained instructors guide you through correct technique as you work with resistance tubes and weight plates, as well as body weight exercises like crunches, and hovers. You will also get into some hip, butt and lower back exercises.
RPM ™ is a group indoor cycling workout where you control the intensity. It's fun, low impact and you can burn up to 500 calories a session. With great music pumping and the group spinning as one, your instructor takes you on a journey of hill climbs, sprints and flat riding.