Adelphi's recreation facilities support a wide range of activities.
Recreation Facilities
Attractive and airy, each space is both comfortable and functional, whether it is fitness or leisure you have in mind.
Launch Gallery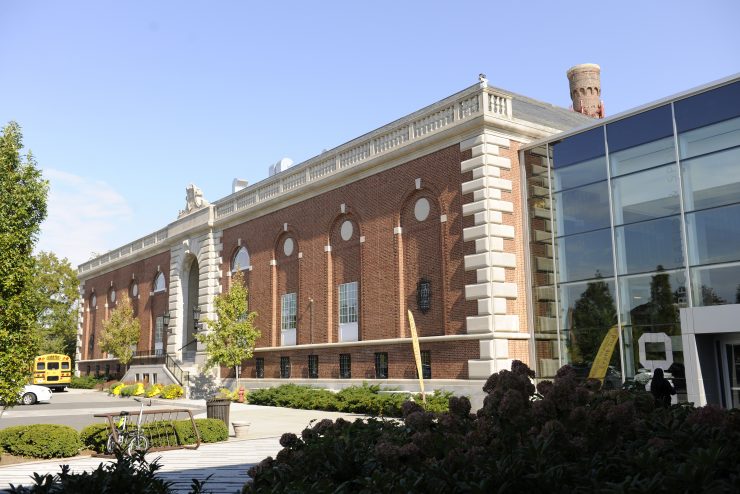 4 Photos
Recreation Facilities
Attractive and airy, each space is both comfortable and functional, whether it is fitness or leisure you have in mind.
4 Photos
Center for Recreation and Sports
The 76,000 square-foot Center for Recreation and Sports (CRS) opened in 2008 as a vibrant, energized place to take part in your favorite sport or activity.
The spacious atrium provides views to the outdoors as well as to the fitness center, pool and studio in Woodruff Hall. A friendly staff member will greet you at the information control desk and direct you to your desired destination. Relax or meet up with friends in the mezzanine lounge, or grab a healthy snack or smoothie at the Legends Café after your workout.
Enjoy views of the outdoors from the three-lane walking and jogging track which is approx. 1/10th of a mile. (9 1/2 times around make a mile).
A three-court gymnasium for basketball, volleyball, badminton, and many other activities are located on the lower level. Sneakers are required for participating in any activities in the gym. Food, drinks, and gum are not allowed.
Located on the lower level, equipped with grooming stations and swimsuit dryers, there are both day-use and annually rented lockers available. Locker registration takes place at the Recreation Department located in Woodruff Hall, Room 240.
Access to the swimming pool is at the rear of the recreation locker rooms.
Just bring your ID to check out equipment such as basketballs, volleyballs, badminton or tennis rackets, and much more. Visit the equipment issue desk in CRS room 028 at the lower level if you wish to check out the equipment.
Woodruff Hall
Originally opened in 1929, Woodruff Hall was renovated and re-opened in the fall of 2009 and features a combination of traditional charm and modern activity and technology.
Our state-of-the-art, 5,000 square foot fitness center has everything needed for a complete workout. The fitness center includes Cybex selectorized weight training circuit, free weight stations, cable machines, stretching area and cardio machines featuring Life Fitness and Precor equipment with entertainment such as iPod connections and 17″ personal TV screens.
The Arvilla E. Nolan swimming pool has four lanes and is 25 yards in length. During open swim times, lanes are designated for lap swimming and access to the pool is through the recreation locker rooms in the lower level of the CRS.
Located on the 3rd floor, opposite the racquetball court, the Functional Training Fitness Studio is an alternative fitness space used for fitness classes, personal and small group training as well as walk-in recreational use.
Mainly used for racquetball court, this space converts into the dimensions of a squash court with a movable wall. It is located on the 3rd floor opposite the Functional Training Studio
Staff assistance is required.
Four newly built tennis courts are located at the north end of the outdoor soccer/ lacrosse complex. The courts are open daily from March through October from 8:00 a.m. to dusk on a first come first serve basis. The courts are closed during varsity practices and physical education classes.
Motamed Field, William J. Bonomo Baseball Field, Janet L. Ficke Softball Field and Turf Practice Field are available for recreational use for Adelphi students during the regular semester by reservation. Call the recreation office at 516.877.4242 or stop by in Woodruff 240 to see what days and times might be available.
Fall 2023 Hours
Fitness Center, Gym, Indoor Track
Monday/Wednesday: 9:00 am-10:00 pm
Tuesday/Thursday: 6:30 am- 10:00 pm
Friday: 9:00 am- 9:00 pm
Saturday/Sunday: 12:00 pm- 5:00 pm
Functional Training Studio, Racquetball Courts
Monday Thursday: 12:00 pm- 7:00 pm
Friday: 12:00 pm- 6:00 pm
Swimming Pool
Monday-Friday: 12:00 pm -2:00 pm & 5:00 pm- 8:00 pm
Saturday/Sunday: 2:00 pm – 4:00 pm