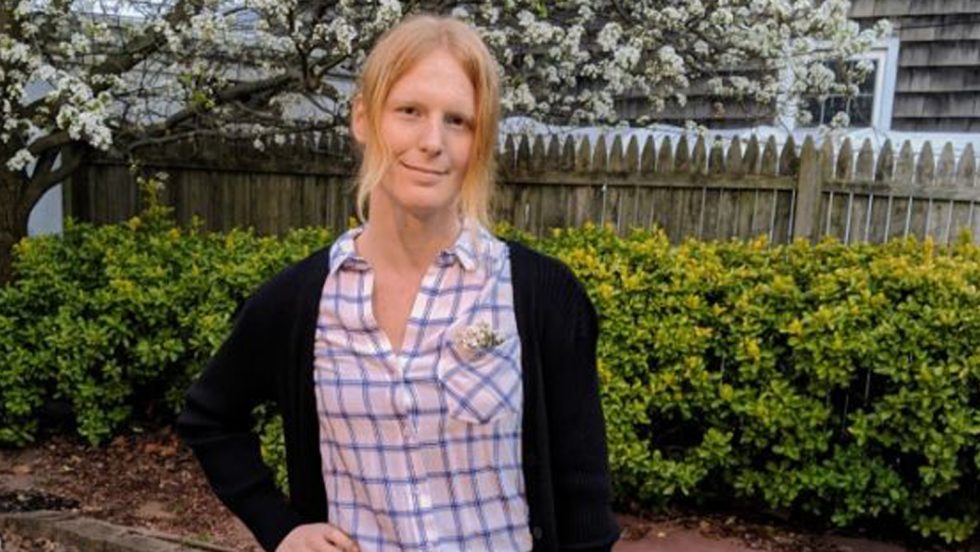 As a child and teenager, Zachary Fallon, now Lucy Fallon, loved chemistry and knew this was what she wanted to major in.
She felt Adelphi was a good fit for her because "I liked the feel of the chemistry department," she recently recalled. "It's a smallish group and all the professors knew you by name. The professors were all really, really great, brilliant and super kind.
"The chemistry, biology and physics departments are all pretty well entwined, which is important for those who like to straddle other sciences."
While today she is a doctoral student at Stony Brook University, Fallon admitted, "I was by no means an A student at Adelphi, but I was diligent and enthusiastic, which I think might have left an impression."
She clearly left an impression on Brian Stockman, PhD, professor and chair of the Adelphi University Department of Chemistry, who described Fallon as "a tremendous Adelphi chemistry success story. Zachary matriculated into the chemistry PhD program at Stony Brook and, while transitioning to Lucy, has been carrying out research in the laboratory of world-renowned computational chemist Carlos Simmering [PhD]."
Fallon's research on the spike glycoprotein of SARS-CoV-2—the coronavirus that causes COVID-19—was recently published in the prestigious Journal of the American Chemical Society (JACS).
Learning When the SARS-CoV-2 Virus Is Most Vulnerable to Antibodies
Fallon was the lead author on the JACS paper, which Dr. Stockman described as "providing fundamental insights into the motions of this protein that might be important for viral infection."
The study sheds new light on when the distinguishing spike glycoprotein of the SARS-CoV-2, or coronavirus, is both most infectious—and also most vulnerable to targeted neutralizing antibodies.
"The glycoprotein spike, the part of the virus that's responsible for getting into and infecting a human host cell, spends time alternating between two shapes—open and closed," Fallon explained. "When open, it's the time to infect—but when open it's also the time antibodies can bind to it."
Understanding this motion could prove valuable, according to Fallon, in helping to design therapeutic antiviral drugs that can specifically target this and other coronaviruses. "Everything we learn is transferable to future coronaviruses," she said.
Fallon, whose interest in computational chemistry—doing chemistry on a computer without mixing liquids in a lab—took off as an Adelphi student, felt fortunate that her research was "perfectly suited to the early days of the pandemic, when working from home was the only option."
It's Different for Women
As a transgender woman, Fallon knows what it's like to be a male and a female chemist. Noting that Dr. Simmerling and others at Stony Brook have been tremendously helpful and supportive, she insisted, "It makes all the difference in the world to have a good boss."
Yet, she said, "When it got to a point when I quote, unquote passed, there was a difference in how I and my ideas were treated by those who hadn't known me before I transitioned. I needed to say things twice, for instance. It was a definite modality switch."
According to Fallon, her experience reflects, in part, the challenges facing women chemists in getting timely and well-deserved recognition.
Fallon, who will receive her PhD this spring, has not finalized her post-degree plans. "Truth be told, I'm going through an existential crisis about that as I approach the end of the tunnel, although I've had it in my head to go into industry," she said. "The logical course would probably be to go to big pharma and follow in the footsteps of Dr. Stockman, who came to Adelphi from industry."