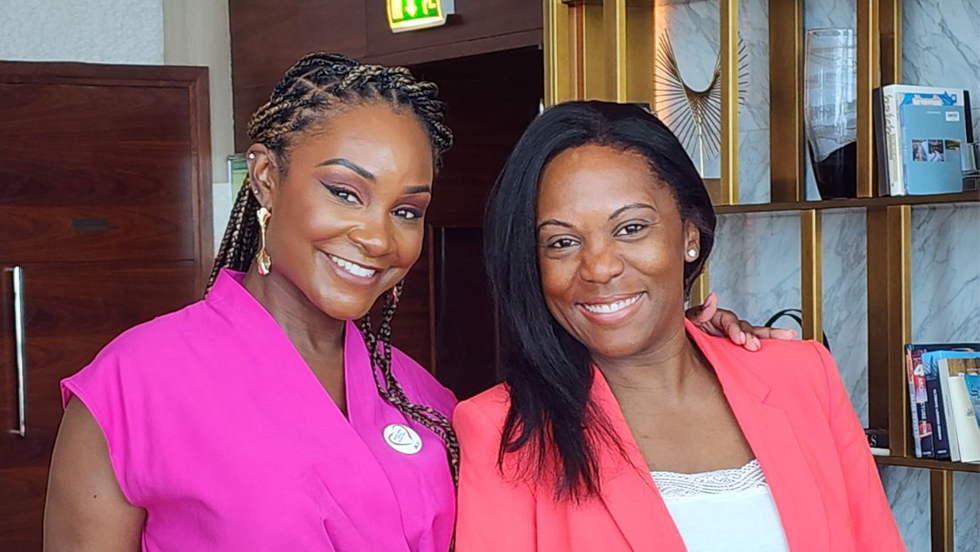 Charleen Jacobs BSN '06, PhD '23, and Jennifer McIntosh, PhD '21, found each other in Adelphi's PhD in Nursing program. They're looking to expand their sisterhood by encouraging women of color to further their education and diversify the nursing profession.
They met in 2017 in a cohort of nursing professionals pursuing a doctoral degree at Adelphi University. Since then, Jennifer McIntosh, PhD '21, and Charleen Jacobs '06, PhD '23—both first-generation college students—have become, in their words, "close friends and professional sisters."
They've already been on a road to success: Dr. McIntosh is a former director of patient care services at Northwell Health and now a lecturer at Yale School of Nursing and an adjunct nursing faculty member at Adelphi University and at the City University of New York School of Professional Studies. Dr. Jacobs is a former Yale lecturer and now assistant professor at Lehman College of the City University of New York and a nurse practitioner at the Mount Sinai Adult Sickle Cell Program, in which she received an award for Resilience in Action. And their journeys continue: Black women advancing their careers, inspiring others and eagerly sharing their experiences and expertise.
"I think we both knew from attending Adelphi's PhD in Nursing Open House that it was the right place for us," said Dr. Jacobs, a Bronx native whose parents were both nurses. "We appreciated Adelphi's cohort model. It created a tighter connection between Jenn and me."
Born in Brooklyn and raised in Haiti, Dr. McIntosh completed her PhD during the pandemic, dealing with her work, studies, pregnancy and the birth of her son, Rusty. "Adelphi has more diversity in its PhD in Nursing program than other schools I considered," she said. "I was impressed by not only the academic excellence at Adelphi, but also the faculty's student-centered, inclusive and nurturing approach. Charleen and I continue to support each other by sharing resources and collaborating on scholarly work."
Dr. McIntosh is now a second-year student in Adelphi's Psychiatric-Mental Health Nurse Practitioner graduate program. "There was no doubt Adelphi would be the place where I would further my education," she said. "I've always experienced a sense of community and belonging at Adelphi where my diverse background was valued, respected and recognized. Adelphi will always be my home."
Bringing Attention to Overlooked Areas in Healthcare at a Prestigious Conference Overseas
In July, Dr. McIntosh and Dr. Jacobs presented at Sigma's 34th International Nursing Research Congress in Abu Dhabi, United Arab Emirates.
Dr. McIntosh presented on two significant topics in nursing—emergency nurses' perceptions of attribution and individualized care toward people with mental illness and on what she refers to as "VIP care": providing enhanced care to people deemed more important than others, and the clinical and ethical implications of that for nurses and care recipients.
"As a former emergency nurse, I often felt unequipped to care for patients with mental illness," she said. "The resources and training available to nurses were often lacking. With the growing need for mental health care, it is essential that nurses, particularly in emergency departments, are adequately trained and that resources are put in place to ensure that individuals presenting in emergency departments with a mental health crisis receive respectful, safe, evidence-based, humanistic, dignified and individualized care."
Regarding her presentation on VIP care, she said, "When the care hospitals deliver to individuals identified as VIP—such as donors, and friends and family of administrators—is different from that of the general patient population, it exacerbates health inequity and places unnecessary demands on nurses' workload."
Dr. Jacobs presented on the experiences of patients with sickle cell disease who were deciding on curative treatments. Sickle cell disease is a genetic red blood cell disorder that affects people of African descent disproportionately in the United States. People with the disease have a life expectancy more than two decades shorter than the general population, according to the National Institutes of Health. "There is little research on sickle cell disease compared to other rare diseases. This is due to disparities in research and philanthropic funding," Dr. Jacobs said. "Research can help advance the health and well-being of those living with sickle cell disease. More research is needed to understand how nurses can provide high-quality, equitable, evidence-based care to people living with this illness."
Based on feedback Dr. Jacobs and Dr. McIntosh received at the conference, they will collaborate with their former ethics professor at Adelphi, Anne Peirce, PhD, on a research study on nurses' experiences with care inequities.
Inspiring Others
Dr. Jacobs and Dr. McIntosh are acutely aware that their journey as Black nursing professionals can inspire others to follow in their path.
"There's definitely a need for more diversity in nursing and nursing education," Dr. Jacobs said.
Dr. McIntosh added, "I hope to inspire more Black nurses and nurses of other diverse identities to pursue a PhD in Nursing. Based on my experience, the culture of inclusion and belonging at Adelphi and its commitment to the development of nursing science and the science of nursing education set its PhD in Nursing program apart from others."