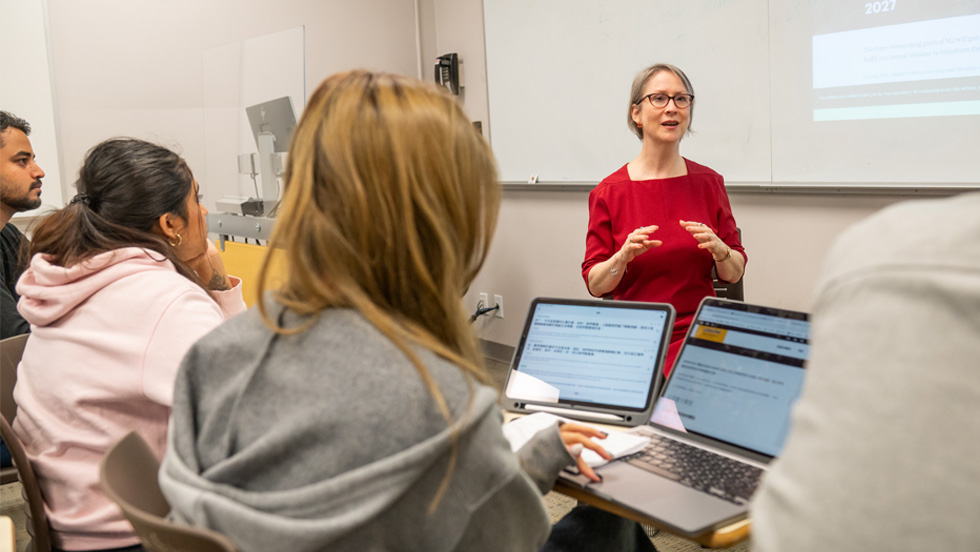 Professor Pamela Buckle, PhD, MA '13, teaches nontraditional students in CPCS and earned her degree in the program as well.
Pamela Buckle, PhD, MA '13, wears more than one hat at Adelphi. She's a professor of management in both the Robert B. Willumstad School of Business and the College of Professional and Continuing Studies (CPCS). She's also a lifelong learner and Adelphi alum: After earning her BA, MBA and PhD in business, in 2013 she decided to pursue an MA in Mental Health Counseling from the Gordon F. Derner School of Psychology.
Here, Dr. Buckle shares her experiences as both a CPCS professor and student.
Why did you come to America to pursue your studies and career?
When I was finishing my PhD, the job possibilities in Canada weren't ideal, so I was interviewing with different universities in America. I fell in love with Adelphi—the school, the students, the faculty. I was also interested in teaching adult learners, which Adelphi offered.
How are classes for traditional undergrad students different from those through CPCS for adult learners?
With traditional undergrad, everyone is around the same age and level and they have accumulated similar life experiences. When I was an undergrad student, I trusted my professors and felt like their knowledge and experience was so far above my own. Adult learners and professors are more like partners. As a professor at CPCS instructing students at different levels who have different life experiences, I try to be more attuned to students' experiences and move at different speeds with different students based on those experiences.
What are some challenges for adult learners?
Time management is a big challenge. Adult learners aren't just students. They're also raising families and managing jobs, so these responsibilities often take precedence. This isn't the case for younger students in their teens and 20s. Another issue is group projects; [adult students] are working with younger students who don't have the same life experience and can't relate as much. That can also make the interpersonal relationships a challenge.
How has the Adelphi University College of Professional and Continuing Studies changed?
It's evolved, becoming more responsive and creative. We've been conducting research about what adult learners need to ensure their comfort and maximize their learning in class. We're also working hard to develop a smoother shift from BS to MBA.
How has continuing your education enriched your life and helped your career?
I wanted to learn more about human behavior to help me in my career. So I pursued psychology studies in addition to my business studies. My MA in Mental Health Counseling has helped me understand why things are the way they are in the workplace and ask better questions of both my colleagues and my students. My continuing studies also helped me be more comfortable with the people in my industry. When I was in my 20s, I felt intimidated by my banking and business colleagues at first. My continuing studies have also turned me into a more curious and adventurous person. I love working with people from other countries and cultures because of that.
Do you have plans to pursue any more schooling?
Never say never. There's always more to learn. I may not pursue a degree, but I would take individual courses. A lot of my learning right now comes from attending conferences and meeting professionals who excel in my fields of interest.