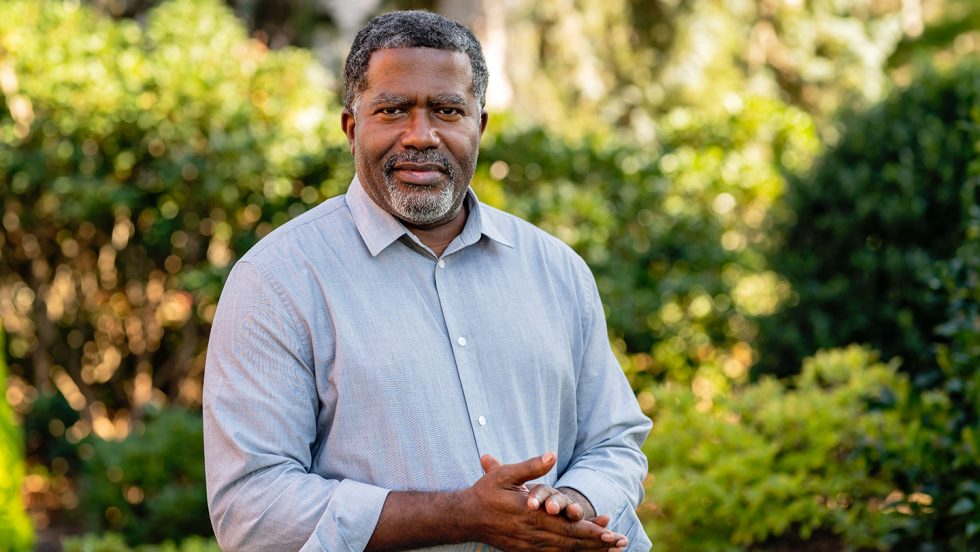 Lance Houston, JD, joined Adelphi University in August as Title IX coordinator and director of equity and compliance. Houston is well versed in compliance and Title IX, the federal civil rights law enacted in 1972 and expanded in 2020, that protects individuals in educational settings from discrimination based on sex and gender.
Initially drafted to ensure equal opportunity for women in sports, today Title IX applies to all forms of sexual harassment and assault, domestic violence, dating violence and stalking.
Title IX requires universities to respond promptly and effectively to address any report of sexual harassment or sexual misconduct and actively take steps to prevent it. Sexual violence on campuses is viewed as creating a hostile environment and thus discrimination, since enduring harassment and victimization prohibits students from equal access to education.
The addition of Houston to our Office of Community Concerns and Resolution reflects the University's proud history of compliance and advocacy regarding this law and continued commitment to protecting our campus community from sex-based discrimination.
Houston previously was Delaware State University's Title IX lead as its assistant vice president for legal affairs and human resources and, prior to that, director of human resources and affirmative action at Roxbury Community College in Massachusetts. He also founded and served as chief consultant for University EEO, a labor relations consulting firm specializing in higher education equal opportunity and Title IX compliance. In 2020, his research findings were cited in the Title IX Final Rule Regulations of the U.S. Department of Education Office for Civil Rights. His latest Title IX research will be published in the American Bar Association Journal of Labor and Employment Law this fall. Houston earned a Juris Doctor from Suffolk University Law School in Boston, a Master of Laws in labor and employment law from Atlanta's John Marshall Law School, and a bachelor's degree from Harvard University. He took time to answer some questions about what attracted him to Adelphi and the challenges and opportunities ahead.
Why did you choose to bring your talent and expertise to Adelphi?
I am excited and honored to be a part of such a vibrant, intellectually rigorous and diverse academic community here at Adelphi. From the moment I arrived on campus, I was impressed with Adelphi's commitment to inclusivity, equity and diversity. The administration's commitment to these principles, in addition to its commitment to Title IX compliance, was a critical factor in my choosing to accept the Title IX coordinator role.
How does your education, work history and experience in higher education position you as an effective Title IX leader?
At Roxbury Community College and Delaware State University, I managed campuswide Title IX compliance and equity and, most recently, served as director of Title IX and labor relations for an educational district in Connecticut. These roles uniquely position me to serve Adelphi well. Under the direction of Allison Vernace ['13], chief of the Office of Community Concerns and Resolution, I hope to become a trusted campus leader, using the Adelphi University mission statement as my guiding beacon in serving our community.
Regarding Title IX, what is your vision for—and pledge to—the Adelphi community?
My pledge to the Adelphi community is based upon prompt, fair and objective Title IX investigations, empowering the community with knowledge of Title IX rights, resources and options, robust and impactful antidiscrimination trainings and, most importantly, delivering on the administration's commitment to a harassment-free campus where each student and employee is valued, accepted and respected.
What do you think are common misconceptions about Title IX—and what should the Adelphi campus community know?
The most common misconception about Title IX is that there is not equal protection under the law and that there is not a right to due process. This is not true. All Adelphi Title IX investigations are confidential, procedure-based processes designed to protect our students from dating violence, domestic violence, sexual harassment and stalking. At Adelphi, each student's education and safety is paramount. The Title IX office does not only empower, inform and protect students and employees but we also serve as an information clearinghouse for the larger Adelphi community on community concerns, rights and resources to ensure that Adelphi University, as a workplace and as an academic setting, is harassment free.
Your research on issues surrounding Title IX has attracted national attention. What is your research focused on, and how will it benefit the Adelphi community?
My research focuses on the interrelationship between Title IX, due process and the evidentiary standard of proof—in other words, how Title IX policy is created on campus and how it's implemented. It analyzes this process across many college campuses and reveals trends and Title IX policy conflicts at play on campuses nationwide. I was fortunate enough to have the White House and the U.S. Department of Education take note of this research and include its findings and recommendations as part of the current Title IX rules and regulations for all colleges and universities nationwide. Adelphi benefits as being the new home for this continued national research. Our students benefit from my commitment to Title IX compliance and my work to improve its understanding across our great campus. I am proud of this work, but there is more work to be done.