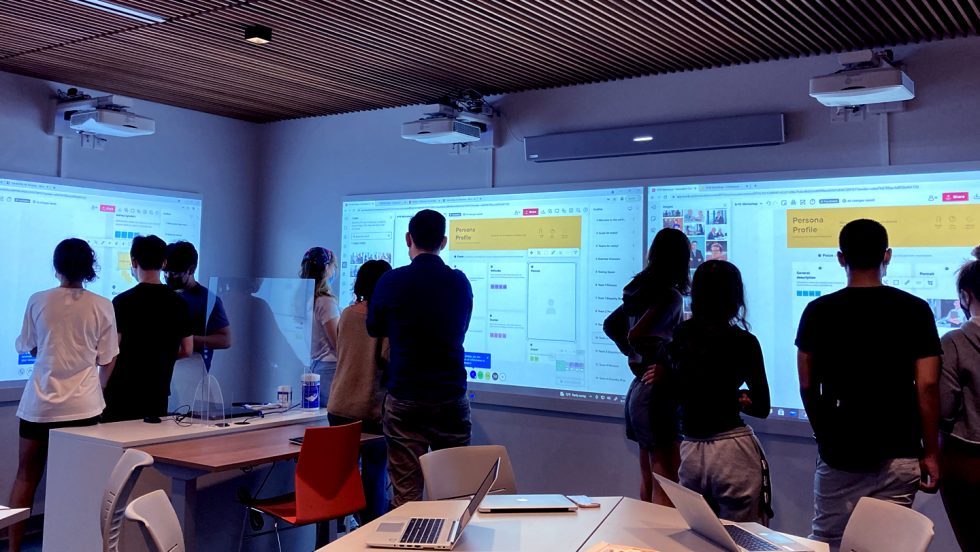 Adelphi's Innovation Center (IC), located on the first floor of Swirbul Library, launched in February 2020. Its mission is simple: to develop opportunities for applied learning by connecting faculty and students with external business partners to prepare students for today's competitive job market.
"Employers are looking for recent graduates who have hands-on experience solving real-world problems," said Graziela Fusaro, assistant provost for innovation. "Here at the Innovation Center, we prepare students to develop their careers in whatever majors they choose. We help them develop problem-solving skills, think on their feet, find a solution, think out of the frames of the classroom and complete their education with this deep experiential learning component"—all valuable skills in today's workplace.
Since the IC launched, 642 students benefited from experiential learning projects designed in partnership with 63 organizations. Fusaro explained that the IC has designed programs for undergraduate and graduate students to work on both curricular and extracurricular initiatives.
Regardless of their major, interested students can either register on the website for curricular experiences for credit or extracurricular certificates or they can participate in classes that are in partnership with the IC.
Duc Le, an international student from Vietnam, expects to graduate in December with a Master of Science in Supply Chain Management. He'll take with him the valuable work experience he gained from two different internships. With the help of the Innovation Center, he created strategic plans for Generational Mental Health and DeliverThat, respectively.
He said the internships have been a meaningful experience for him: "It's not easy to get working experience as an international student, so I'm very thankful for the opportunities provided by the Innovation Center," he said, adding that he thinks other students should take advantage of what the IC offers. "These projects you do outside of school are what make you stand out in your career search."
During the shutdown, that meant joining forces with the Center for Career and Professional Development to help shift the Jaggar Community Fellows Program to a virtual format. As a result, 100 students were placed in virtual internships with 12 companies last year.
The Innovation Center Inside the Classroom
Virtual Team Internship Program: Over 11 weeks, students immerse themselves in projects pertaining to their major/program of study and collaborate with students around the world to work with companies and nonprofits; they also receive credits and full mentorship from the Innovation Center
LIVE Classes: Students work with companies and organizations the IC partners with on specific projects under the guidance of their professors. The companies Zoom into the classes, allowing participation with both local and international firms and NPOs (nonprofit organization) such as Safe Place International in Greece and programs in Ecuador and Honduras. The students create innovative proposals and present solutions for client needs while developing their professional skills and building their résumés. Approximately 161 students in seven different classes have participated in LIVE classes since last fall.
Cristina Zaccarini, PhD, associate professor of history, has been teaching IC LIVE classes since it was launched. "All of these skills that students are learning through this work with the Innovation Center will have an immediate resonance with an employer," she said. "I think the IC will make Adelphi students really stand out to future employers because they'll have experiences that they would not have otherwise had. I encourage professors and students to participate. There's something that can be gained for everyone through the Innovation Center program."
The Innovation Center Outside the Classroom
The IC also develops programs that are offered as extracurriculars and are open to all students.
Business Plan Competition: The Innovation Center partners with the Robert B. Willumstad School of Business on an annual

 

Shark Tank–style business plan competition. Students gain hands-on experience in problem-solving, strategic thinking and presentation skills as they vie for cash prizes.
Innovation Center Labs: These long-term partnerships allow students, faculty and companies to combine resources to address specific challenges. Under a new partnership with Thorlabs, students and faculty will have opportunities to do research in optics in the physics lab. Another example is the partnership with

Fragrance.Net,

 with the goal of building a machine learning model to predict optimal pricing for certain products.
Digital Badges: In partnership with IBM Skills Academy, the Innovation Center offers training and certification programs that will help students gain applied knowledge to better position them in the job market. The Innovation Center is offering digital badges in the following areas: data science, artificial intelligence, design thinking and others.
Zeynep Atabay, IBM accredited instructor and former IC operations manager, said that data science and design thinking are critical parts of any career today. "I've been trained over 100 hours by IBM's instructional designers as an accredited instructor to teach faculty and students in areas like data science, design thinking and artificial intelligence," she said. "Our goal at the IC is to bring this knowledge back to our faculty to equip them with new resources and, of course, design new experiences for our students."
In addition to credits or certification from Adelphi, students get a digital badge from IBM that gets attached to their LinkedIn profile.
"One of the missions of the Innovation Center," Fusaro said, "is to provide deep, valuable, experiential learning opportunities to work on a problem with a company or NPO and have students and faculty find a solution together."