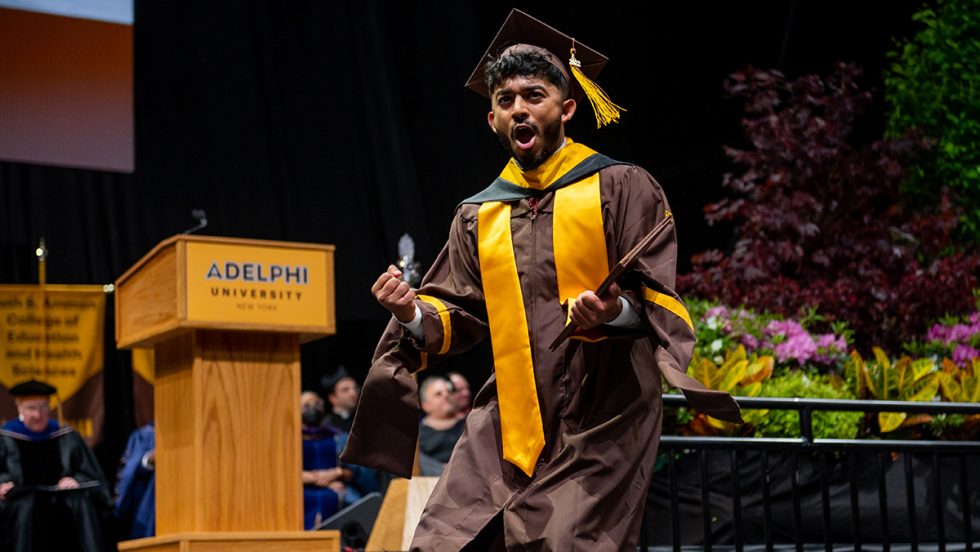 Adelphi has just posted its highest one-year retention numbers in 10 years, with more than 85 percent of first-year students who enrolled in Fall 2021 returning to school this fall for their sophomore year. It is the third year in a row in which retention numbers have grown.
This achievement reflects the University's outstanding programs designed to help students make the transition from high school to college, including a welcoming and joyful summer Orientation experience, an award-winning summer community service experience, and multidisciplinary first-year seminars. U.S. News & World Report recognizes Adelphi as a best for First-Year Experiences.
Adelphi's support for first-year students is just a part of its relentless commitment to student success and one of many initiatives undertaken over the past few years.
"At Adelphi, everyone—from administrators to faculty and staff—understands that retention is a community issue," said Diann Cameron Kelly, PhD, associate provost for student success. "We all have a hand to play in keeping students in school and on the path to graduation, and I really do believe that we have been able to accomplish that."
Focusing on financial issues faced by students
One of the most recent efforts, announced in April 2021, was the policy decision to remove the minimum GPA requirement for retaining academic scholarships. This decision was made in response to the COVID-19 pandemic and its effects on mental health and education.
Instead of pressuring students to hit a certain grade point average, Adelphi now encourages them to focus on learning, growing and demonstrating overall academic progress. If scholarship students can prove they're challenging themselves by taking an ambitious course, for example, that's more significant than hitting a specific GPA.
"This policy decision makes a huge difference, because financial struggles are a major reason why students drop out," Dr. Cameron Kelly said. "By removing that barrier, students were able to continue with their scholarships, bring their GPA up and persist to graduation."
The Office of Academic Services and Retention, led by Executive Director Debra Kyriacou, also reaches out to students who haven't re-enrolled in classes, often finding that the reason is an unpaid balance.
"Debbie's unit worked with financial aid to make sure there was some pathway for those students to return—where they could bring down the amount that they owed and enroll for the next semester," Dr. Cameron Kelly said.
Adelphi also offers the President's Student Success Scholarship for juniors and seniors facing unexpected financial crises. The endowment for this scholarship increased 300 percent in the past three years. Additionally, Adelphi has established almost 80 new scholarship funds since 2015, including four multicultural scholarships and the John J. Gutleber Memorial Scholarships for students with physical disabilities.
Addressing academic problems
For students who were on probation or at risk of dismissal, Adelphi provided helpful resources through the Office of Academic Services and Retention. Students can access the tutoring program, Writing Center, and peer coaching program to receive mentoring and advice on completing their academic careers. The Mentoring Program, which pairs students with trained faculty and staff, has helped increase the graduation rate of Black students by 18 percent.
Faculty members across the University have also been encouraged to identify students who might be struggling and refer them to the Office of Academic Services and Retention. "We rely heavily on faculty to bring to our attention students who were at risk for a myriad of reasons—students who were working two jobs just to put themselves through college, students who were food insecure or housing insecure," Dr. Cameron Kelly said. "We would figure out ways to diminish that risk factor and help that student remain in school."
One professor, for example, saw that a student was floundering in class but didn't know why. Upon referral, Academic Services and Retention discovered that the student was homeless and doing all class assignments on their mobile phone. The student also didn't have WiFi and often couldn't attend classes virtually.
Academic Services and Retention arranged for the student to stay in a campus residence hall and provided textbooks, a loaner laptop and a WiFi hotspot. "It made a huge difference and the student thrived," Dr. Cameron-Kelly said.
Help for students from underserved communities
Going forward, Adelphi will continue to launch new initiatives for student success and retention, with a particular focus on supporting students from diverse and underserved communities.
"The overall retention rate for the University has increased, but we still have a way to go for Black and Latino students," Dr. Cameron Kelly said. "We'd like to put in place programming that supports students from diverse backgrounds and decrease the equity gap."
Adelphi has recently introduced efforts to increase a sense of belonging, including a new Multicultural Center, as well as a range of student-led affinity groups. More initiatives are to come, all geared to helping students thrive from application to graduation.
As Dr. Cameron Kelly said, "Student retention has an impact well beyond graduation. It's about taking a student from learner to earner, and it has the power to be life changing."